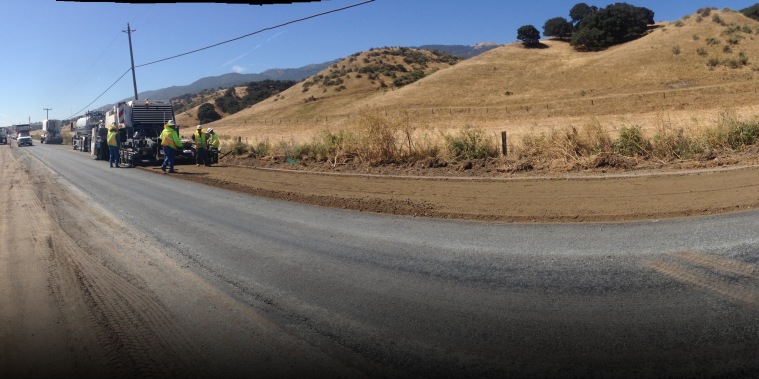 CIR team covers record ground on River Road project
Posted by Shanna McCord Crigger on Jul 15, 2015


A recent cold-in-place recycling (CIR) project on River Road near Chualar exceeded expectations on several fronts.
The Monterey County rural road rehabilitation project, four miles in length, finished in five days instead of the anticipated six.
In addition, the CIR team increased efficiency to recycle two miles of rural road in one shift, according to CIR Manager Dennis McElroy.
The project team and crew members hit that production rate two days in a row.
"River Road was a perfect CIR candidate. I am very happy that the County of Monterey was able to put this project out to bid this season. It really shows how this method is gaining traction in the industry." Dennis said.
Over five days, the team prevented 9,656 tons of existing asphalt from being disposed at landfills and 450 truckloads from damaging the surrounding roadways and highways.
By using the CIR method, Graniterock was also able to significantly improve ride ability and decrease the amount of time needed to reconstruct the roadway compared to conventional methods.
On top of the recycling portion of the project, Graniterock crews placed 7,500 tons of Graniterock HMA on the overlay.
The result was a big win for the Construction Materials Division, as well.
In the end, Monterey County saved taxpayer dollars, completed the project in a short time frame and reduced the carbon footprint left by this project.
This was Monterey County's first CIR project.
"They are extremely happy with the results and we anticipate this developing into a great working relationship that will lead to more work with them in the future," Dennis said.
Back to all Blogs