Graniterock is committed to delivering high-quality products, services, and construction projects, while exceeding environmental standards. From conservation of working lands to industry-leading compliance practices and green energy, our professionals take the Company's environmental responsibility seriously. We are proud to be stewards of California's industry, infrastructure, and environment.
When Graniterock started mining granite for use in construction from the AR Wilson Quarry in 1900, workers used sledgehammers and picks to break the rocks using muscle power. Over the ensuing 123 years technology advanced from muscles and horses to steam followed by diesel and electrical power. As we enter the era of decarbonization, clean energy is a core element of our approach to sustainability for the next 123 years.
Beginning in 2018, we installed a 1 megawatt (MW) solar photovoltaic array at the AR Wilson Quarry and an additional 5MW array in 2022. Combined, the 18,000 solar panels installed at the site provide about 65% of our annual electrical usage. It is one of the largest solar projects in Northern California and demonstrates that mine sites are ideally suited to play key roles in the green energy transition. The solar arrays allow us to produce cleaner, greener granite, which will be used as part of the region's construction materials supply chain and result in more sustainable infrastructure projects overall. The $15 million commitment to green energy results in local construction materials – aggregates, asphalt and concrete – produced with a smaller carbon footprint.
The commitment to green energy also extends to Graniterock's corporate headquarters in Watsonville, which has been converted to a near net-zero energy usage building through various investments including rooftop solar as well as energy efficiency upgrades. Combined, net electrical usage has declined about 90% in addition to significant natural gas savings at our headquarters. Granterock has also installed an industrial scale Battery Electric Storage System (BESS) at its Northern Road Materials branch which allows improved energy management by providing flexibility in how and when electricity is drawn from the grid.
Graniterock's Green Journey
In recent years, Graniterock has started to evaluate more closely how we use energy and invest in alternative sources. This shift in thinking has started Graniterock on a "green journey," a road that will help make Graniterock a sustainable business for generations to come.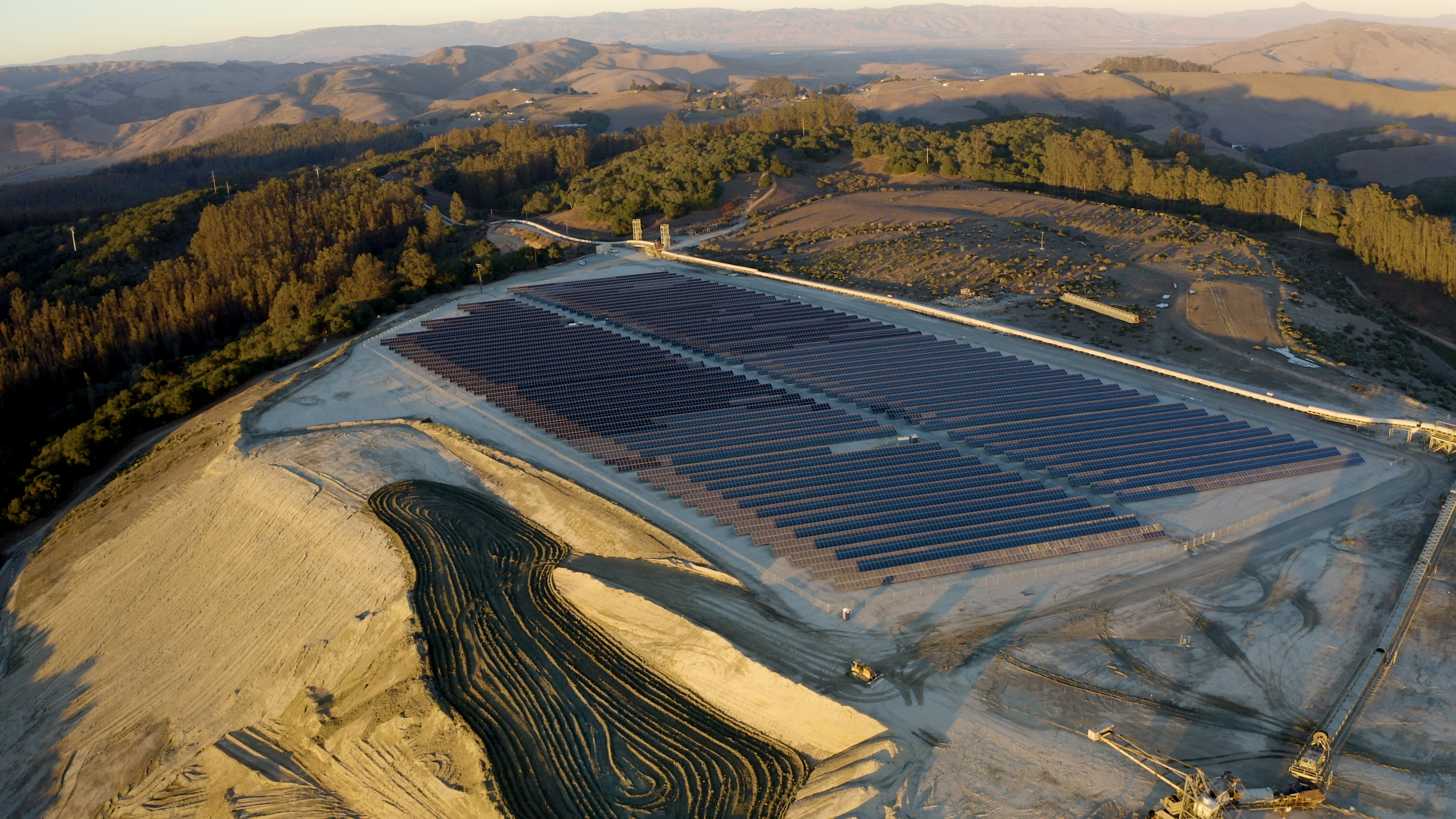 Graniterock converts HQ to net zero energy building
Graniterock made a significant investment in the company's future, as well as the environment, by converting its headquarters in Watsonville to a net zero energy building.


Graniterock is an environmentally responsible company. When appropriate the Company will utilize reclaimed or recycled materials in the manufacture of its products. These products, like all of Graniterock's products, meet quality assurance standards that exceed industry-accepted standards.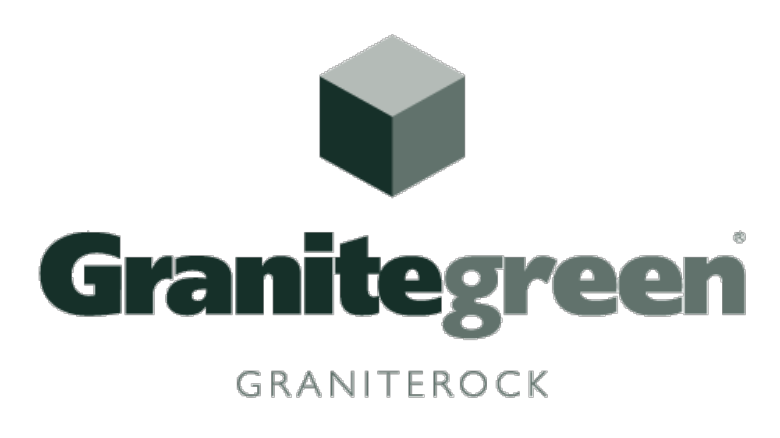 Environmentally Responsible Products
Air Quality
Graniterock embraces our responsibility to protect air quality while providing vital resources for the communities in which we live and work. By installing the best available technologies for particulate capture, and following maintenance best practices, we ensure we meet and exceed permit standards. We conduct frequent source testing and training which confirms the efficacy of these control systems.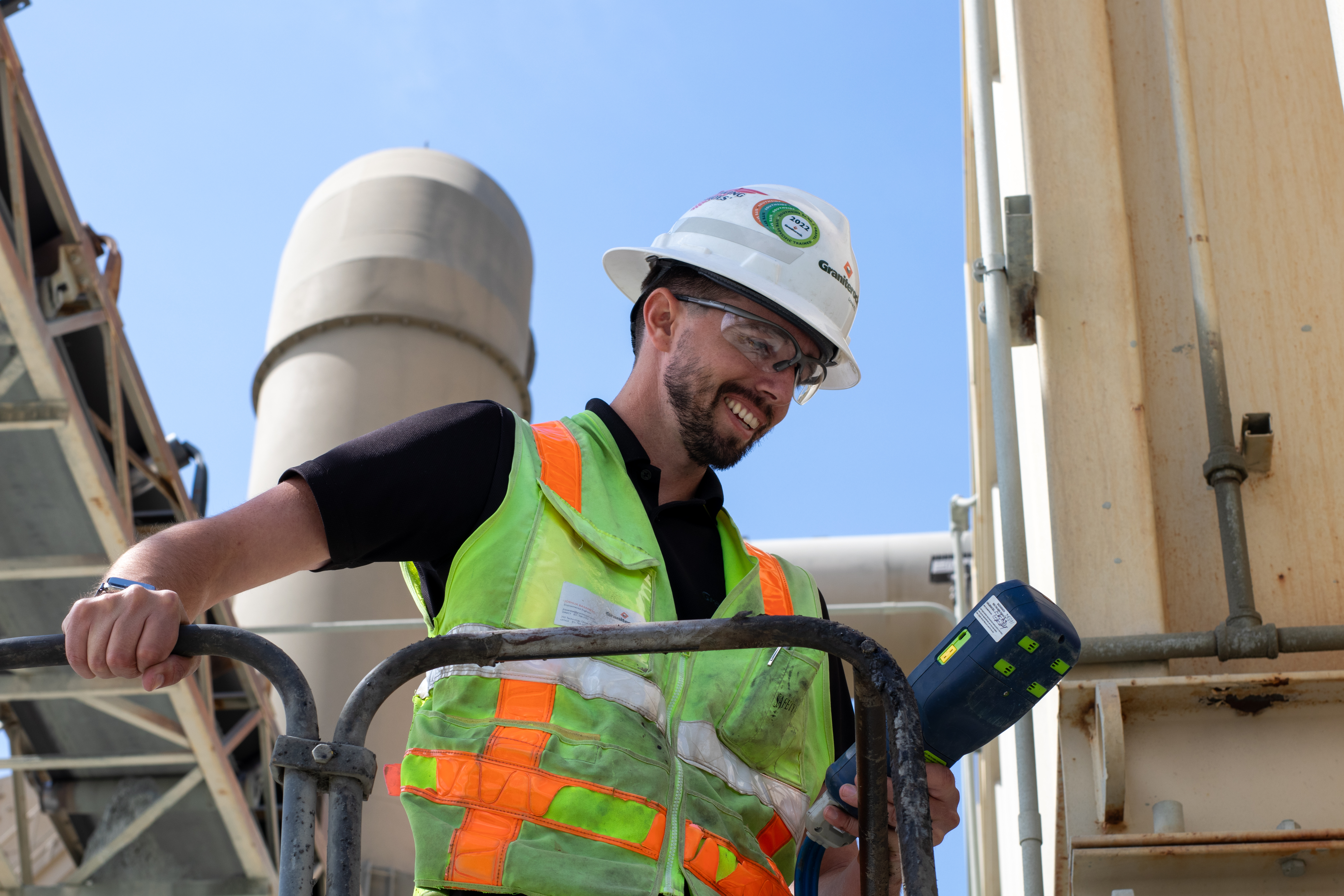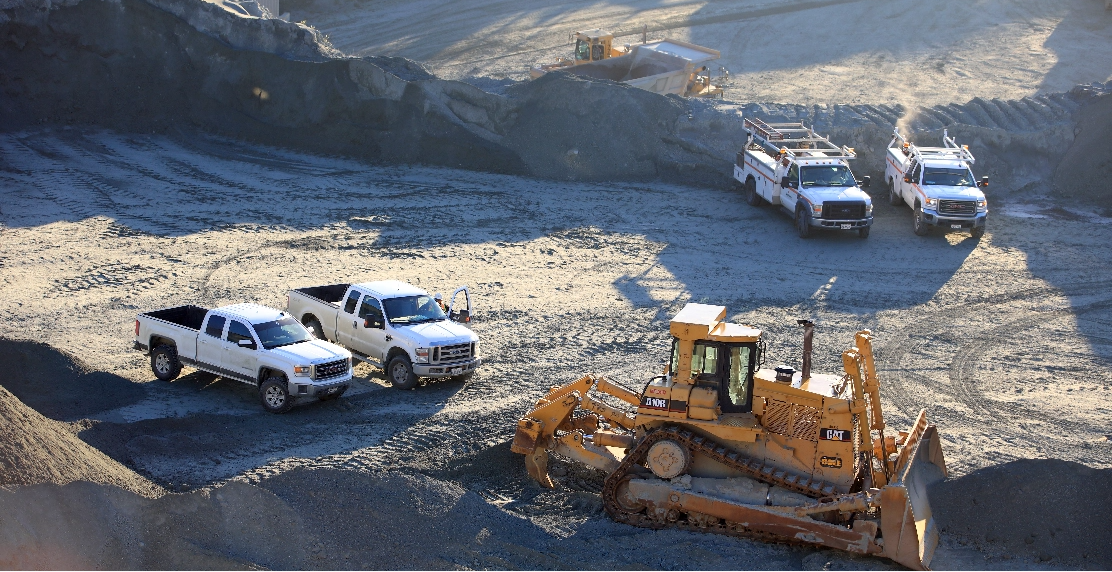 Vehicles and Equipment
Graniterock is proud of our mobile fleet. Our trucks deliver high-quality construction materials across the state. Our vehicles are modern and well maintained to meet stringent California Air Resources Board (CARB), and all other agency requirements. Diesel engines in California are constantly improving, and their emissions have decreased significantly over the past several years. By constantly maintaining our vehicles to the highest standards, we make sure we can deliver for our customers and our communities.
DISTANCE MATTERS
A community can reduce consumer costs and environmental impacts by using locally produced materials. Shorter distances between deliveries:
Reduce congestion roads
Mean more money to build
Create more local jobs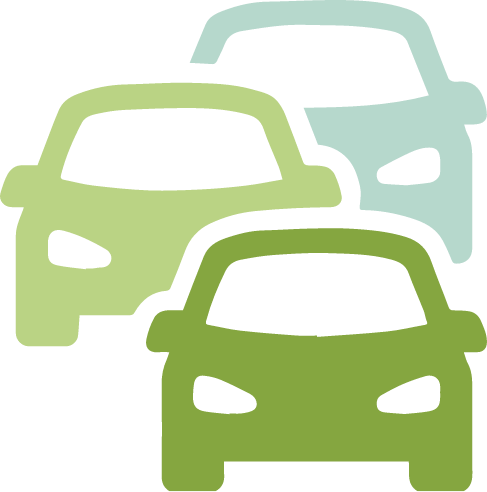 Water Quality
Graniterock is dedicated to preserving the quality of California's water resources. We believe that demonstrating good environmental stewardship, and care for water quality, requires careful attention to surface water and groundwater alike. Graniterock is able to keep this objective at the forefront across all our diverse facilities. We empower all Team Members to share the responsibility of protecting water quality at their job site or facility. From concrete plants to quarries, we constantly identify and implement best practices which safeguard the delicate ecosystems that have long been the trademark of this state.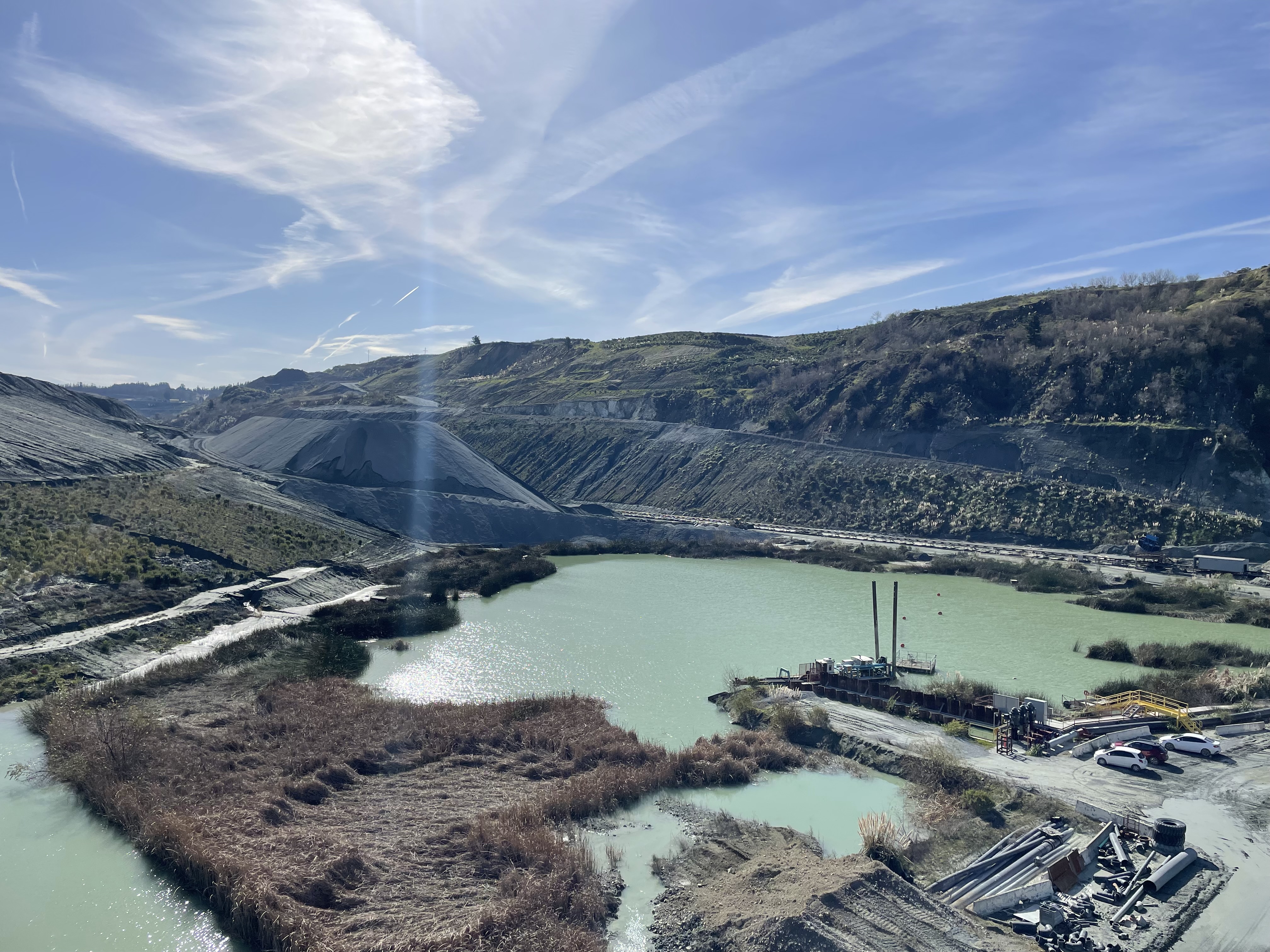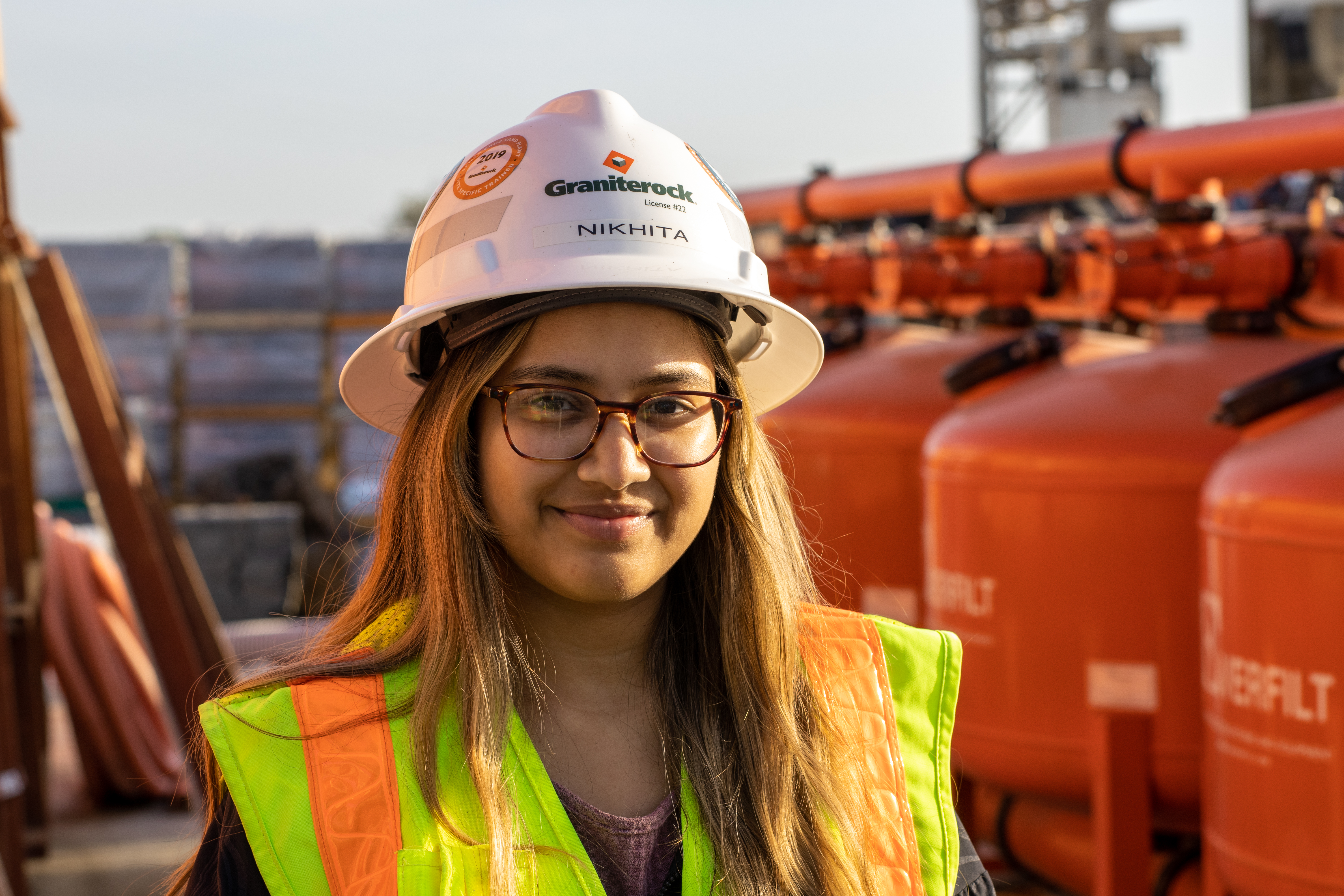 Water Use Recycling and Rainwater Capture Techniques
Protecting water resources requires a number of best practices. For example, all of our concrete plants have the ability to capture rainwater and vehicle wash water, which is used in the production of the green concrete in the area. Through this practice, we can save up to 20-gallons of fresh water per yard of concrete – that's about 180-gallons per mixer truck! We capture and reuse the majority of stormwater on our sites and facilities as all of our sites employ industry leading water quality control techniques. These techniques can be as simple as sweeping our sites at regular intervals, or as complex as the state-of-the-art filtration systems that we operate at the majority of our industrial facilities. In a state where climate conditions can change drastically from year to year, our environmental team works year-round to ensure our systems and methods are well adapted to produce top notch results under a wide variety of operating scenarios. Our flagship Wilson Quarry captures millions of gallons of rainwater each year for use in the operation, in addition to intensive water recycling systems.
RECYCLING
Recycling is a key component in any conversation about sustainability. Recycling is a big part of all aspects of Graniterock's business. Graniterock's Construction Division has recently introduced Cold In Place Recycling (CIR), Partial Depth Recycling (PDR) and Full Depth Recycling (FDR), which allows existing pavement to be recycled (in place) and laid down again as "new" asphalt. Click here to learn more. Old asphalt can also be processed through a recycling plant to create recycled asphalt product, or RAP. RAP can be used as an alternative to aggregate in the asphalt production process, reducing the amount of aggregate that needs to be heated and dried (significantly reducing greenhouse gas emissions). Similarly, alternatives to cement in the concrete production process, including fly ash and slag, that come from more sustainable sources, reduces the CO2 impact of producing concrete. Construction materials, including asphalt, concrete, and aggregate, that would once end up in a landfill are now diverted to recycling plants. These plants crush the materials which can then be reintroduced in the production of concrete and asphalt or as aggregate for other projects.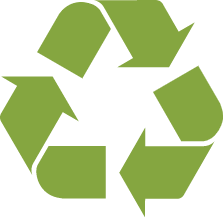 Hazardous Materials
Graniterock interacts with hazardous materials as a normal course of business. Our core values of Safety Before all Else and Building Great Lives empower every team member to take great care with the various types of chemicals bought and used. Chemical management and knowledge can reduce and eliminate the risk of incidents, allowing our team members to work in a safe environment. The most important element of safe handling of materials is extensive product training. In addition, a thorough understanding of the associated safety data sheet (SDS) before usage is required. Moving away from paper SDSs, our new 3E SDS online system allows team members to quickly and easily look up any material they plan to use, understand the training required and the manufacturer's safety guidance.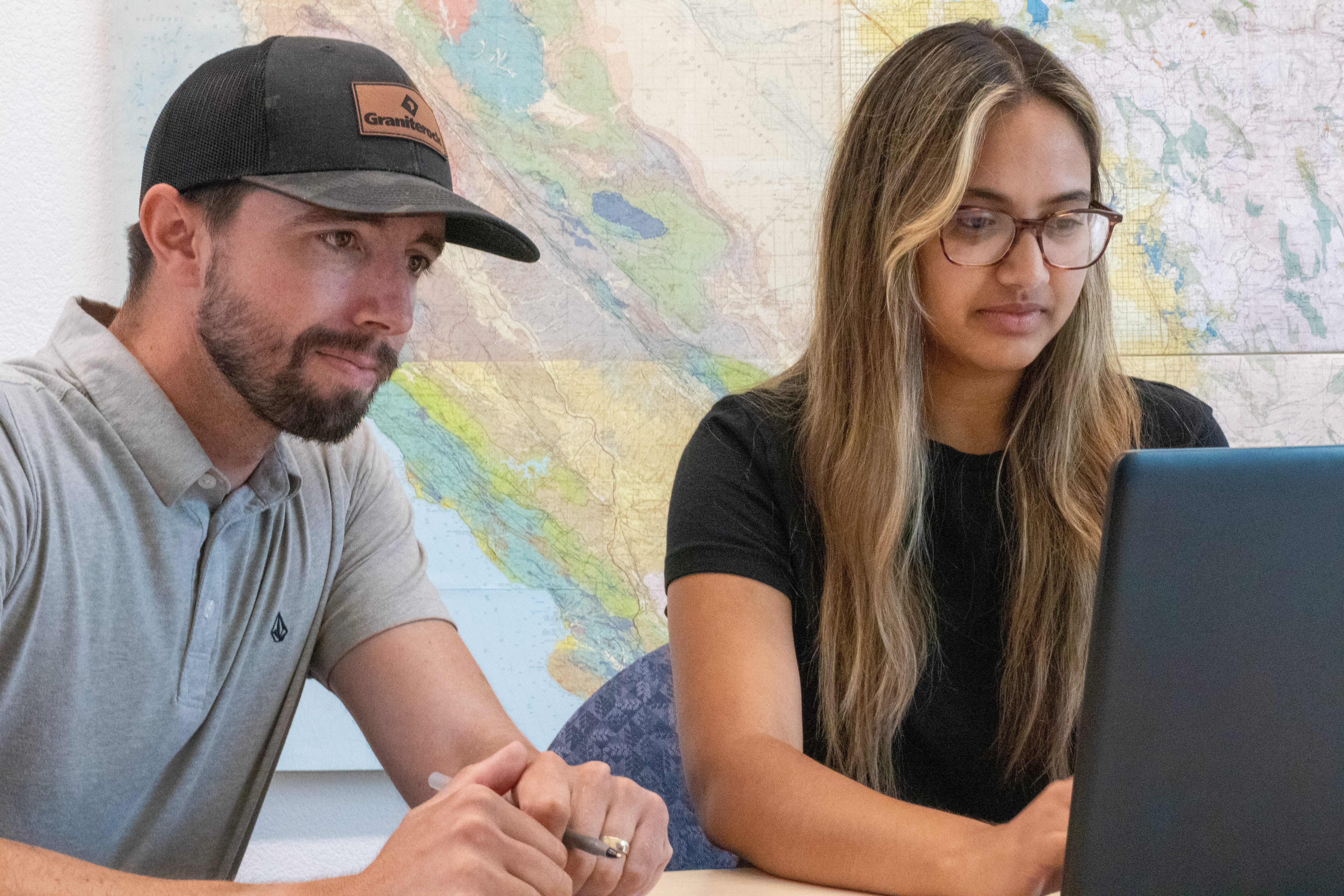 Mining In California Comes With Great Responsibility
Here's a look at how Graniterock champions environmental values on the lands the company has mined for more than a century. From bolstering the endangered red-legged frog population to planting an abundance of native species, this story is proof that mining and environmental responsibility can work together to produce the important aggregate materials our society needs to build and maintain reliable infrastructure.
Conservation
Graniterock is committed to combining responsible mining practices with long-term protection and stewardship of the land. At our Quail Hollow Quarry, Graniterock dedicated 110 acres of sandhill habitat and established a management fund to provide long-term conservation and protection of native, endemic species. Graniterock developed a Long Term Management and Maintenance Plan, and an Enhancement Plan, which identifies measures to conserve and enhance habitat for unique natural communities within the Quail Hollow Quarry Conservation area.
At the Santa Cruz Sand Plant, we set aside over 10 acres to permanently protect habitat for the California Red-Legged Frog. Graniterock has proven success creating habitat after and alongside mining. Graniterock staff have worked closely with consulting biologists to improve and build ponds specifically designed for enhancing frog habitat. There continues to be a general upward trend in adult frog numbers across the site since monitoring began in 1999.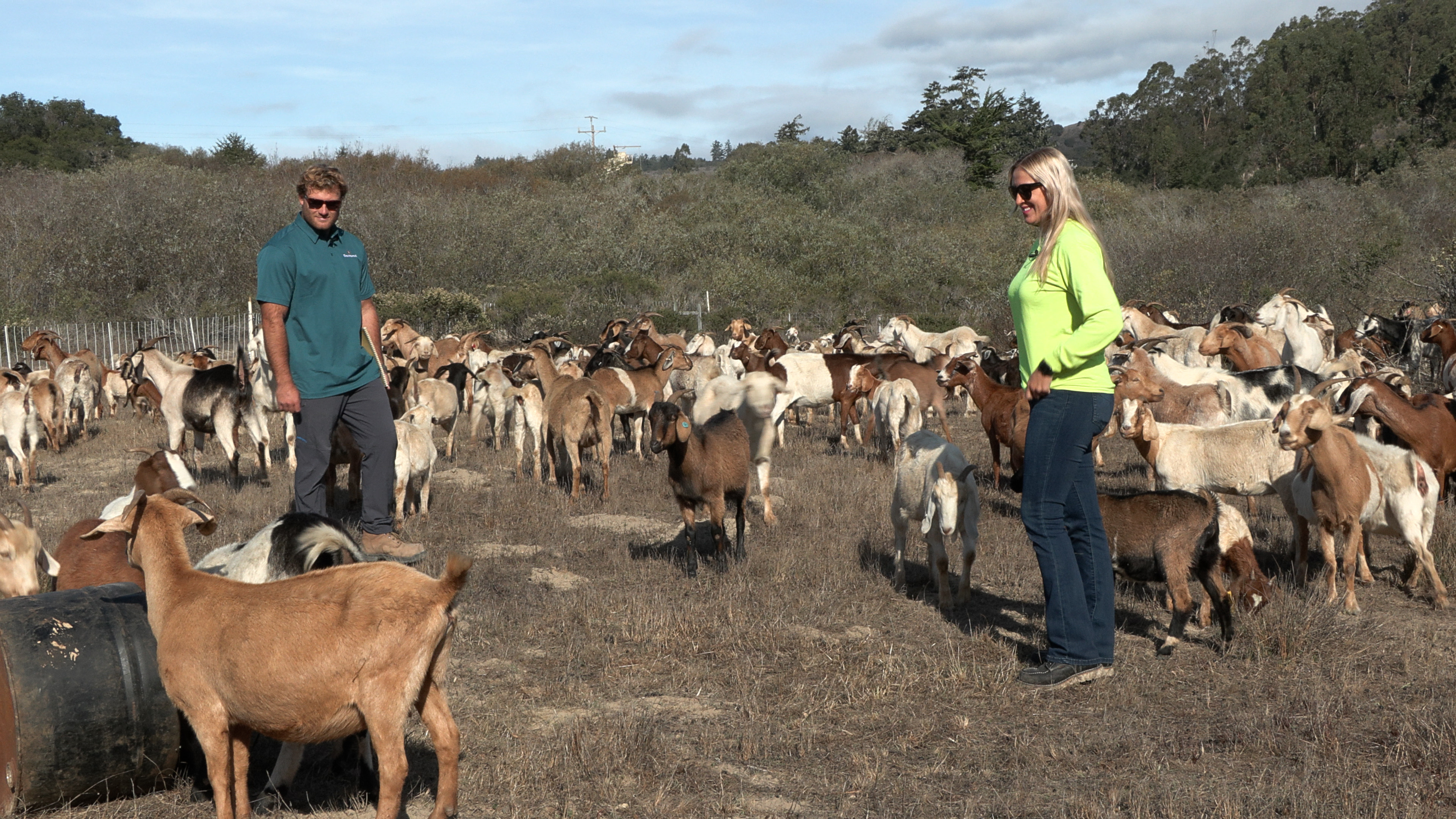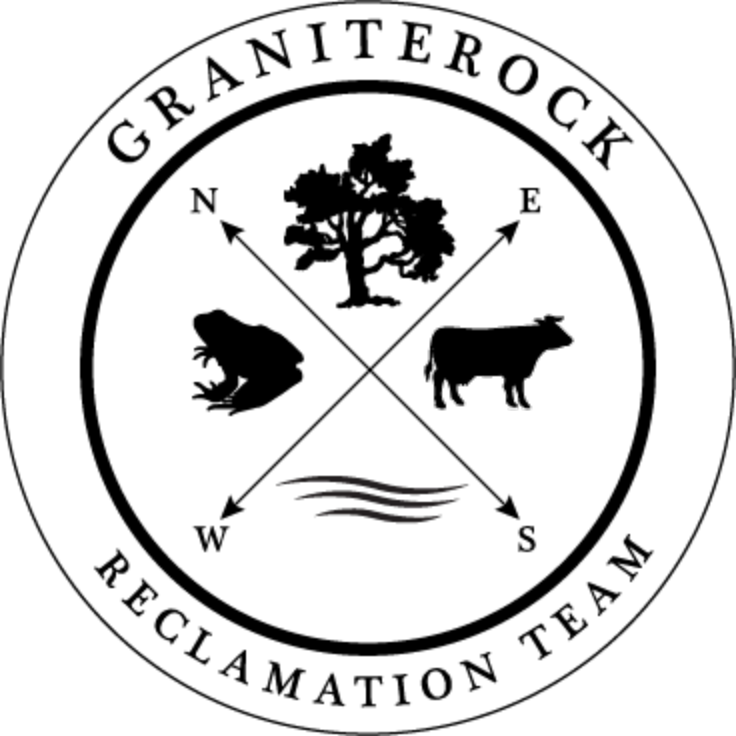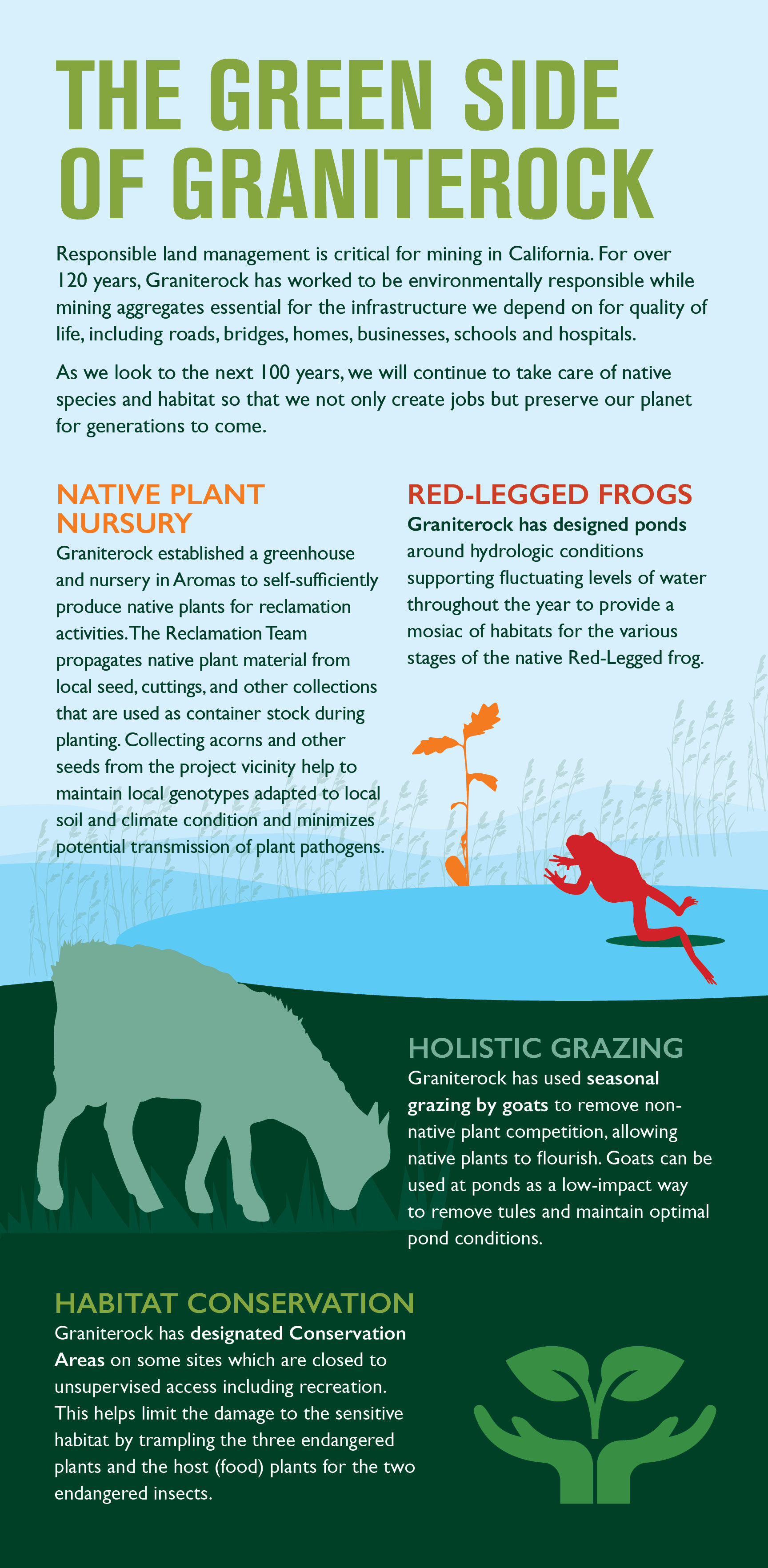 Land Use
Responsible land management is a foundational part of Graniterock's business, our commitment to sustainability, and social responsibility. Graniterock's Land Department plays a crucial role in upholding these principles by ensuring that our land-related activities align with our core values and corporate standards which include environmental stewardship, community engagement, business goals and regulatory compliance. Our team of experienced professionals works diligently to navigate the complex landscape of land management, enabling us to operate efficiently and responsibly. From managing leases for residential and agricultural properties to acquiring use permits for construction and facility operations, our Land Department is committed to meeting and exceeding compliance requirements of state and federal land use regulations while optimizing the use of land resources.
"
WE EXIST TO PROVIDE A PLACE WHERE INSPIRED PEOPLE CAN DO THEIR BEST WORK.
"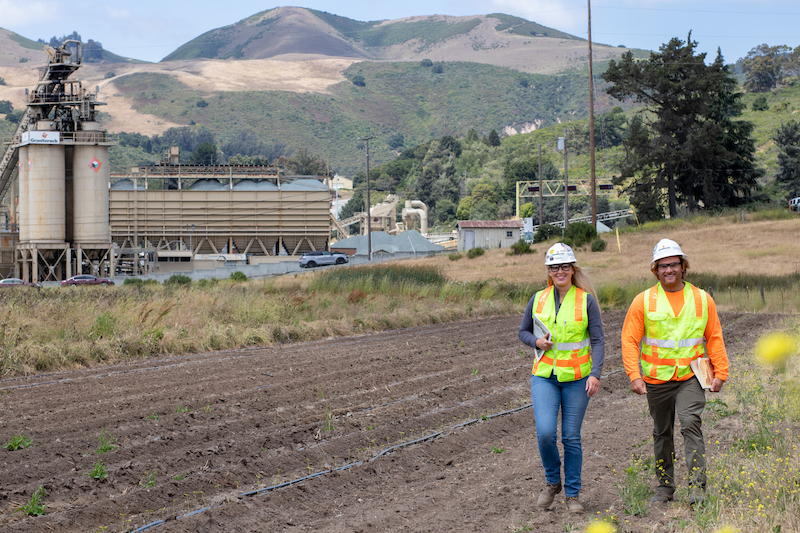 Reclamation
Graniterock champions industry leading mine reclamation and revegetation, which are long-term processes that involve slope stabilization, erosion control, planting, propagation, seeding, weeding, and robust monitoring activities that ensure success. As a Company, we strive for responsible extraction of materials at all our sites, followed by positive restoration projects and lasting land management so our landscapes can continue to support a wide variety of natural ecosystems for generations to come. To support this goal, Graniterock's team built and maintains a native plant nursery which allows us to self-sufficiently produce locally sourced, native plants for our reclamation and restoration efforts.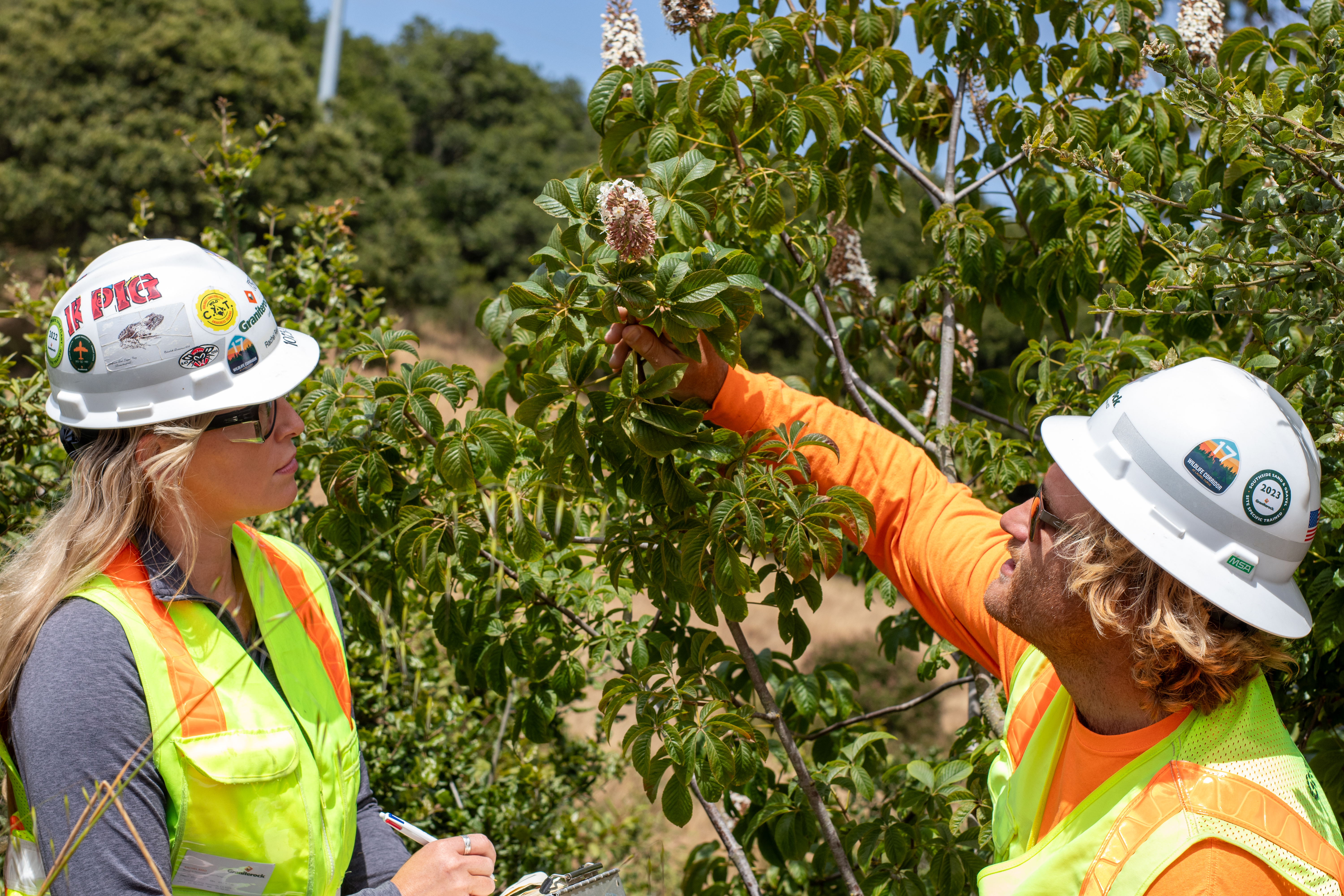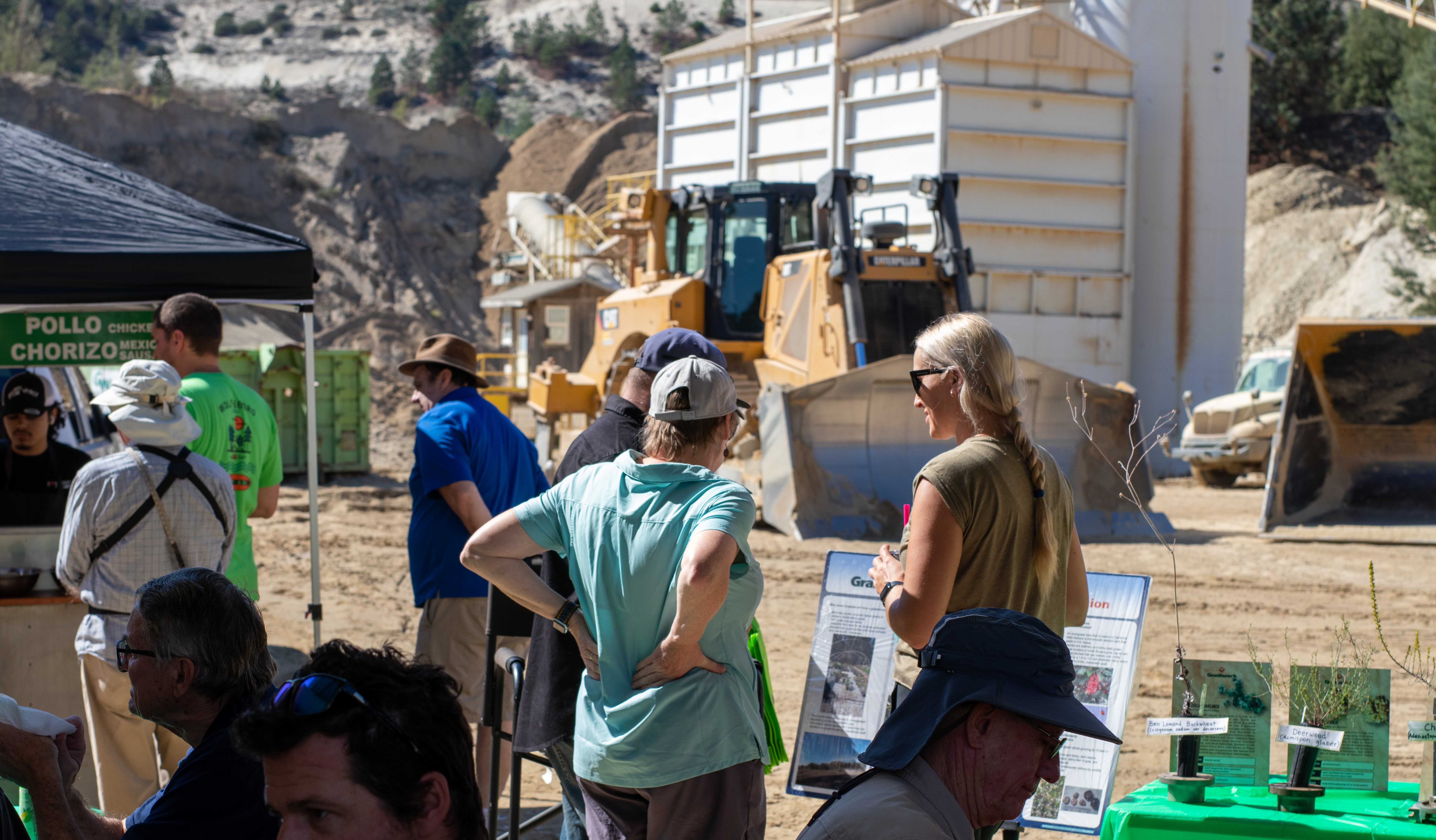 Education and Outreach
Graniterock has participated in a variety of biological research projects to help advance ecological knowledge on the lands we steward. Environmental Staff participates in open houses and community events, presents at community educational programs, and work with researchers to facilitate access for studies.
Graniterock has provided permanent protection for wildlife and native plant communities through long-term conservation planning. Here are some of the species that we have helped manage and steward lands for.
View the Set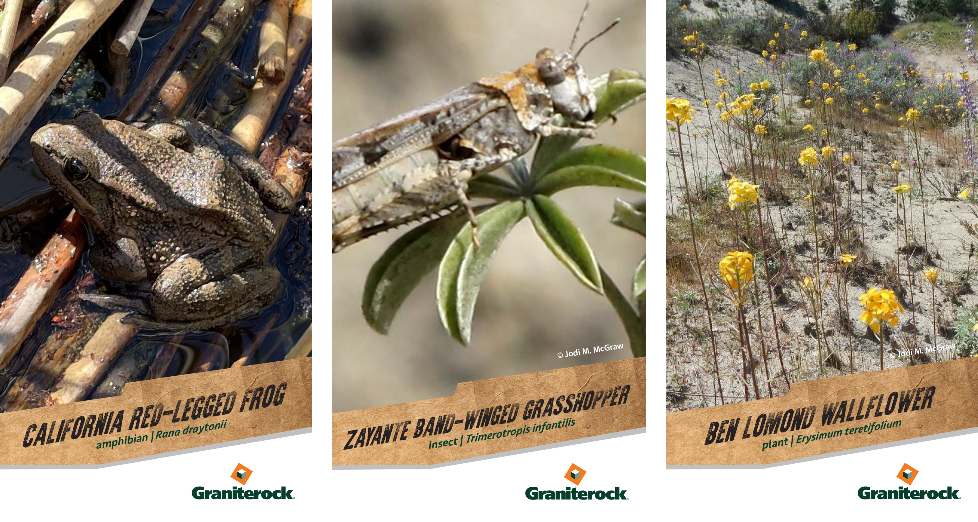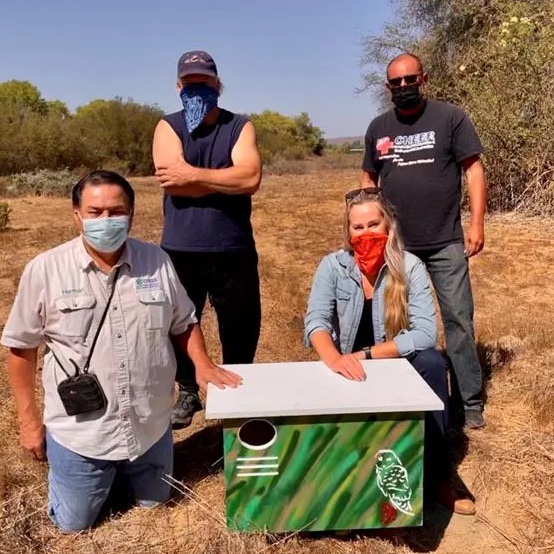 Barn owl boxes installed near San Benito River
Graniterock partnered with two local non-profit organizations to install barn owl nesting boxes on their San Benito River property. The project is part of Native Animal Rescue's Owl Nest Box Program.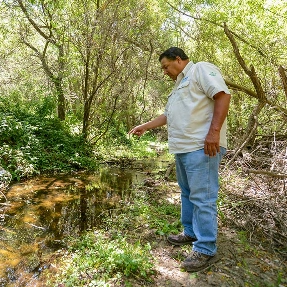 Endangered trout return to San Benito River
After 75 years of abuse and countless tons of garbage dumped into it, all it took was 18 months of work from dedicated volunteers to get the San Benito River on the road to recovery.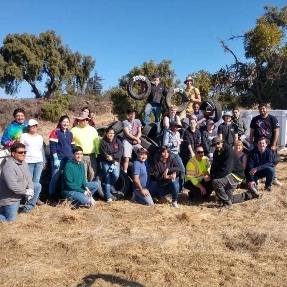 San Benito River cleanup
Volunteers from Graniterock, Coastal Habitat Education and Environmental Restoration (CHEER) and Gavilan Community College will team up to remove trash from the San Benito River.