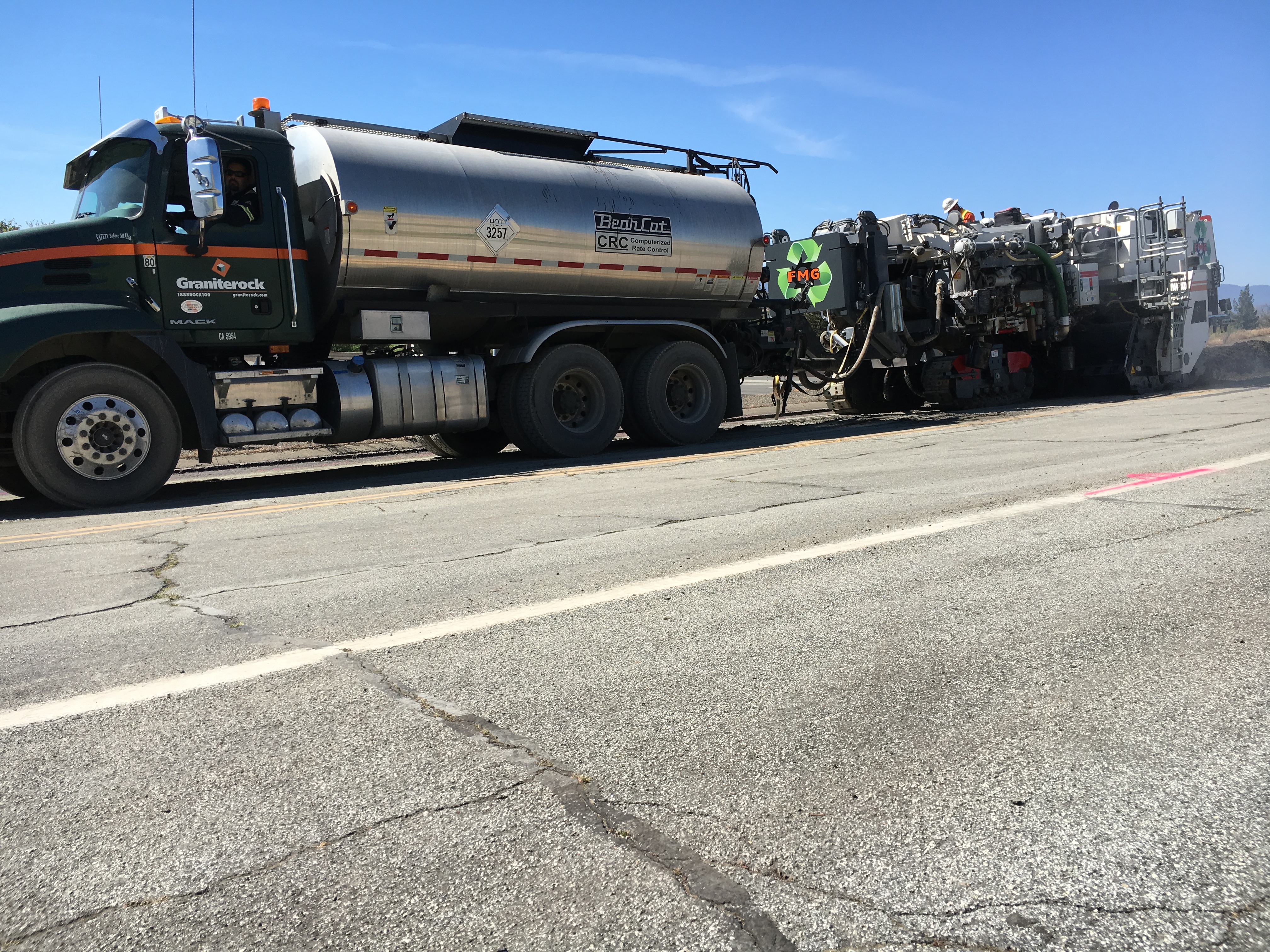 Caltrans moves ahead with foamed asphalt cold-in-place recycling
Posted by Dennis McElroy on Jun 7, 2017
SAN JOSE – With climate change a hot topic all over the world, it's not surprising new pavement rehabilitation technologies have taken off throughout California in recent years.
The Golden State, a global leader in environmental stewardship, has embraced cold-in-place recycling (CIR) as a greener, more economical method to smoothing out our beat up roads. CIR can be performed using asphalt emulsion (CIR-AE) or foamed asphalt (CIR-FA).
State transportation leaders agree foamed asphalt CIR has great potential, when used appropriately. Recently, industry and Caltrans worked together and developed a non-standard special provision to use this technology.
"Recycling is something we definitely want to do, so we are testing the foamed asphalt process to see how it works," said Sri Balasubramanian, head of the Caltrans Office of Asphalt Pavements. "We will evaluate this process over time, project by project, and determine its quality and whether it has the strength and durability to work for our needs."
Cold-in-place recycling using foamed asphalt reuses the existing asphalt pavement to create a highly durable pavement layer, which becomes a key component of the pavement structure before final surfacing. It involves grinding the top 3 to 6 inches of the existing asphalt surface and mixing the pulverized asphalt with foamed PG binder and then placing it back down with a paver.
Foamed asphalt works by injecting small amounts of water and air into the new binding agent at high pressure, resulting in the asphalt foaming and expanding to around 20 times its original volume.
By adding the foam binding agent, the rehabilitated pavement section creates structural value, which allows the final surface layer to be reduced.
The thinner final surface results in lower costs for purchasing new hot mix asphalt and hauling that material to the project.
Cold-in-place recycling is performed with a single recycling unit, which consists of an asphalt binder tanker truck, Wirtgen 3800 CR recycling machine and standard paving equipment.
The recycling technology Wirtgen provides has allowed this recycling method to grow in urban areas because of the easy maneuverability of these machines.
This technology has not only been used on heavily traveled roadways such as Monterey Highway in San Jose, but also on arterial, collector and residential roadways throughout California with great success.
By reusing the existing roadway, time and disposal of materials are greatly reduced.
Traditional pavement rehabilitation methods require grinding, off hauling and disposing of the old pavement, which requires a large number of trucks traveling to and from the job site.
An increasing number of public works agencies such as the cities of San Jose, Santa Clara County, Monterey County, Hayward, Santa Cruz, San Francisco and Marin County have caught on to the process and repeatedly use it to get a handle on their pavement maintenance backlogs, which are often many miles long.
With this new Caltrans non-standard special provision for CIR-FA, more local public works agencies are expected to choose CIR foamed asphalt for their road maintenance projects.
"Cold recycling in-situ fulfills exacting quality requirements, is extremely economical, environmentally-friendly, and has the least impact on the public," said Frank Farshidi, a project manager for San Jose.
Back to all Blogs