Growing and Protecting Endangered Species: California Red-Legged Frog Habitat
Posted by Alex Simons on Mar 18, 2015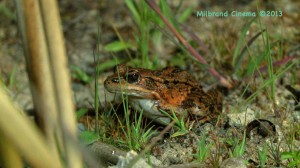 Over the past fifty years, many state and county mining regulations and federal and state environmental laws have been created to protect and conserve local habitat and rare and endangered species. The California red-legged frog was designated as a threatened species in 1996. Its range is mostly limited to the Central California coast, from Marin County south to Ventura County. Ponds are a part of mining operations, and with the capability to create an ideal pond habitat for the red-legged frog, Graniterock was challenged to find a way to combine responsible mining practices with long-term protection and stewardship of the land.
Graniterock's Santa Cruz Sand Plant (also known as the Wilder Sand Quarry) is a source of high-quality sand used for the world renowned golf courses of the Monterey Bay area. Professional baseball teams also take clay from the quarry to create beautiful infields for their baseball stadiums, and local builders find this sand ideal for a wide variety of construction uses. The Company has owned and operated the plant at this location since 1967.
Graniterock's Santa Cruz Sand Plant and Environmental Services Teams, along with wildlife biologist Dana Bland, built multiple ponds within a 10.5 acre habitat conservation area, as well as other areas on the property. Each pond was designed to provide a mosaic of habitats for breeding and foraging. The California red-legged frog requires ponds with emergent and submergent vegetation, and the ponds are designed to have shallow and deep areas to be able to support all the life stages. The frogs use shallow, warmer areas with emergent and submergent vegetation to attach their egg masses. The deeper, cooler areas with emergent vegetation (like tules or cattails) are utilized by adult frogs for feeding, and for shelter from predators.
Since creating this habitat for the endangered species in the late 1990's, Graniterock's frog colony has grown to be one of the most successful self-supporting populations of the California Central Coast. Graniterock has protected this area in perpetuity on their Santa Cruz Sand Plant specifically for this frog species. Monitoring of the site over fifteen years has proven the continuing long-term success of the Company's conservation efforts. Graniterock has hosted the Elkhorn Slough Coastal Training Program to conduct California red-legged frog conservation workshops on site. Other groups have also toured the location to learn how Graniterock continues to maintain a successful population of frogs while being able to perform sustainable resource development.
Graniterock's Santa Cruz Sand Plant and its plan to protect and encourage endangered species such as the California red-legged frog is an example of responsible management of natural resources, compatible with sustaining the habitat of our rarest inhabitants.
Back to all Blogs