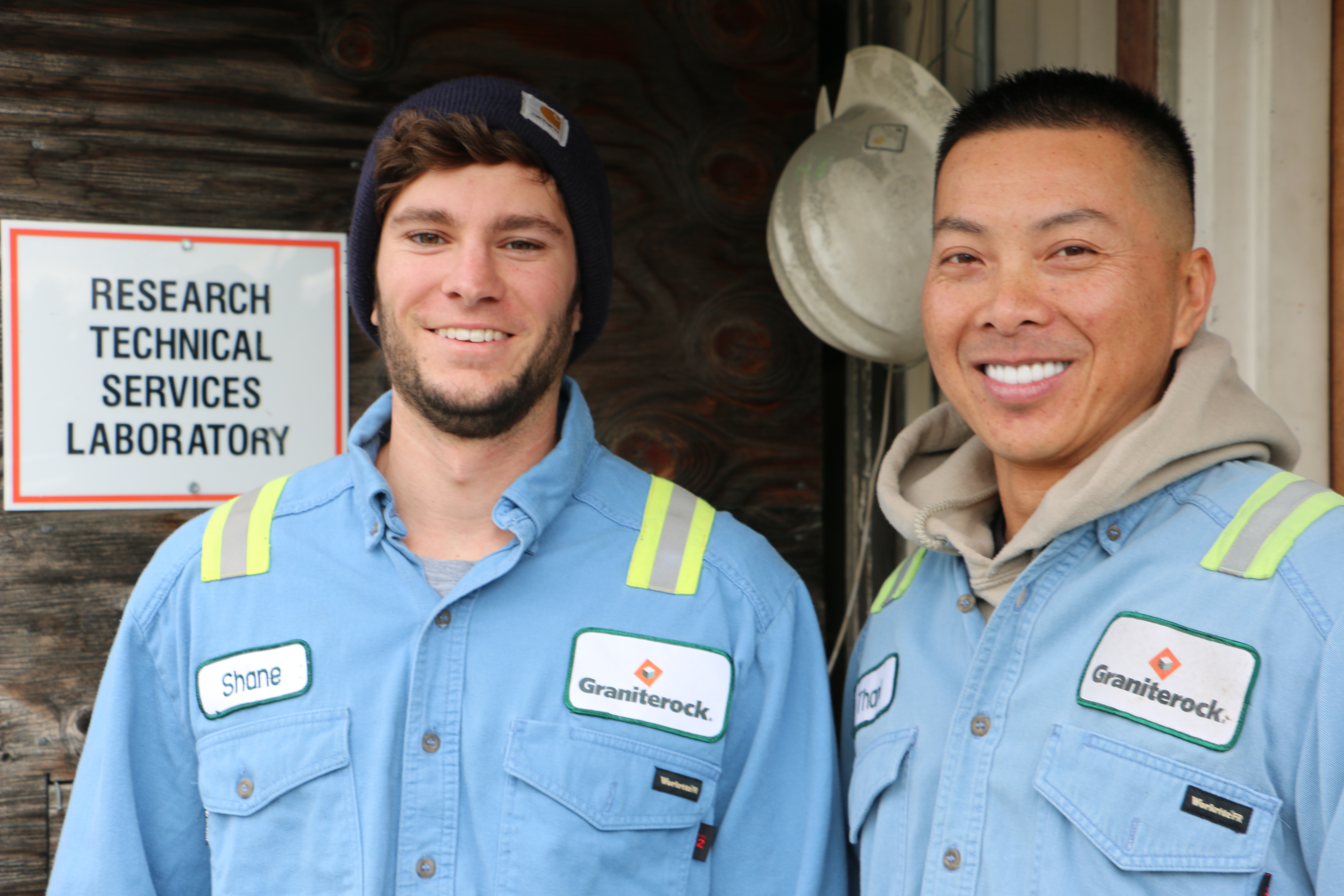 Asphalt quality guaranteed with this team
Posted by Shanna McCord Crigger on Mar 22, 2017
REDWOOD CITY – Telling a customer we're going to make a specific asphalt mix isn't good enough.
We have to prove it every day with rigorous testing and data.
Paving a road with material out of spec could result in huge financial repercussions for Graniterock.
Some might say the quality of Graniterock's materials is critical issue No. 1 to the Company's success.
Our reputation depends on it.
Overseeing the quality of the hot mix asphalt produced at the busy Northern Road Materials plants – several thousand tons each day - are Thanh Ngo and Shane Tack in Research Technical Services.
Thanh handles the South San Francisco plant; Shane covers Redwood City.
Thanh and Shane work closely with plant operators Dave Voris and Frank Garcia, the sales team and Construction Division project managers to guarantee the quality of the Company's asphalt mix designs, whether it's Superpave for Caltrans, reclaimed, rubberized or a federally-mandated mix for San Francisco International Airport.
They also regularly collaborate with their colleagues at the RTS lab in Aromas on testing methods.
"Through our samples and calculations, we're ensuring our product meets or exceeds testing requirements for the customer," Thanh said. "We never want a customer to complain. We try to fix the problem before that happens."
Thanh and Shane are known as an exemplary two-man team for not only their expertise in asphalt production, performance and placement, but how well they work together, with customers and other Graniterock People.
They're friendly, always ready to solve a problem.
If a mix begins to drift outside the allowable specification limits, the two investigate all stages of production to pinpoint the issue - from the raw aggregate and sand to the oil content and the mechanics of the plant.
They visit paving jobs to take samples from the mat and provide real-time compaction results and reports to Construction Division teams and project owners.
"I have a lot of respect for Thanh and Shane," said Kevin McNeil, Graniterock's RTS asphalt products manager. "They're a strong team providing excellent technical services, always prompt with their HMA submittals and all-around good at what they do."
Thanh, 43, is the seasoned veteran while Shane, 24, is less than two years into his quality control career and will turn to Thanh for advice when seeing a spec for the first time.
"He's always there if I have a question," Shane said. "If I'm working a night job, like the Interstate 280 paving project this past summer, Thanh covers for me during the day. We do that for each other."
Thanh arrived at Graniterock 18 years ago after working for another asphalt lab in the San Francisco Bay Area.
Raised in San Francisco, Thanh lives in the Inner Sunset with his wife Sara of nearly 21 years, a retired dentist. They have a son and daughter, ages 18 and 16.
Thanh attended City College of San Francisco, where he studied avionics and spent time working at SFO directing plane traffic on the tarmac.
Shane, who grew up in the Santa Cruz Mountains, graduated from Chico State in 2014 with a geology degree and found a job with a mud logging company in Oklahoma, where he stayed briefly before taking an internship at Graniterock's aggregate lab in Aromas.
He was hired full-time at the Redwood City lab in January 2016 and has quickly proven to be an asset to the asphalt team.
Shane became Caltrans-certified to perform numerous American Association of State Highway and Transportation Officials' (AASHTO) tests required for contractor quality control on Caltrans projects. He stepped up and mastered quality control for the Construction Division's large paving project last summer on Interstate 280 near Woodside.
"That's quite a feat considering the short time he had been in the HMA department," Kevin said. "I have to say it's a real pleasure working with both of these guys. And they add great value to the One Company Graniterock team."
Back to all Blogs