Wildlife Filmmaker Visits Graniterock's Santa Cruz Sand Plant
Posted by Alex Simons on Mar 18, 2015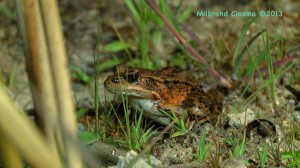 Lance Milbrand is an acclaimed filmmaker who has worked on a variety of projects including public relations films, corporate promotional videos and wildlife documentaries. He has had a wide variety of clients including NOAA, CBS news, BBC Blue Planet and National Geographic Explorer. New to Santa Cruz County, Lance was looking for opportunities to film amphibian species in the Central Coast Area. Graniterock said "Yes, we will" and offered Lance the opportunity to come to the Santa Cruz Sand plant to view the endangered California Red-Legged Frog during an annual night survey with wildlife biologist Dana Bland and Graniterock environmental specialist Alex Simons.
Environmental Specialist Alex Simons (left), and Dana Bland (right)

The most common method of surveying for CRF is the visual-encounter survey. The survey follows US Fish and Wildlife Service protocol. The night surveys are conducted no earlier than an hour after sunset (USFWS 2005 Revised Guidance). Biologists detect California Red-Legged Frogs by using service approved lights to spot their eye-shine while walking around the pond. Once the eye shine is detected, the biologists record if the frog is an adult or juvenile.
Lance spent his time in the Habitat Conservation Area, a protected area Graniterock set aside 15 years ago for frog breeding and foraging habitat . No time was wasted as he hastily set up his film equipment along the shore of a pond. Lance was surprised at how easy it was to find the Red-Legged Frog foraging along the banks of the pond , or as he thought, "posing for the camera." He then focused on filming the nocturnal behavior of the Red-Legged Frog. As many wildlife filmmakers say, it takes patience to first locate the animal you are filming, then spend time observing their natural behavior. "If I could, I would be here until sunrise," Lance said enthusiastically as he wrapped up the survey for the evening. "Good wildlife photography starts with land access and scientific knowledge. Thanks to you and Dana today, I got a little of both!"
It was a great opportunity for Graniterock to offer a learning experience to someone who is fascinated by California Red-Legged Frogs, hungry for information, and able to share his findings through educational wildlife photography and video. Increasing public knowledge of the California Red-Legged Frog and partnering with filmmakers, biologists and other distributors of information helps encourage the protection efforts of this endangered species. Graniterock has protected this area of the Santa Cruz Sand Plant in perpetuityspecifically for this frog species. Biologists have monitored the area for 15 years, and the monitoring has proven Graniterock's conservation efforts to be very successful for California Red-legged Frogs. Lance hopes to return to this Habitat Conservation Area later in the year to film other parts of the frogs live stages, such as tadpoles in early summer and egg masses next winter.
For more information on Lance Milbrand, please visit www.MilbrandCinema.com
(All photos courtesy of Lance Milbrand)
Back to all Blogs