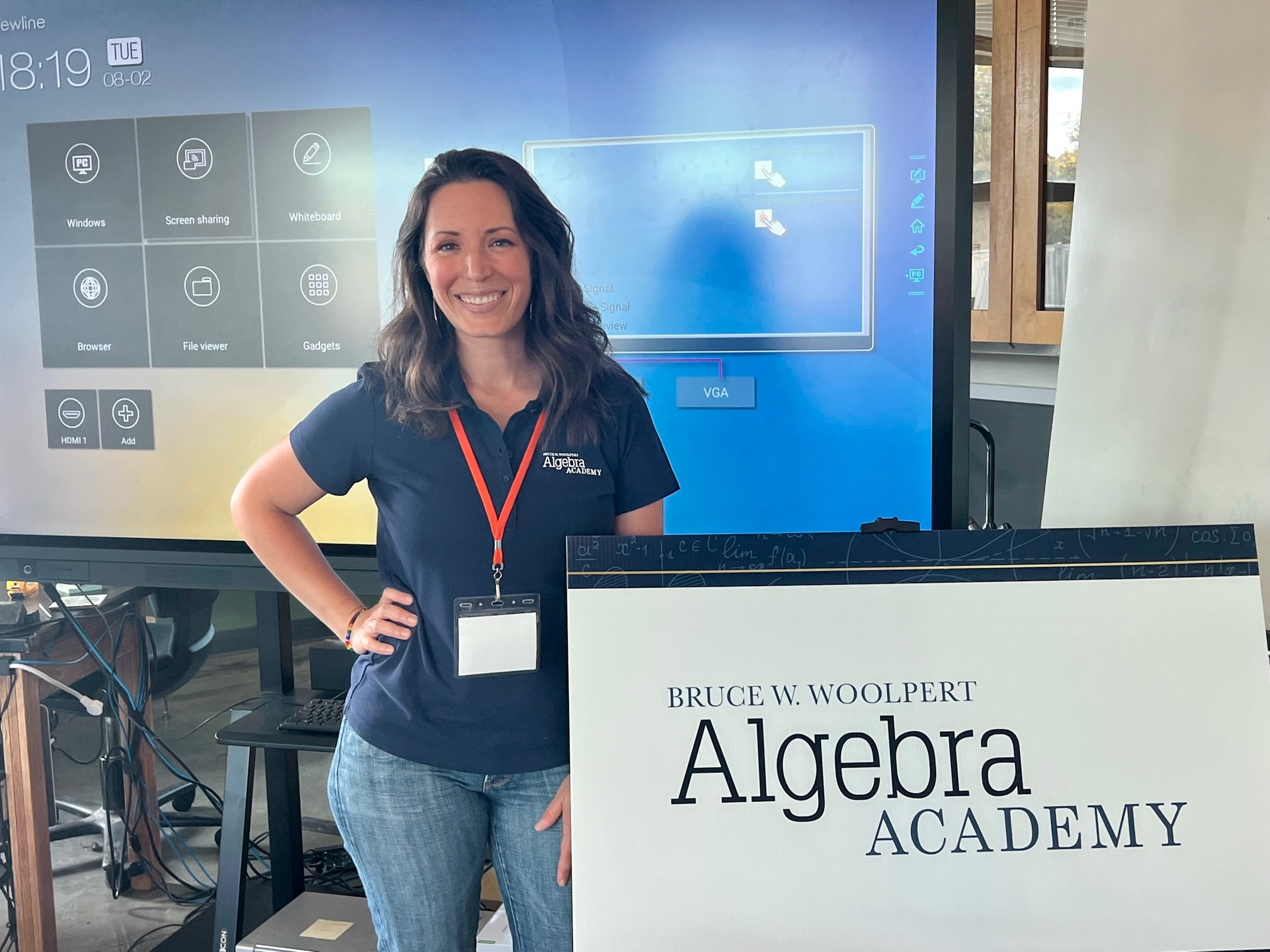 Teens return in person to Bruce W. Woolpert Algebra Academy; Executive Director Christy Sessions leads the way
Posted by Graniterock on Aug 16, 2022
SAN JUAN BAUTISTA – Christy Sessions, executive director of the Bruce W. Woolpert Algebra Academy, was a math and science teacher at Aromas School when some of her best eighth graders were chosen to attend the weeklong program in summer 2014.
Christy, who loves math herself, was impressed by the high level of instruction from college professors the students received.
Seeing how the academy made math fun with games that applied algebraic concepts and kids returning to class with real zest for the subject inspired Christy to change careers.
"This academy was so cool, like nothing I had seen before," Christy said. "I started thinking I'd love to be part of something like this."
Just a year after Christy's introduction to the algebra academy, she would say goodbye to the classroom and be entrusted by Graniterock and Driscoll's to run the show.
In 2016, the Prunedale resident and mother of two replaced former academy coordinator Ron Kinninger, a retired school administrator who was key to helping Graniterock expand the program from serving a small group of students at a single school in 2010 to the dozens of students across three counties that it serves today.
"This was an evolution in my career as an educator," Christy said. "Teaching kids is more than just standing in front of the classroom and lecturing. I love that I can have an impact on students in this new way."
As executive director, Christy oversees everything from selecting the top-performing math students from 15 local middle schools, which includes an application and teacher reference, to collaborating with Cal State Monterey Bay and UC Santa Cruz math professors on curriculum.
She hosts informational meetings with parents, takes an active role in curriculum planning for immersion week and works with individual school districts to coordinate daily transportation for kids to get to and from the academy.
Before the coronavirus pandemic, Christy organized field trips to CSUMB for the students as part of the summer immersion week.
Along with UCSC instructors Nandini Bhattacharya and Justin Lake, Christy led the academy successfully through the coronavirus pandemic with a virtual pivot that brought it online in 2020 and 2021 with instruction and math games for 50 students every month.
The academy returned to in-person learning this summer at Anzar High School in San Juan Bautista with a group of 70 teens, about half of what they had in summer 2019.
Pushing past the pandemic, they hope to get enrollment back up and eventually pull in middle schools from Monterey County.
"Christy understands these kids and knows when to let them have fun and socialize and when to rein it in," said Kevin Jeffery, Graniterock's vice president and general counsel who helped Bruce create the initial program and serves on the academy board. "Christy connects with our professors very well and does a great job facilitating and leading curriculum discussions. Her unique skill sets across the board make her perfectly suited for leading this important program."
Christy, a Soquel High School graduate, started her teaching career in the Pajaro Valley Unified School District with stints at Bradley Elementary and Rio Del Mar Elementary before moving to Aromas School in 2014.
Having grown up in a family of educators, she attended San Jose State and Chico State to receive a liberal studies degree and teaching credential.
"My grandfather would say 'when you're a teacher, you're going to be a great teacher'," Christy said. "I have always loved working with kids, so it was a natural fit."
Bruce and Kevin masterminded the academy in 2010.
Their mission was to invite incoming eighth graders from local schools to Graniterock's headquarters in Watsonville for a week of intense instruction by college professors and teaching assistants.
Bruce hoped the week of learning at his construction company would pump up the kids' passion for math, prime them for class in the fall and ultimately, open their eyes to future careers in science and engineering.
Each morning begins with a couple of Graniterock employees speaking to the teens about their own backgrounds and how math is used in the real world.
When Bruce died unexpectedly in June 2012, his wife Rose Ann Woolpert vowed to continue the academy in her husband's honor.
Rose Ann and the academy team worked to add Driscoll's as a partner and expand the academy to 15 middle schools spanning from Hollister, San Juan Bautista, Aromas, Pajaro and Watsonville.
For Christy, keeping Bruce's legacy alive is an important part of her role.
"We work hard to keep the intention and heart of this program continuing in Bruce's memory," Christy said. "What he wanted for the algebra academy plays a part in every decision I make."
Back to all Blogs