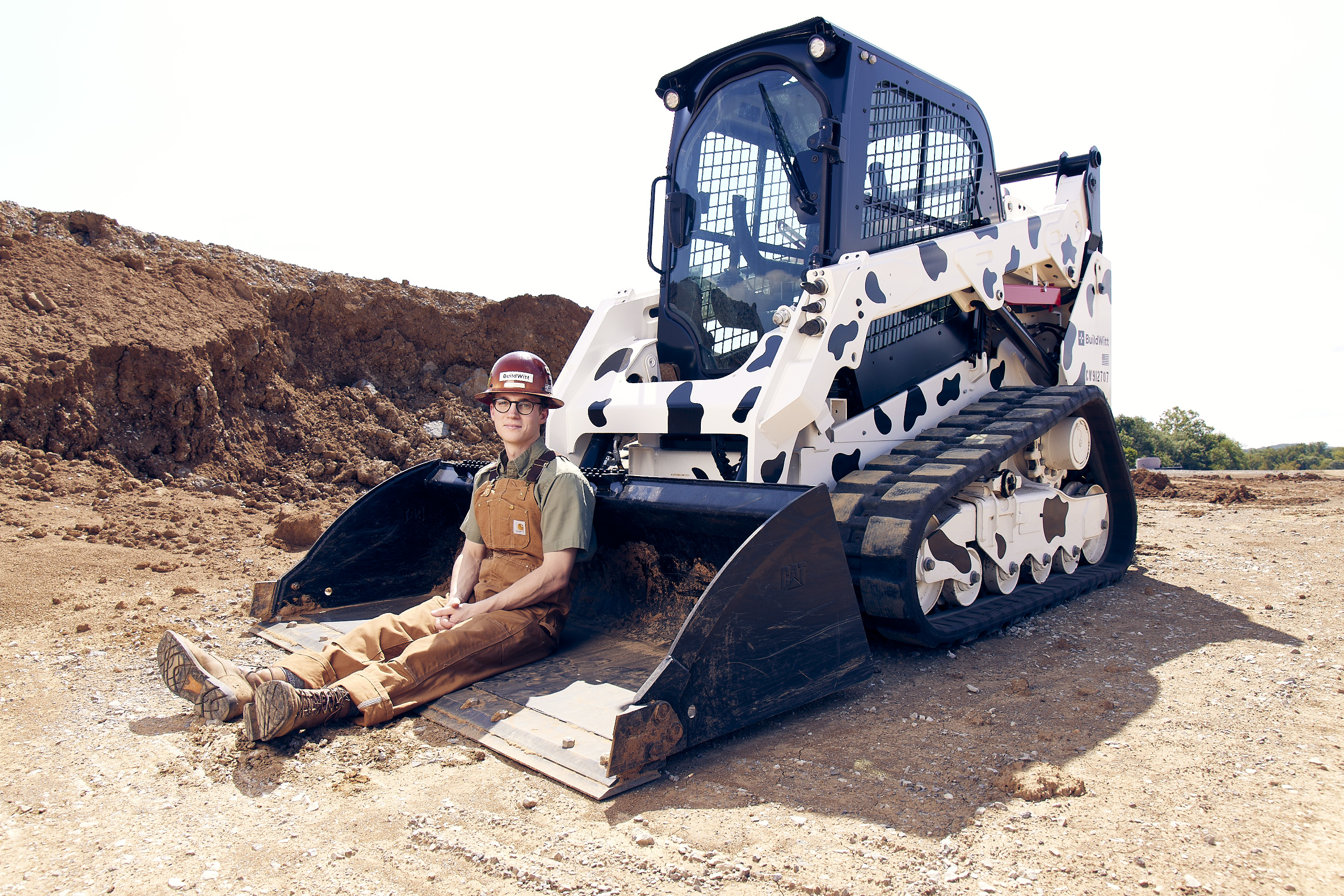 Social media influencer aims to transform construction industry
Posted by Shanna McCord Crigger on Nov 18, 2021
Aaron Witt sits with his 259D3 skid steer, known as the "earthmoover," he purchased in 2021 from Thompson Machinery CAT dealer in Nashville, Tenn. Owning heavy equipment has been his dream since a kid. He says the skid is the first of many pieces to come.

NASHVILLE – A rich kid from Arizona taking photographs at construction sites around the nation has grown into a young man determined to blow up an entire industry.

At age 26, Aaron Witt has a vision of upheaval for a "dirt world" very much set in its ways.
"We're building a digital platform for the dirt world where everybody will be in one spot for everything from job postings to training," said Aaron, the blonde-hair, baby-faced guy behind a movement to showcase an industry and the hard-working people accustomed to laboring in society's shadows. "This is a rocket ship. I don't see why we can't be a $1 billion company."
Since graduating from Arizona State University in 2017 with a degree in construction engineering, Aaron has amassed the greatest social media following in the industry with hundreds of thousands of people looking at his photos of construction's biggest, coolest machines. They're also watching his videos and listening to his weekly podcast DirtTalk.
People are drawn to Aaron for the content that caters to a blue-collar crowd and what he has to say about construction, business and life in general.
The numbers speak for themselves with more than 700,000 Instagram followers (between two accounts), nearly 300,000 on Facebook, 14,000 LinkedIn connections, 50,000 monthly podcast downloads, 8,500 YouTube subscribers and 60,000 TikTok followers.
Combined, his content reaches millions of people each week.
"I think it's really neat that he's gotten the industry to open up to the outside world," said Jeremy Hunzie of Graniterock, who follows Aaron on Instagram. "I think it's extremely valuable that he's drawing people to our industry because we do need a new generation in mining and construction."
Aaron's online appeal is bolstered by the honest glimpses he shares of his personal life, the ups and downs of constantly being on the road, financial struggles of being a young entrepreneur and talking openly about taboo topics such as anxiety, depression and therapy.
"Therapy's great," he says. "It's really helped me figure out who I am as a person and who I want to be. More people should try it."
While Aaron has made a splash on social media, what he's learned from conversations in the field, ranging from company owners to laborers, has fueled his ambition beyond likes and shares.
From his view, the construction industry is suffering.
Not enough young people want to step into a construction career as waves of veterans begin to retire, creating a shortage of workers across the country.
Current construction workers feel burned out and under-appreciated.
Leadership and training lacks at almost every company.
Aaron, driven by a single-minded passion, believes he can change all of that.
He's on a mission now to "make the dirt world a better place" so that it's a place men and women want to come and take pride in building America's infrastructure.
"No one in the industry is focused on the biggest problem, which is people. How to attract, recruit, retain and engage," Aaron said during an interview at his company headquarters in Nashville, Tenn. "The dirt world is human beings. It's not equipment, it's not materials. It's human beings."
Over the past three years, Aaron has created a company called BuildWitt, which wields industry influence with a small army of graphic designers, programmers, photographers, videographers, video editors, copywriters and brand managers.
He employs 40 full-time and 20 part-time.
He's stacked his own C-suite with a creative president, vice president of business development, chief revenue officer, chief people officer, chief technology officer and CFO among others.
Aaron's title, Chief Dirt Nerd.
He has an executive assistant based in Nashville, Jessica Saylor, who found the position on LinkedIn and manages just about everything in his life but the photos.
"I'd be a mess without her," he said.
These days, Aaron records the weekly podcast DirtTalk with co-host Alex Horton.
Alex is a Nashville resident, with no construction experience, who answered a LinkedIn ad for web developer at BuildWitt, which he did for a year before realizing his music and audio background would be better suited for managing Aaron's growing podcast.
The podcast includes interviews with characters from all parts of the industry, whether it's a company owner, veteran equipment operator, construction technology expert or 20-year-old laborer missing an arm and part of a leg.
Guests could be a business leader Aaron admires from other industries such as Sal Frisella of the St. Louis-based mega supplement company 1stPhorm.
Sometimes the podcast is just a conversation between Aaron and Alex, answering questions from listeners and dishing advice.
"It's been an education for me," Alex said about construction. "I've attached myself to Aaron's mission because it's clear to me I can play a role."
Aaron has formed partnerships with former U.S. Navy SEALs to provide leadership training exercises for construction workers, both craft and management, based on combat tactics of working together for a common goal.
Most recently, the company invested a healthy six figures in creating a series of leadership training videos online called BuildWitt Leaders in which contractors pay a hefty subscription for access to the website.
One of the stars of BuildWitt Leaders is Jocko Willink, a retired SEAL commander who applies his battlefield experiences to leadership and management practices as a consultant in the business world.
Jocko sees every problem in life and business as a leadership problem.
Jocko's book "Extreme Ownership: How US Navy SEALs Lead and Win," co-written with SEAL pal Leif Babin, is Aaron's gospel as he talks frequently about how the book has changed his life.
"In construction we gotta have multiple elements that work together to make the job move forward," Jocko said. "For instance, materials need to be delivered to the job site on time and the right materials, and if they don't show up, the whole team now fails. No one's gonna die but you fall off the critical path and who knows what penalties you'll be facing."
While Aaron's accomplishments sound like a lot for a 26-year-old, he says this is just the beginning.
When he talks about the next few years for BuildWitt, there's construction documentaries and children's programs in the works.
His vision is to build a mega media network for the dirt world.
Think Netflix for construction.
"What we're doing is the future of the industry," said BuildWitt President Dan Briscoe, a former marketing executive at construction software company HCSS.
Dan, a former U.S. Marine, met Aaron when he hired him to manage HCSS's I Build America recruiting campaign in 2018.
"My son said there's a kid on social media who's posting a lot of cool construction stuff," Dan, 53, said. "At the time, Aaron was working as a project engineer in Dallas. I asked him to come to Houston for an interview and I hired him on the spot. There's just something special about Aaron and what he's doing. Even the people who don't like Aaron find him interesting."
While Aaron gave the I Build America job a try, it wasn't a good fit for the guy who prefers to be around equipment and craft people, not in an office.
He quit in a few months.
Dan left HCSS shortly after Aaron to join a San Francisco startup that didn't pan out.
The two kept in touch after parting from HCSS and continued to share insights with each other on construction and business.
As Aaron's construction-focused social media took off and contractors began asking for creative services such as websites and logos, Dan stepped in to serve as the older, more experienced advisor Aaron needed to develop the business beyond a kid with a camera.
Now they charge $100,000 to build websites for heavy civil construction companies and a photo shoot goes for more than $5,000 a day.
The BuildWitt Leaders training platform for entire companies begins at $7,500.
"It's more than just building a website," Dan explained. "It's a whole process where we come and spend time at your company and get into 'what is your why' and your company values. It's a five to six month process."
Where Aaron is the face of the company, popping onto job sites with his camera and making wise cracks on Instagram stories, Dan is the experienced businessman managing BuildWitt operations.
He's working to grow the business by expanding services and hiring more people.
They plan to double the number of BuildWitt employees by the end of 2022.
"Companies are desperate," Dan said. "We hear the exact same message over and over again. They say my No. 1 issue is people, my No. 2 issue is people, my No. 3 issue is people. I'm losing tens of millions of dollars of work because I can't find people.
"That's one of the problems we're going to solve."
Aaron's roots are so far from the blue-collar dirt world, it's surprising he got here at all.
He was born and raised in Paradise Valley, Ariz. next to Phoenix, one of the wealthiest towns in America.
He attended the prestigious Phoenix Country Day School, spent summers in Aspen and Cape Cod and learned to ski in Telluride, Colo.
His father Fred Witt, an attorney, served as national director of real estate tax services at Deloitte, splitting his time between Phoenix and New York City for much of his career.
The oldest of three kids, Aaron paid close attention to his parents and their friends – bankers, lawyers, doctors and politicians – as they talked business and money around the dinner table.
Much of Aaron's ambition, witty banter and confidence today, he says, stems from absorbing adult conversations as a boy.
"All of these people were self-made," Aaron said of his family's circle. "I just knew I'd be in business one day because that's what everyone did. I learned so much about business because I was around it all the time."
From a very young age, Aaron was fascinated by the heavy equipment he saw building Arizona's roads and highways.
He frequently talks about having his sixth birthday party at the CAT dealer in Phoenix thanks to his dad's connections.
His construction aspirations began to take shape in high school.
When Aaron got into exotic fish as a hobby and desired an expensive saltwater aquarium, his parents could have handed over the money.
Instead, they sent the 14-year-old to spend the summer at a friend's ranch in Red Lodge, Mont., where Aaron labored on a landscaping crew at the ranch to earn money to buy the fish tank.
"I had so much appreciation for the people and hard work that summer," Aaron said. "It was really hard work that I'd never really seen before. And the people were some of the coolest people I've ever met."
By college, he dreamed of one day owning his own heavy civil construction company.
Aaron, a mediocre student by his own admission, took a practical approach to college with Arizona State.
He got scholarships and put the chunk of money his father gave him up front to cover four years of tuition into the stock market.
While struggling to pass the math-heavy construction engineering classes, Aaron worked at five different construction firms and spent summers interning with heavy civil contractors Kiewit and Skanska.
Aaron says by the time he graduated, he had a little experience in underground, rail, blasting and estimating.
He also had a solid six figures in the bank as a result of investing his father's tuition money in the stock market as a freshman.
Aaron credits his passion and success in the dirt world to his parents not standing in the way.
There was no push to go to a particular college or study a particular subject.
They were supportive when he spent summers working on construction crews. They were all around hands-off and let Aaron chase his dirt world dreams.
"My parents let me do my thing and never told me what to do," he said. "They didn't try to live through me. They didn't push me in any single direction."
Another thing they didn't do is give or loan him money to establish BuildWitt.
"Not a dime," Aaron said.
Inside the newly-renovated 7,000-square-foot BuildWitt office near downtown Nashville, every inch is intentionally designed with industry details and a nod to the 25 contractors he calls partners.
Wallpaper is custom made with portraits of men and women in hard hats photographed over the past few years by Aaron.
Old pieces of yellow iron are mounted on the wall and built into the office furniture.
Large slabs of Tennessee ash make up the giant conference tables.
Hard hats hang on the wall alongside a collage of construction company stickers from around the country.
There's space in the back where some of his favorite photographs are hung in frames.
His mission statement "Make the dirt world a better place" shines in neon lights on the brick wall in BuildWitt's large conference room.
"I wanted this to be a physical representation of the dirt world," he said.
Aaron leased and renovated the office during the nation's coronavirus pandemic in 2020 when other businesses pulled back on office space.
While it was created with the intention of feeling like a second home for BuildWitt employees, no one is required to be at the office.
"People would argue this is a waste of money for a small business like ours. I would argue the opposite. Our business is predicated on human capital and the ability to build teams," he said. "You form teams and build relationships with individuals by being together. It's human nature you need to be together. I'm more bullish on office space today than ever before."
Aaron lays out ambitious plans for his future and the industry.
Yes, he'll keep taking photos and posting them on the internet.
His band of photographers and videographers – led by Aaron's first two hires, Kjell Gerber and Angel Torres – will continue to hit the road visiting BuildWitt partners to capture their stories.
His next big move will be in software. BuildWitt wants to create a giant mobile platform to host all of the dirt world's needs.
What Aaron and team have in mind is an app they're building from scratch that will serve as the industry's one-stop shop for recruiting, onboarding and training the next generation of construction workers.
"We're going to build a digital world for the industry," he said. "We're going to dominate the digital space."
Editor's note: While Graniterock was a BuildWitt client in 2018-2019, we currently have no business relationship. However, we continue to follow BuildWitt's journey and admire Aaron's dedication to the "dirt world."
Back to all Blogs