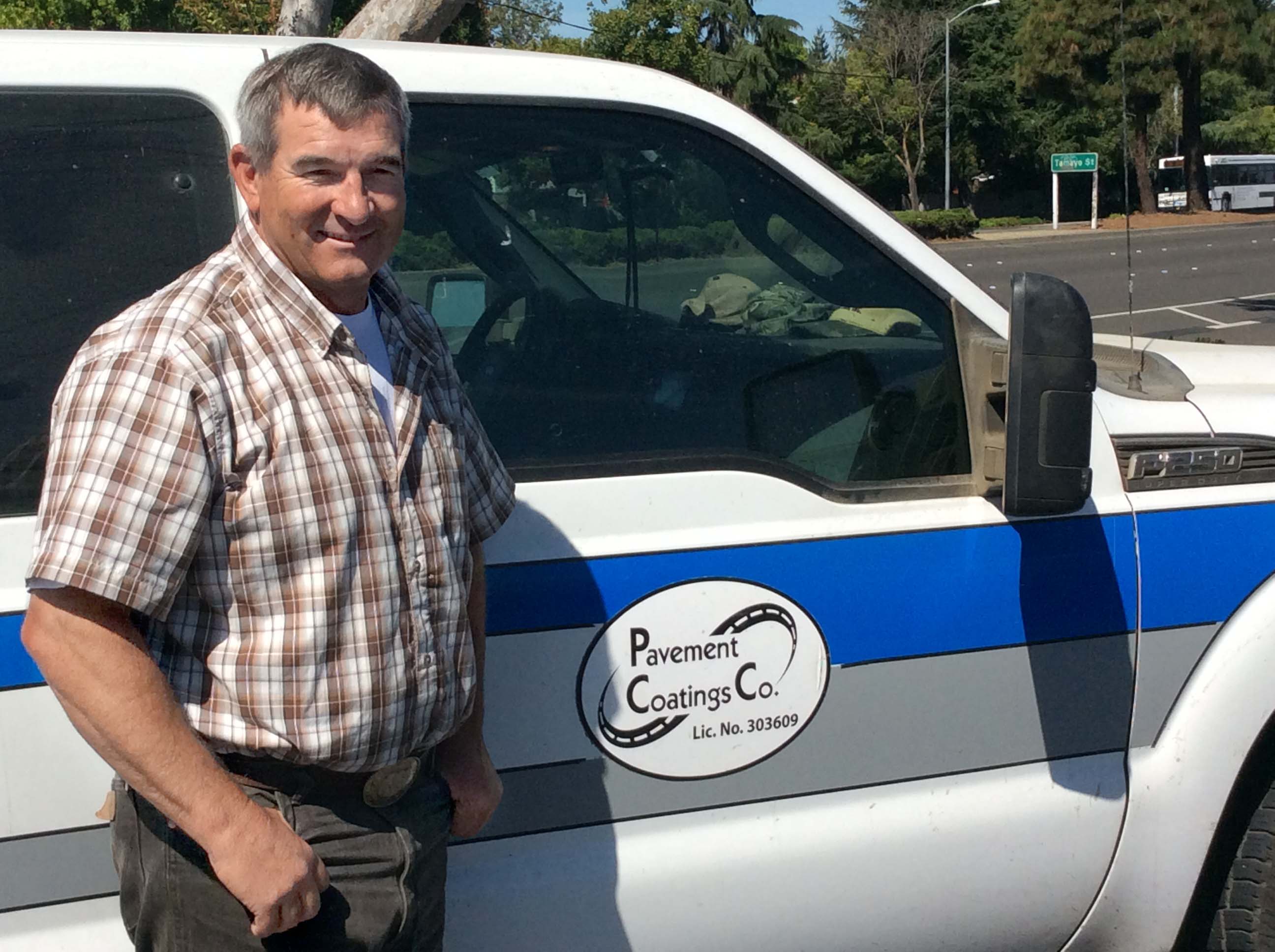 Roughneck turned slurry seal boss finds trust-based success
Posted by Shanna McCord Crigger on Aug 10, 2016
UNION CITY – Barry Short lives most of his life on the road – from the Sierra Nevada mountains to the California coast and high desert of Arizona.
One day might take him to Lemoore, the next to Danville, Santa Barbara or maybe Las Vegas for his work as superintendent of Pavement Coatings Co., a Southern California-based company specializing in slurry seals.
Barry can be hard to pin down, but when you meet the fun-loving jokester, the conversation is easy like catching up with an old friend.
"I studied business in college, but I'm not a bank guy," the 56-year-old said. "I don't like to get dressed up and I definitely prefer to work outdoors."
He's become a seal coat expert over the past 14 years, as his career has included work at Intermountain Slurry Seal and Valley Slurry Seal before joining Pavement Coatings Co. in 2015.
Slurry seal is an application of a mixture of water, asphalt emulsion, aggregate and other additives to an existing pavement surface to prolong its life.
You can think of it as a paint job for the road, something to give it a few more years of smoothness before needing reconstruction.
With pavement maintenance a hot topic across the state, Barry is busy as ever with Caltrans and other public agencies trying to stretch the last mile out of our beat up roads and highways in the face of transportation funding deficits.
"Water is one of the worst enemies of asphalt," he said. "We come in with our products and services and give the road another wearing course."
Barry didn't jump straight into construction after finishing college at Lewis-Clark State College in Idaho.
His first career was on an oil rig for Hexadyne Energy of Woodland, a job with a high degree of danger that kept him constantly traveling.
Mexico, Oregon, Washington, Nevada, California - you name the place, Barry's worked there.
Life as an oil field "roughneck" was tough with seven-day workweeks and rotating graveyard shifts.
"It was nonstop," he said. "We didn't shut down for weather or anything."
But he loved the hard work, beautiful scenery and chance to develop leadership skills as a driller leading several crews.
Much of what he learned on the oil rig has played well in the slurry seal world.
"I'm all about consistency," Barry said. "I always start the day with a safety meeting and a production meeting with my guys. I explain the expectations and they get the job done. It's not me, it's the people I work with and work for who make a job successful.
"Just like Joe Montana wasn't a successful quarterback on his own. He had a line to protect him, someone to pass to, trainers and fans. You can't be awesome without a strong team."
Barry has earned the respect of his peers throughout the construction industry.
Graniterock's Don Barrett, who has known him for 15 years, says Barry can be counted on to deliver great projects.
"Barry has been a fixture in the construction industry, and he knows his craft," Don said. "With Barry it's all about quality, safety and making things happen."
While it can seem Barry is all work and little play, family is first and foremost in his heart.
He's married to his high school sweetheart, Jennifer, with three grown daughters, two grandchildren and one more on the way.
He books it home to Davis on the weekends, where he looks forward to long leisurely breakfasts with the family, except for the occasions when Barry packs up his bow and takes off hunting or trout fishing.
"Life is good," he said.
Back to all Blogs