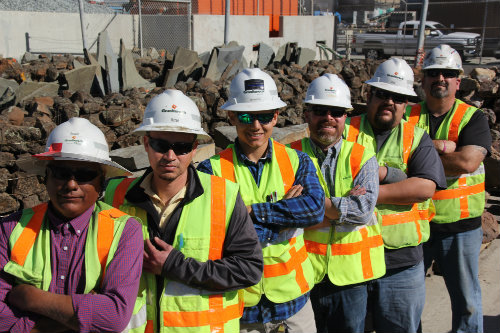 Redwood City building materials team beats the odds
Posted by Shanna McCord Crigger on Apr 26, 2018
REDWOOD CITY – Bet against Graniterock's building materials team in Redwood City and you're sure to lose.
This agile, six-man team - fighting tooth and nail for every sale they get in the fiercely competitive San Francisco Bay Area market - has proven they can take a punch or two and bounce back stronger than before.
With customer service that exceeds expectations and genuine camaraderie between each other, the northern building materials team has slowly and methodically carved a niche for itself in the world of high-end natural stone products, blocks, pavers and other masonry products.
Such products are being sought in the commercial and residential markets from San Francisco to San Jose and the wealthy enclaves in between, where $20 million mansions get overhauled.
Whether the customer needs a single bag of drain rock or 10,000 square feet of interlocking pavers, the time and attention given are the same.
Quotes are delivered ASAP and material deliveries show up on the day and time promised.
"We sell service," said Logan Herkomer. "We build loyalty by really taking care of our customers. We're pounding the pavement for new customers and keeping relationships strong with the customers we have."
Two years ago, the building materials team could have faced a knockout when Graniterock leaders announced they would close the Cupertino Design Center, a retail location that had served as a warehouse and showroom for customers to see how products look before pulling the trigger on a purchase.
The team underwent a major restructuring and was asked to move to a portable trailer in Redwood City, located on the same site as Graniterock's concrete plant.
The business strategy pivoted to a direct sales model of working with contractors and ditching the showroom.
It was a new world with no guarantees of success, a true gamble.
But the team – Logan, David Alves, Michael Doucette, Amador Martinez, Bronson Villacorta and David Sanchez – rose to the challenge and then some.
They've made a name for themselves with repeat clients and turned strong profits.
Logan serves as team manager and Michael Doucette is the outside sales representative.
David Alves handles incoming phone and foot traffic, inventory and safety management.
He is known as the "jack of all trades" among the group, someone who schedules deliveries, manages incoming material shipments, jumps on the loader when necessary and acts as branch safety coordinator.
"I consider myself Gumby. I do a little of everything here," David said. "I'm the logistics guy. One minute I'm helping someone at the counter, the next minute I'm on the loader helping in the yard."
Amador is the veteran forklift operator who keeps the yard meticulous and organized.
More than just a forklift driver, Amador is great with customers and knows the stone products as well as anyone.
[Read Amador's story.]
Bronson and David Sanchez are dependable delivery drivers, crisscrossing the Bay Area in their flatbeds to make sure customers get what they ordered on time.
They have a knack for examining job sites where material is delivered and asking if any other product from Graniterock might be helpful.
"The key is customer service," said Bronson, the team's newest member. "We're polite. You can tell the customers appreciate it."
Michael, who started in the landscape industry before joining Graniterock three years ago, embraces the idea of treating customers exactly how he likes to be treated.
Much of his approach to work comes from daily reading of the Bible.
"It's a simple motto, sort of old school," Michael said. "We practice what we preach. Our yes is yes and our no is no. So far it's working."
Back to all Blogs