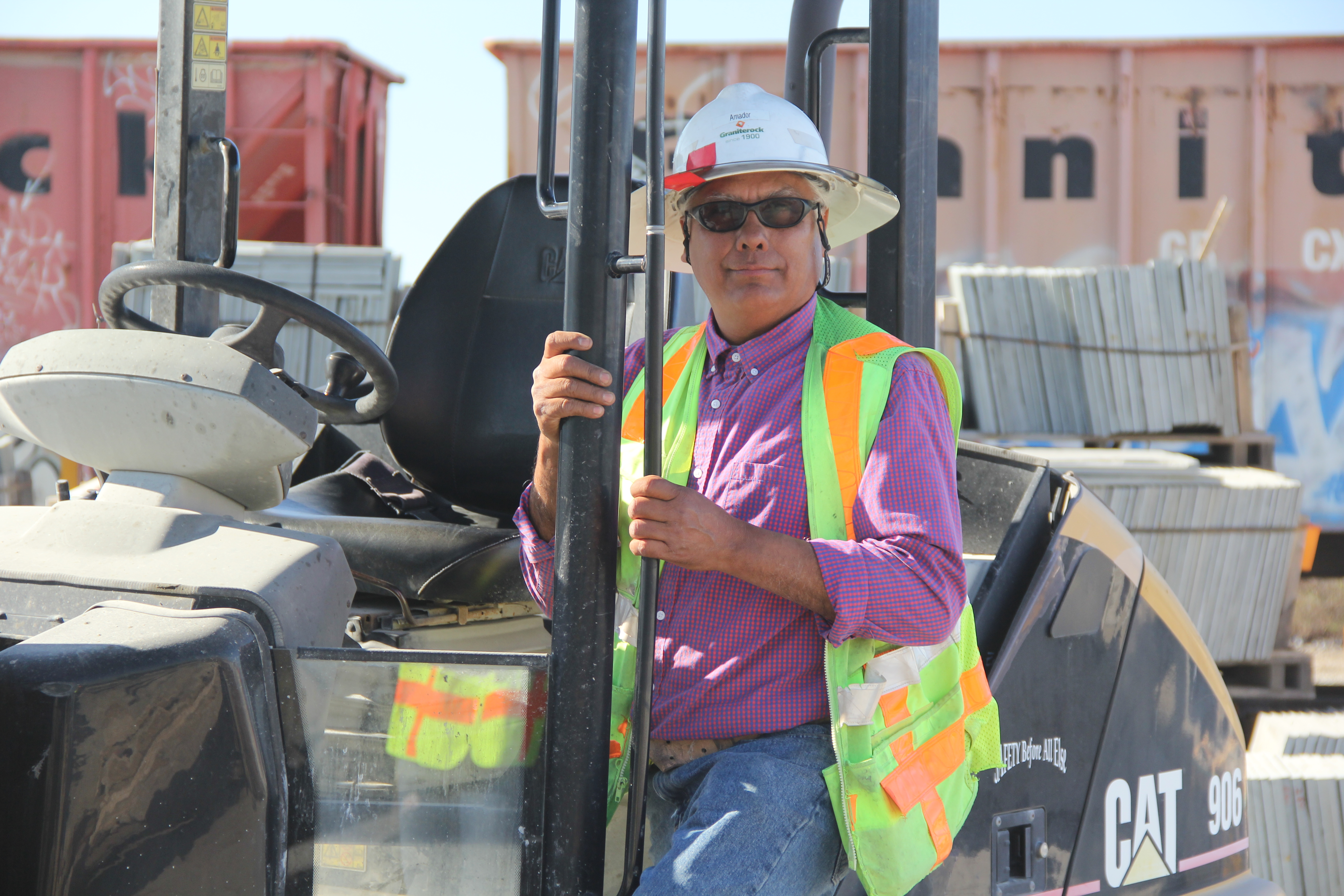 Way more than a forklift operator
Posted by Shanna McCord Crigger on Mar 15, 2018
REDWOOD CITY – Amador Martinez is known for his first impressions.
Customers arriving to Graniterock's building materials yard in Redwood City in search of natural stone for a residential or commercial project are greeted by Amador as he's moving and organizing boulders and giant stacks of stone around the yard with his forklift.
He's quick with a smile and doesn't hesitate to hop off the forklift to answer a question or point a customer in the right direction.
A veteran of construction building materials, Amador is friendly and knows stone masonry products inside and out, which makes it easy to offer recommendations on what might work best for the customer.
He's considered by his peers an unofficial salesman because of his ability to effortlessly connect with customers – homeowners, landscapers, designers, architects and masons – and help them find what they need.
His native Spanish comes in handy every day in helping his team communicate with some of their clients.
"Amador is the most important salesperson at the branch because he's the first and last person customers interact with," said manager Logan Herkomer. "Amador is the secret to our success."
Amador believes the only secret to his success is hard work, the kind that involves operating heavy equipment, working outside and a willingness to do just about anything asked.
He moved to California from Jalisco, Mexico in 1977 and ended up in Fresno, where he picked cotton by hand under the blazing sun.
Fortunately for his back, a friend steered Amador to San Jose and he joined Graniterock in 1978 as a laborer at a time the company had a brick business in San Jose.
He stayed with the company until it folded the brick business 10 years later.
His experience at Graniterock led Amador to join Operating Engineers and work as a forklift operator at Calstone, a block and paver supplier, for 18 years until circling back to Graniterock in 2010.
Since returning to the company, Amador has been a key figure on the building materials team.
The team revamped its approach to the still-hot San Francisco Bay Area market a couple of years ago when they determined a direct sales business model would be more efficient than running a building materials retail design center in Cupertino.
Closing the store meant turning the Graniterock building materials yard on Blomquist Street in Redwood City into a central hub for customers to browse inventory, which Amador meticulously manages.
He keeps the yard organized with the stone neatly arranged and the area easy to navigate.
He communicates with his team when there's too much of a particular product or they're low on something.
A magician on the forklift, Amador is the one to load every delivery truck with customers' orders.
The customer experience is always top of mind for Amador, who has a knack for blending different pallets so projects turn out with a variety of color and texture.
"I've learned a lot from this company," Amador, 57, said. "I love my job. If I didn't love my job, that would be a problem."
Amador and his wife Maricela, San Jose residents, have been married 27 years and have two daughters and a son.
Back to all Blogs