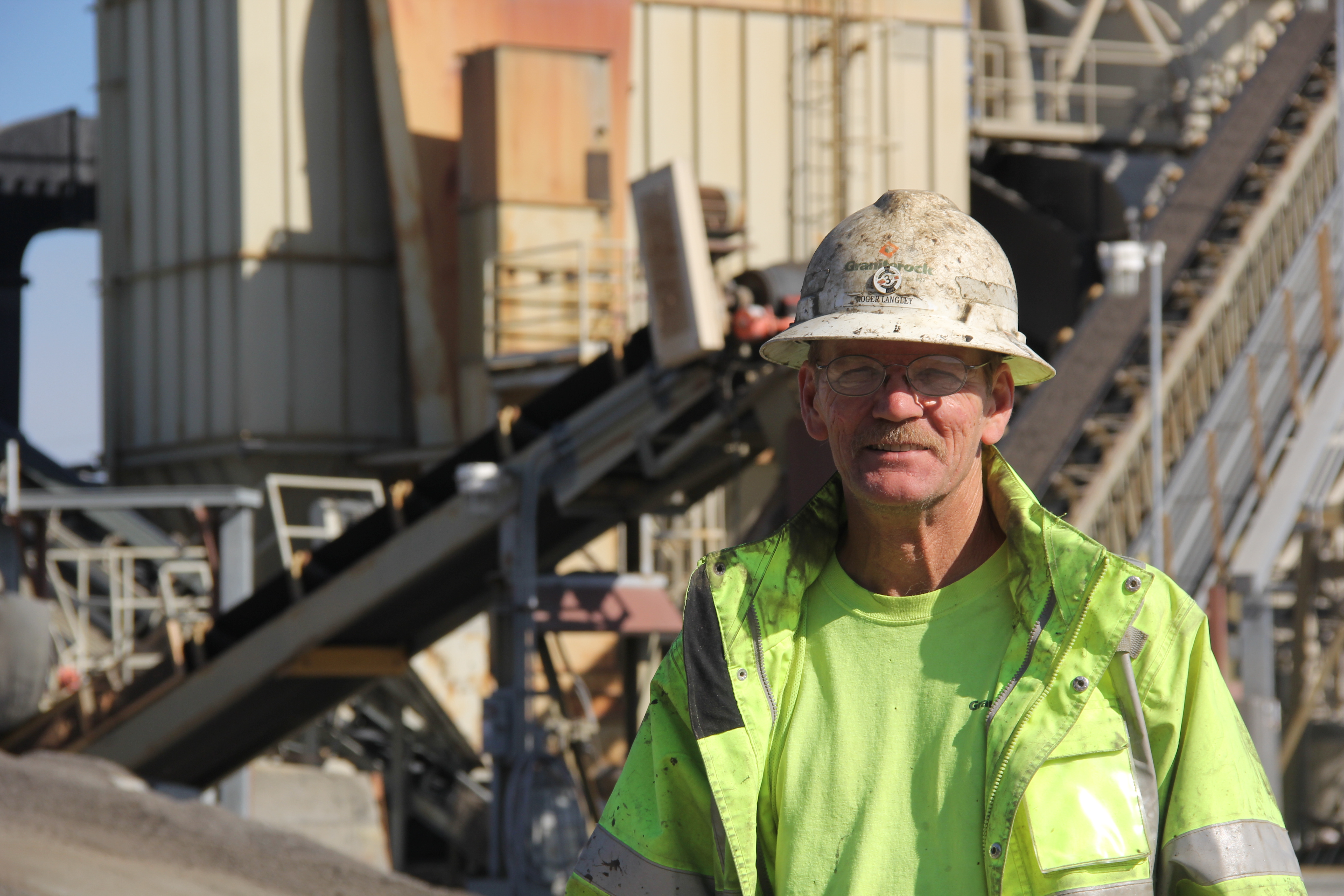 Heavy-duty repairman Roger Langley pumped on asphalt career
Posted by Shanna McCord Crigger on Dec 11, 2018
SOUTH SAN FRANCISCO – It's pretty clear Roger Langley spends a lot of time around tools and machines.
Immediately, you sense there's nothing he can't fix.
His white hard hat and bright yellow safety jacket are muted by thick black traces of oil and dirt.
His hands and boots, too.
Mechanics come second nature to Roger whether it's a car, 980G loader or 60-foot stacker conveyor loading material into the hot mix asphalt plant.
After more than 25 years in the construction industry, Roger knows exactly how to make an asphalt plant work – all those belts, feed bins, silos, tanks, pumps and hydraulics are his world.
As heavy-duty repairman at Graniterock's South San Francisco hot plant, he's charged with keeping the plant humming along.
It's a responsibility he embraces with such enthusiasm, Roger talks like a lottery winner.
"Asphalt is my thing," the 57-year-old said. "I love the smell of asphalt. I'm one of those weird ones who just loves everything about asphalt. The plant is exciting in itself. And, I work with the best team at Graniterock."
A longtime Operating Engineers member, he's quick to jump on the loader and start chipping away at the giant aggregate stockpile waiting to feed the plant while semis pull under the chute and wait for the 300-degree material to drop into their truck bed.
The veteran of Graniterock's small team in South San Francisco, Roger also takes seriously his duty to properly train the new, younger guys coming in to the industry, particularly when it comes to safety.
"I want to be that guy who's first, who's responsible," Roger said. "Put the pressure on me, I'll jump in head first."
Days at the plant can be long with asphalt in high demand, often 12 hours or more before Roger retires to his trailer where he spends weekday evenings.
On weekends, Roger heads 180 miles north to Corning, a small town near Redding, to be home with Jackie, his wife of 35 years, whom he calls "the love of his life."
They have two grown sons and a 12-year-old granddaughter.
He's affectionate about Corning and protective of its little-known fame as Olive Capital of the World.
"Spain keeps trying to whoop us," he says. "But nope, they're not going to do it."
Roger, the son of a gas station owner and master mechanic, grew up in Los Angeles wrenching on the cars that came to the station's garage for repairs.
"Helping out my dad wasn't a choice," Roger said. "I learned everything from him."
The family moved to the opposite end of the state when he was 17.
Upon arriving to Cottonwood, Roger worked at a saw mill for several years.
He says he might still be in the lumber business if not for protection of the northern spotted owl under the Endangered Species Act, which started to impact logging employment.
He switched to construction operations by figuring out how to run a loader and drive a haul truck at Jaxon Baker, a family-owned aggregate and asphalt firm with Northern California roots.
He spent 10 years at Knife River and a few other similar companies before joining Graniterock in 2013.
In addition to his industry and mechanical knowledge, Roger is a leader among his peers.
"Roger brings a sense of calm to this team, shares his ideas and is the perfect listener and coach," said John Wilshere, Graniterock's asphalt operations manager. "Roger is someone who knows the way, and more importantly shows the way for others."
Back to all Blogs