Friend of the Family: Jimmy Chiu
Posted by Terry Tuggey on Mar 18, 2015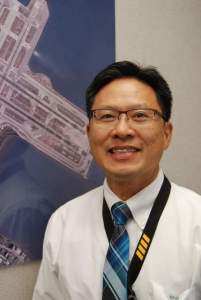 Since the mid- 1990s, Jimmy Chiu, infrastructure program director at San Francisco International Airport, has played an important role in the airport's unique partnership with Graniterock's Construction Division. "Right from the beginning, we worked on a way to solve problems in a non-adversarial way," Jimmy said. For example, if mix designs developed in a lab environment did not perform on site, the airport team worked with Graniterock to find a solution.
"Over the years, we've realized that as a designer we don't always have the best method. We have never felt threatened by suggestions to do things differently. We appreciate suggestions and believe in project partnering. Your company has the expertise, and if a suggestion is going to benefit the project and schedule, why not listen?"
During World War II, Jimmy's parents fled China to Burma, where he was born the youngest of seven children. When he was 11-years-old, his parents moved the family to San Francisco. Since then, Jimmy's only time away from the Bay Area was when attending Cal Poly San Luis Obispo, where he earned his degree in civil engineering.
Jimmy has been with the airport since 1989, beginning as a project manager after a couple of years working for a construction business. His first major project with Graniterock's Construction Division was in 1995, when the airport closed a runway for 10 days. "This was a really big, high visibility paving job with an aggressive schedule."
This past summer, as Runway Safety Area program manager, Jimmy was responsible for the entire safety improvement project at SFO. "This was a huge project - the biggest since 45 years ago when an additional runway was built into the San Francisco Bay. It has to rank as one of the top three projects of my professional career," he said.
But it is not just the scale of the project that made it important for Jimmy, but the fulfillment he found in work that improves the safety of the thousands of passengers who use the airport daily. He praised the personal sacrifices made by those who worked around the clock to complete the work.
Jimmy and his wife Lena have been married for 25 years and have two children who are recent college graduates. Daughter Kerri earned degrees in economics and English at UC Santa Barbara, and son Michael graduated from Cal Poly with a degree in biomedical engineering. Jimmy loves snow skiing and has recently picked up golf. But the safety improvement project left little time for outside interests.
"We had to put our social lives on temporary hold, which wasn't easy for families. Travelers often take safety for granted, and our hope is that the airport will never utilize the features we've installed, but if there ever were an accident, we have made it safer for our passengers. Everyone should be proud of that."
Jimmy credits Graniterock and their joint venture partner DeSilva-Gates, along with San Francisco Airport Director John Martin, for setting the tone to meet the project's aggressive construction schedule. "Director Martin is extremely pleased with the results of this project. It is unheard of to shut down two of four departure runways for three to four months, there was a huge dollar value involved and a tremendous amount of construction completed in a short period of time. But we decided we were going to build this as a team with the joint venture, to work together and get it done.
With this major project now complete, Jimmy has more challenges ahead. Airport parking is crucial, and there are plans to add new long-term parking garages connected to a planned extension of the air train people mover. With eight miles of the airport's perimeter touching water, an extreme storm could cause flooding, so seawalls need to be considered to protect the runways for the short term.
Down the road, the airport needs to work closely with neighboring communities to mitigate rising seawater elevations. Security is a constant concern, and new ways must be found to protect the landside as well as bayside airport perimeters.
Back to all Blogs