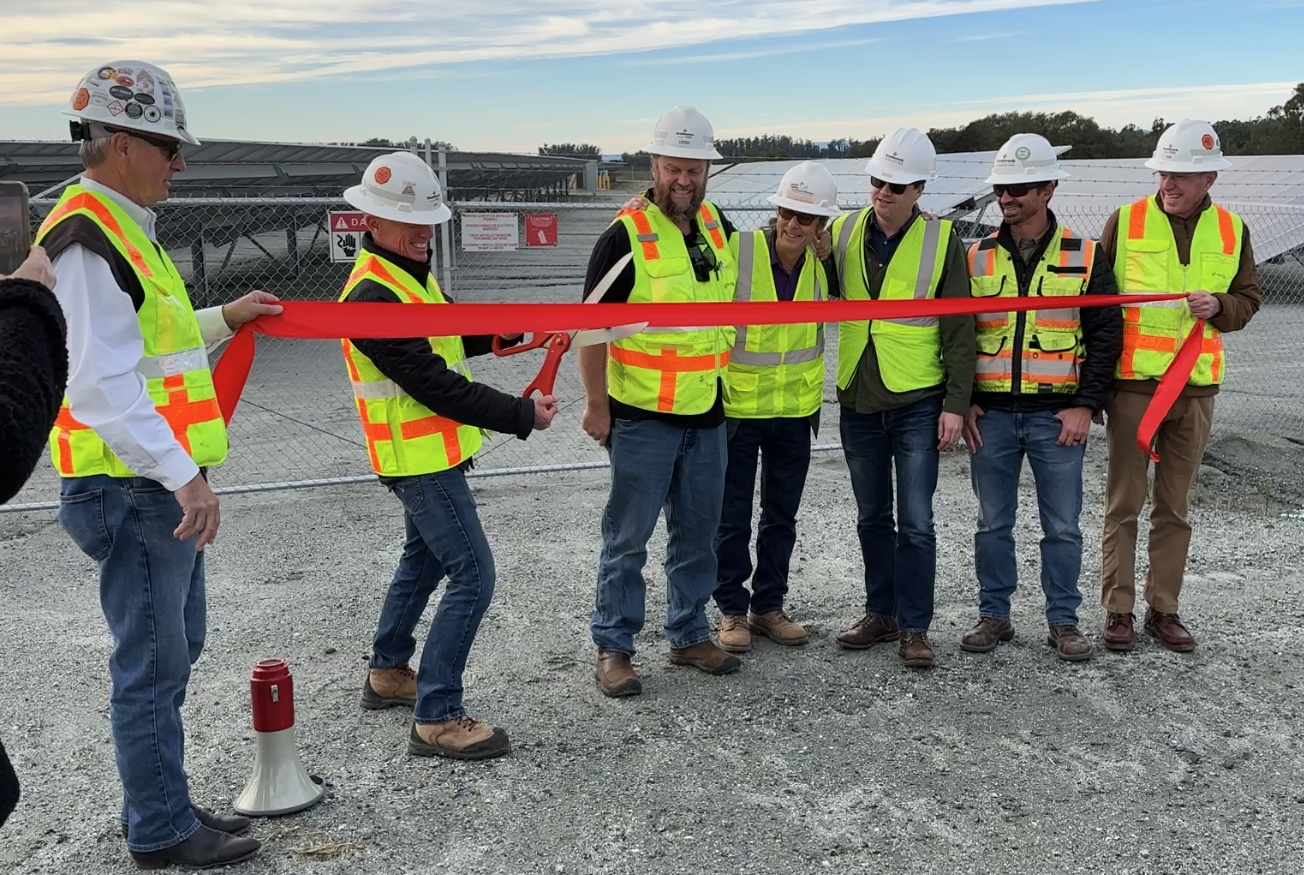 Flipping the switch to solar energy at Graniterock's aggregate quarry
Posted by Graniterock on Dec 6, 2022
AROMAS – A gathering of Graniterock team members and community friends celebrated flipping the switch on a 5-megawatt solar farm that will generate enough power to run more than half of the company's aggregate quarry in Aromas.
This was a major milestone in the 122-year-old mining and construction company's ongoing investments to lower greenhouse gas emissions and move to sustainable energy sources.
The 15,000 photovoltaic panels installed on a 20-acre area of the quarry, which are not visible to the public and not used for mining operations, will significantly reduce the quarry's carbon output.
The project was inspired by a conversation in 2017 between a group of Aromas residents who are members of the Aromas Progressive Action League and Graniterock Vice President Peter Lemon.
The collaboration resulted in a plan to turn formerly mined lands into a solar farm to help power the quarry and reduce the community's overall carbon emissions.
The community plan was well received by Graniterock as it aims to reduce greenhouse gas emissions in all operations.
"Graniterock is about three things: Great projects, great products and great lives," Peter said during Friday's ribbon-cutting event. "Turning to solar to power our quarry operations represents all of those things and helps ensure Graniterock stays around for many years to come."
The solar installation is the third development in a portfolio of alternative energy projects Graniterock has initiated in recent years, and a major step toward energy independence for the family-owned company.
The company built a 1-mega-watt solar farm at the quarry entrance in 2018 with 3,000 panels that remove approximately 15 percent of the quarry's electricity from the power grid.
In 2019, Graniterock headquarters on Technology Drive in Watsonville was converted to a near net-zero energy usage building through various investments in alternative energy tools such as ultra-efficient lighting, HVAC upgrade, rooftop solar array and four charging stations for electric cars.
Back to all Blogs