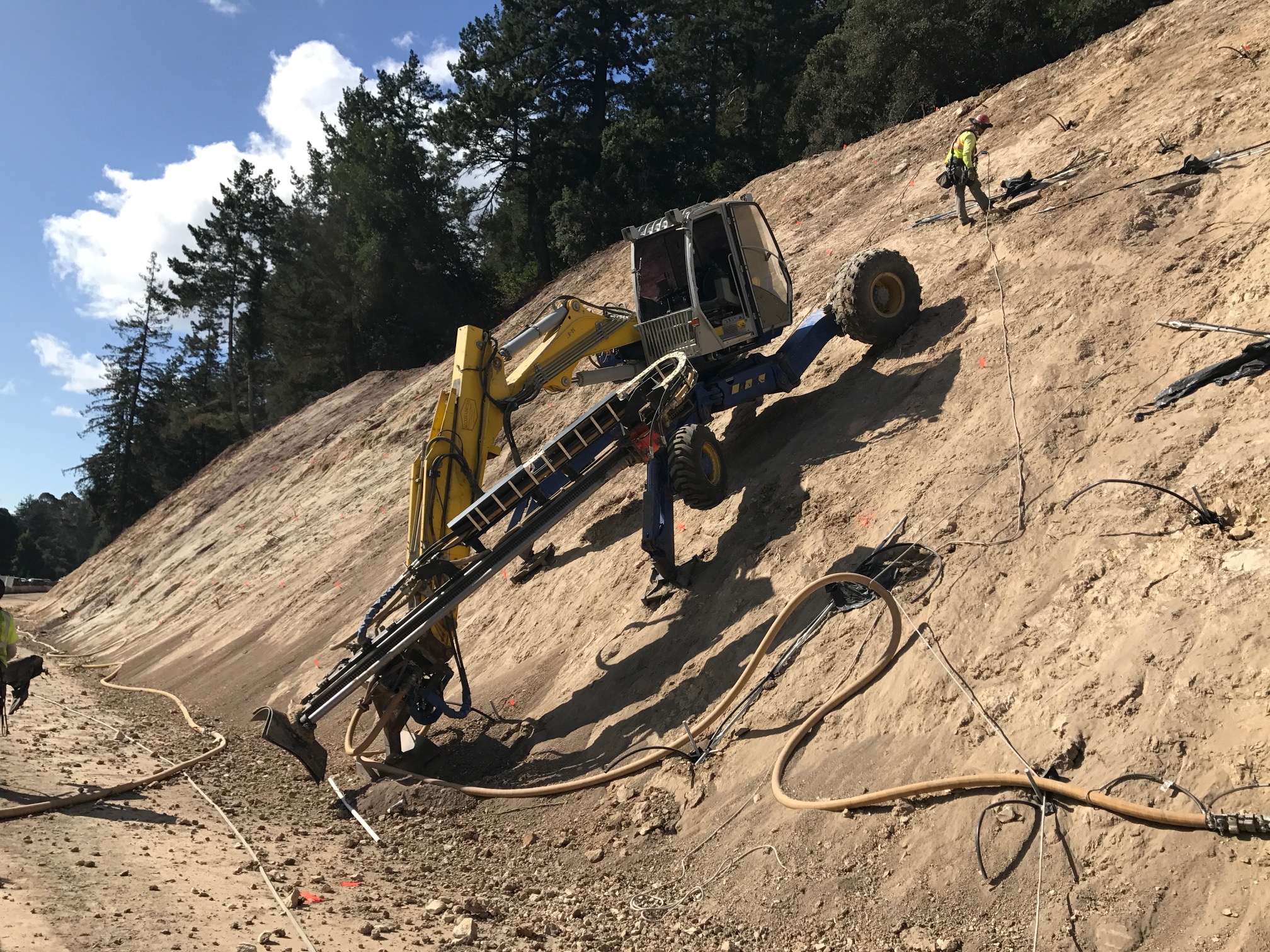 Fixing problem spot on Highway 17 before the rainy season
Posted by Graniterock on Nov 20, 2017
SANTA CRUZ – What's known as a precarious section of Highway 17 for dirt and debris falling into the roadway during stormy weather is getting some preventive maintenance from the Construction team before the next round of rain arrives.
A quarter-mile southbound stretch near Pasatiempo is the site of a $5.6 million slope stabilization and erosion control project, bid by estimator Bob Williams, for Caltrans.
If you've seen construction workers – Graniterock subcontractor Hi-Tech Rockfall Construction – repelling from the 75-foot slope or the spider excavator in action, that's part of the work to install wire mesh to hold the soil in place, reduce erosion and still allow native vegetation to grow through the mesh.
"This has been an exciting and challenging project for our team," project manager Ambryn McBride said. "Every winter, Caltrans is out here cleaning this area of the highway because dirt or a tree fell off the slope. This section will be safer now."
The wire mesh was secured to the slope by drilling 10-foot-deep holes, about four inches in diameter, for tiebacks to anchor steel plates to secure the wire mesh.
A major step early in the project involved Graniterock crews removing hundreds of invasive acacia trees from the site because their shallow roots and heavy canopy make them prone to fall.
The team also removed damaged concrete gutters along the slope and replaced them with permeable storm drains that flow into underground pipes and guard against erosion by safely removing water from the slope.
Native trees and grasses will be planted above the slope where the acacias were removed.
The team expects to wrap up safely in early 2018.
Big thanks to the team who's made this project successful: Josh Fenker, Chris Anderson, Tim Carilli, Jessie Marin, Horacio Islas-Trejo, Hugo Gutierrez and Efrain Martinez.

Back to all Blogs