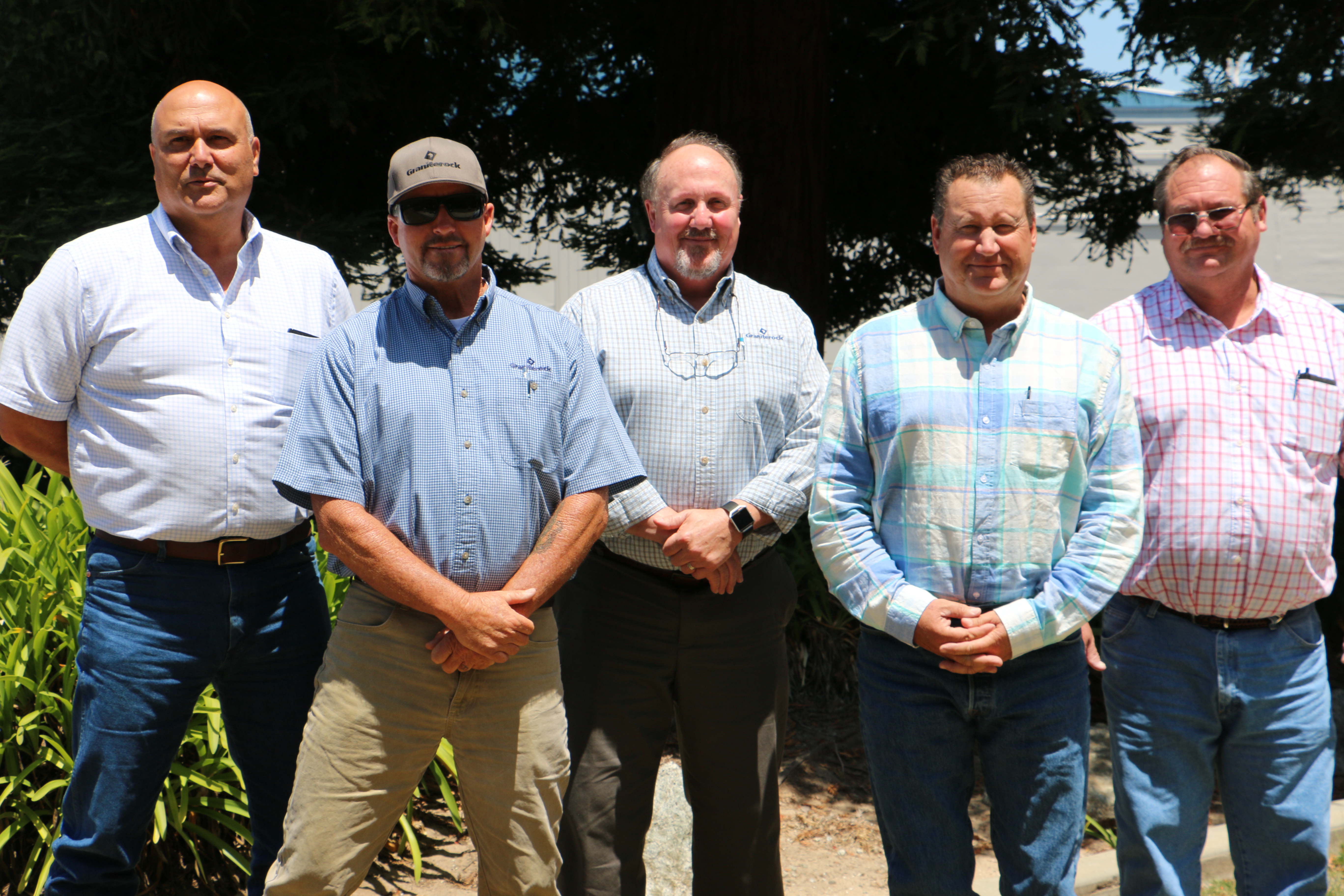 Construction's custom team: Defined by a connection that goes beyond the job
Posted by Shanna McCord Crigger on Aug 8, 2016
WATSONVILLE – There's a group of guys in the Monterey Bay area that own and operate their jobs in a way you don't see in the rest of the Construction Division.
They also have a bond that's a lot like family. Literally.
Reiner Maschmeyer, Juergen Maschmeyer, John Hazdovac, Steve Lindsay and Ed Jenkinshave crafted a unique niche in which they bid and build a lot of parking lots and driveways.
Need to build a park, fix a sidewalk or construct a retaining wall?
They tackle those too.
And based on the way they've developed tight-knit customer relationships and delivered high quality projects consistently over the years, this team doesn't necessarily rely on being the lowest bidder to win every single job.
Much of their work comes from repeat loyal customers and referrals.
"They all have a drive and passion to get the work and exceed expectations," said Graniterock's Monterey Bay Area Manager Karl Philipovitch. "This is a really cohesive team that works well together and they excel as individuals too."
Known as the custom construction team, they steer most of their attention toward Monterey, San Benito and Santa Cruz counties, where they've made a name for themselves with homeowners and businesses of all sizes.
They also work with public agencies throughout the region, including Santa Cruz Public Works Department and Cabrillo College.
Salinas Valley agriculture companies have driven a big part of the group's growth in recent years as the produce industry expands facilities, creating demand for bigger parking lots, coolers and other infrastructure Graniterock can help with.
In many cases, the customer has only a rough idea of the work they want before meeting with one of these guys who can help the project take on shape and details by listening and taking to heart what the client needs.
They joke some of their best plans start on the back of a napkin over lunch with a client.
The team specializes in taking the customer from bid to proposal, job schedule and final invoice – seeing everything through from start to finish.
"We work one-on-one with the customer to understand their vision. We're very personable with our customers," explained Reiner, the team's leader with more than 30 years in the construction industry. "We look the customer in the eye and give them what they expect. It's all about creating that trust factor and things expand from there."
When it comes to the team, they talk about each other like family.
It's not just talk.
They have each other's backs and step in to help when someone is swamped or struggling to meet a deadline.
Reiner and Juergen are brothers, having grown up with a father in construction.
Reiner and John were classmates at Monterey High School in the 1970s and worked together at another construction company before joining Graniterock around the same time in 2004.
Steve previously owned his own construction company, which bought materials from Graniterock years ago, and has been friends with John since the late 1970s.
He also graduated from Watsonville High School in 1969, the year before Graniterock's late president Bruce Woolpert.
Steve joined his sister Denise Henning, an estimating administration manager, and brotherRobert Lindsay, a field supervisor, when he arrived at the Company in June 2013. Steve's sonJeff Lindsay became a member of Graniterock's aggregate and asphalt sales team in early 2016.
Ed, who worked as a maintenance supervisor at Monterey Salinas Transit before coming to Graniterock in 2012, laughs and says, "I'm the stepchild of the group."
Yet, he fits right in with his smarts and easy going personality.
Another important member of their team is Terri Brazil, a longtime Graniterock contract administrator, who not only runs all of their job reports and keeps the mountains of paper work organized, but also serves as friend and confidant.
"I am very fortunate to work with such an amazing group of guys," Terri said. "They're all hard workers and they all care about their families. I cherish every minute with them."
While the custom team works well together and has seen great success over the years, they all agree the good work couldn't happen without the reliable crews they work with in the field day in and day out.
There's a real appreciation for the crews, especially as Reiner, John and Juergen started their own construction careers in the field.
"There's a special group of guys who understand the work we build," John said. "They have an eye for quality as if they're the owner. The continuity of our crews makes a big difference in the work we build."
Back to all Blogs