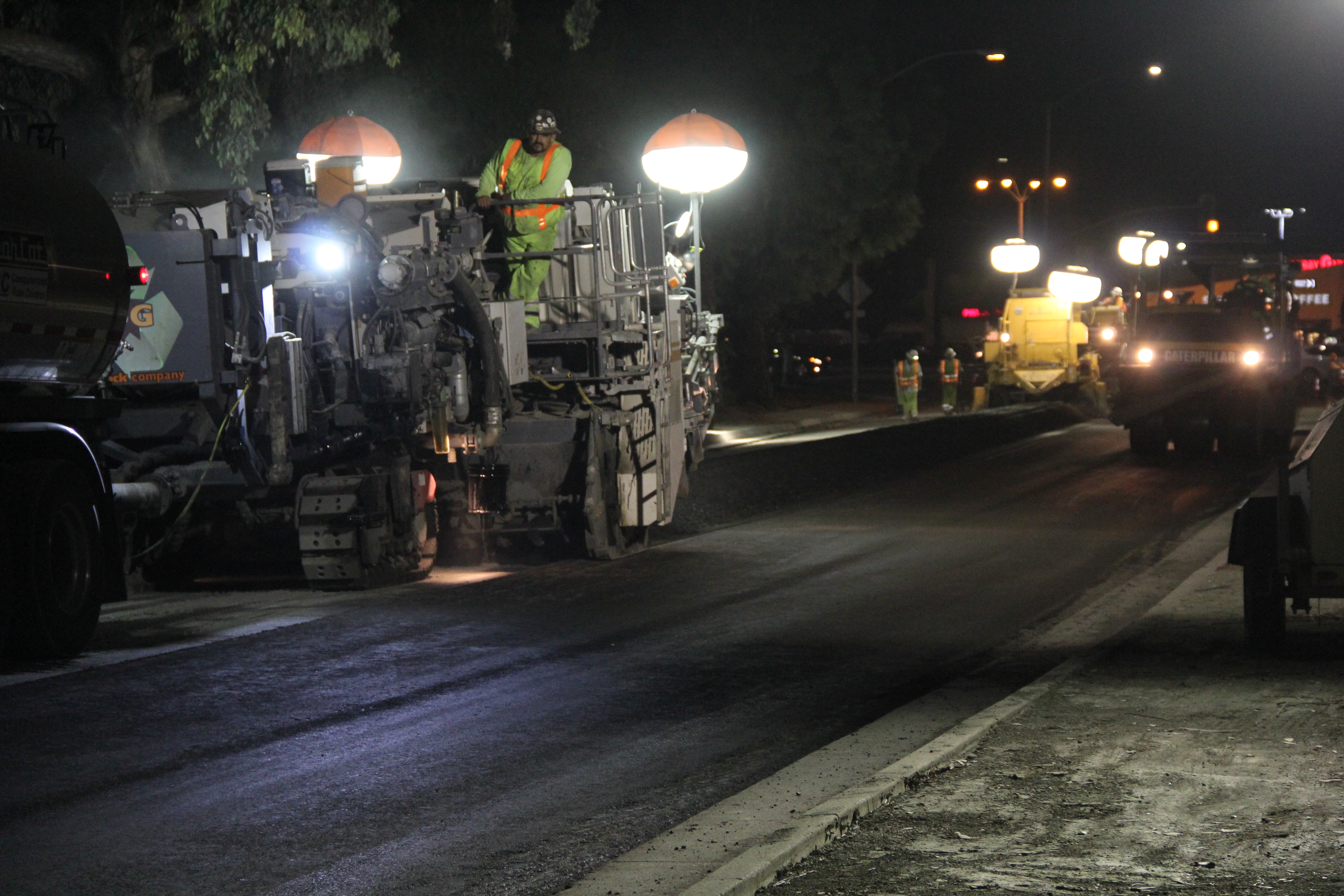 Cold-in-place recycling helps make Lawrence Expressway job a success
Posted by Dennis McElroy on Nov 13, 2015
SANTA CLARA - Graniterock's cold-in-place recycling team is out to prove the alternative paving method deserves a place on big, heavily-traveled roads with the Construction Division's $3.7 million Lawrence Expressway rehabilitation project.
Santa Clara County's Roads and Airports Department, an early supporter of CIR for pavement maintenance, incorporated CIR on one mile of the 11-mile night job between Homestead Road and Highway 237 under way with the Construction team.
The CIR segment involves four traffic lanes in each direction, three intersections and a 2-inch overlay.
High traffic volume - nearly 100,000 cars travel Lawrence Expressway each day - makes the project more challenging than others.
"This is the first expressway we've ever done," CIR Manager Dennis McElroy said. "We're putting our material and process to the test."
Watching closely is Peter Cruz, Santa Clara County's senior inspector, who has enjoyed working with Graniterock over the years.
"What we like and the Board of Supervisors likes is to think green," Cruz said. "CIR has held up nicely on other roads we've done in South County. We've never done it on a high speed roadway. It's important this process works."
In addition to CIR, the Lawrence Expressway project includes 4.5 miles of micro surfacing, 6 miles of crack filler, 71 concrete locations for curb and gutter improvements and miscellaneous electrical work.
Graniterock will provide nearly 10,000 tons of asphalt from the Redwood City plant.
Project Manager Griffin Hyde said the team has been working well together, putting in long hours working days, nights and Saturdays.
"It's been a real team effort out here to make this job successful," Griffin said.
Back to all Blogs