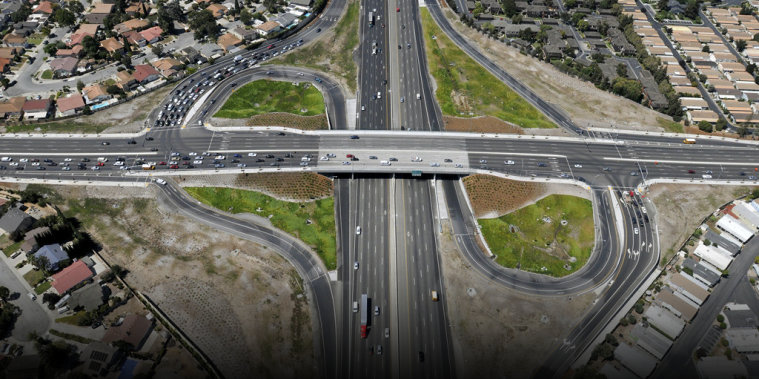 Capitol Expressway interchange wins project of the year from APWA
Posted by Shanna McCord Crigger on Jun 4, 2015
Graniterock's Capitol Expressway to Yerba Buena Interchange job won 2015 Project of the Year from the APWA Silicon Valley Chapter in the Transportation $5-$25 million category.
The project was designed to reduce traffic congestion and improve safety along the U.S.101 corridor in east San Jose by eliminating mainline traffic bottlenecks and removing merging and weaving conflicts.
The $19.5 million job involved earthwork, paving, drainage, retaining walls, overcrossing structure modifications, signals, ramp meters and electrical work to convert the Capitol Expressway interchange into a partial cloverleaf, add ramps and an auxiliary lane.
The work also included replacement planting and irrigation at the 101/Tully Road and 101/Capitol Expressway interchanges.
"One of the most interesting things about the project was the trying to plan out how to build a job that was multi-phased with strict traffic restrictions," Project Manager Matt Christie said. "We had to shift traffic multiple times in order to build new off/on ramps while maintaining active freeway ramps."
The job was led by Construction Manager Chris Sveum and Matt. Estimator Bob Williams was the low bidder.
More than 100 crew members worked on the this project. Special thanks goes to Chuck Schlough, Rolando Silva, Jesse Marin, Elmer Herring, Gagandeep Singh, Darien Shirk, Martin Monroy-Perez, Mark Hurley, Jorge Olivares, Victor Aquilar, Gerrod Dewey, Tom Kachel, Hugo Gutierrez, Catarino Hernandez and Jason Smyth.
Back to all Blogs