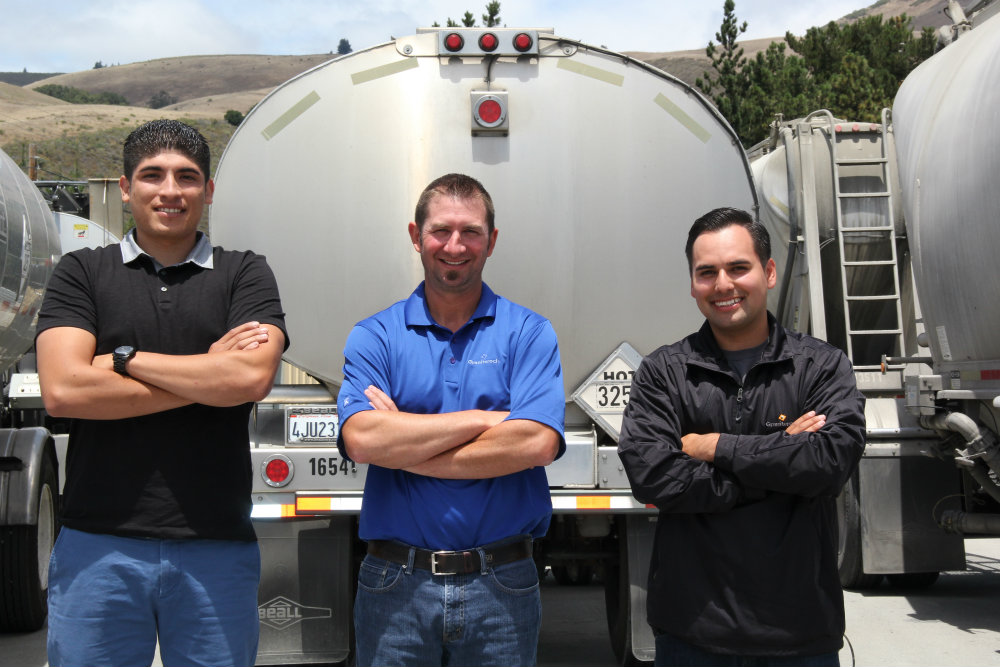 Working Together: Transportation, a puzzle that keeps changing
Posted by Shanna McCord Crigger on Aug 10, 2015
The motto for Graniterock's three Transportation dispatchers is "just get it done."
JR Renteria, Joe Antonetti and Santiago 'Chago' Ramirez figure out how to get the job done every day despite more orders than trucks available, subhauler trucks breaking down, last minute orders and customers changing plans with little notice.
If a call comes on one of their cell phones in the middle of the night, which it often does, they don't think twice about answering it.
The Transportation office, located at the A. R. Wilson Quarry, might be one of the busiest in the Company as Joe, Chago and JR juggle 20 Graniterock drivers and 50 subhaulers each day.
Together, they manage a fleet of 70 Graniterock trucks, including transfers, pneumatics, end dumps, bottom dumps, super 10s and more.
They are responsible for sending trucks loaded with raw material to multiple job sites daily as well as Company concrete, asphalt and sand plants. They arrange deliveries of Graniterock building materials to homeowners and businesses.
Despite the long days in which the phone never stops ringing, these three keep a smile on their faces and always maintain a "yes, we will" attitude.
Their phone headsets never come off, even during lunch.
"It's so fast paced here. You can't get off the phone," Chago said. "If you don't work well with other people or communicate well, it won't be fun. We like to have fun while we work."
The work can be stressful. When a truck loaded with time-sensitive asphalt breaks down and the crew is anxiously waiting for its replacement, the mood grows tense.
"Time is money," Chago said. "When truck schedules cost a customer money, they're not happy One truck will make six different deliveries to six different customers, so we have to keep them all on schedule. It's a puzzle in which the pieces keep changing shape."
Chago and JR enjoy their careers as Graniterock dispatchers due largely to having Joe as manager.
Joe, 39, started at the Company as a mixer driver in 1999 and has worked in dispatch for 10 years. He sets a friendly yet serious tone in the office.
The three are there to make sure all of Graniterock's trucking needs get handled seamlessly each day, but cracking jokes and getting to know each other on a personal level are also part of the deal.
"Joe's there to answer all of our questions. He's a veteran," JR said. "He knows how to be a boss and friend when he needs to be. He's cool."
Joe, who is moving on in the Company to take over Santa Cruz County Concrete and Building Materials sales, shows appreciation for the hard work of his team with support and praise. And he's known to treat them to lunch regularly as a way to say thanks.
"We all work shoulder-to-shoulder each day. They're both self-leaders," said Joe, married with a young son and daughter. "I let them make decisions. We're all in this together, I feel."
The Transportation team made a deal with Tom Squeri in 2014. If they hit their profit plan each month, which they have done for the past year, Tom will buy them each a Gizdich pie monthly in appreciation.
Needless to say, the guys have put on a couple of pounds since making the deal.
"Yeah, we might need to come up with something besides pie," JR said.
Back to all Blogs