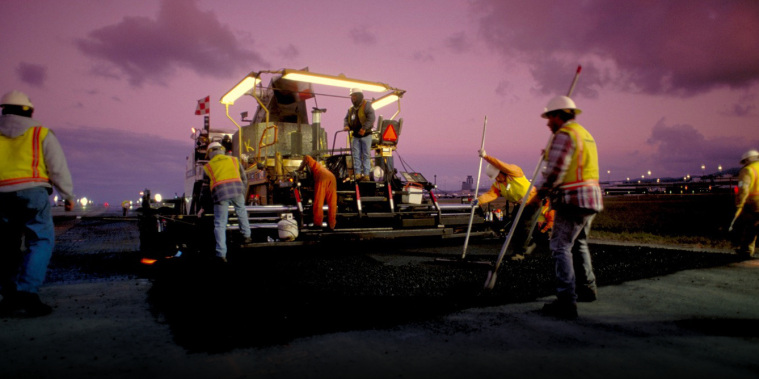 Working Together: One of the best paving teams in the industry
Posted by Shanna McCord Crigger on Mar 18, 2015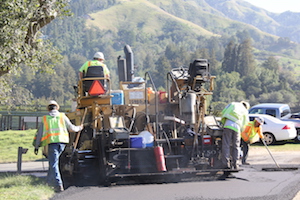 BIG SUR – You wouldn't be wrong to think asphalt runs through Robert Lauderdale's veins.
The longtime Graniterock field supervisor is known for covering record ground, whether a runway at SFO or Highway 101. He and his team are at their best when the stakes are high, pushing to get every last ton down in a tight paving window. They thrive when 20-30 trucks are hauling to dump the expensive, time-sensitive material, clock ticking to get the road open.
Robert, the bearded 50-year-old with weathered hands and eyes that say he cares, is passionate about the work and the guys who take on the challenging jobs under his direction. He and his team make one of the best paving crews in the construction industry.
"His team just nails it every time," said Graniterock Estimator John Hazdovac, who has worked with Robert more than 20 years. "They deliver the best quality, they're on budget and customers love them."
Robert grew up around asphalt with a father who ran his own small paving company and grandfather who was also in the business. It only seemed natural to continue the family tradition. His 21-year-old son, Jason, has followed the trend and now works at Graniterock as well.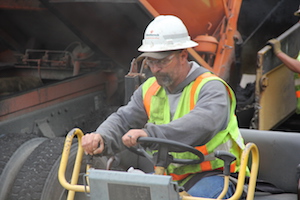 Robert joined the industry after high school in Pacific Grove and became a paving foreman by age 23 while working for another construction company. He came to Graniterock 15 years ago and quickly established his team – Bobby Gill, Andy Godina, Jose Luis Romero, Gus Padilla, Armando Leyva, Robbie Kashka and Librado Esparza - as a top performer.
Becoming one of the industry's best paving teams didn't happen overnight or without a lot of gritty long days and nights laying down tons of hot asphalt on tight deadlines and budgets. Robert credits his leadership and the team's ability to work together under any condition to trust.
"My biggest thing is I work right with them," he said. "I don't sit in my truck. I show the guys what I'm looking for. I supervise by example. I get down in there and dirty."
It's not unusual to see Robert pick up a rake or jump on the roller in addition to lay out and measuring how much asphalt the job needs, which is why team members such as Bobby Gill and Andy Godina have worked at Robert's side for many years.
"Robert's always thinking ahead," said Bobby, who met Robert more than 20 years ago when the two worked for a different company. "He always has a plan and a backup plan for that plan.
"Working with the same group of guys every day develops consistency and efficiency, contributing to the team's camaraderie. While Robert sets clear expectations, each member plays a key role in every job's success.
"It's not just one person," Bobby said. "I can't do it all by myself. Robert can't do it all by himself. It's the whole team."
Back to all Blogs