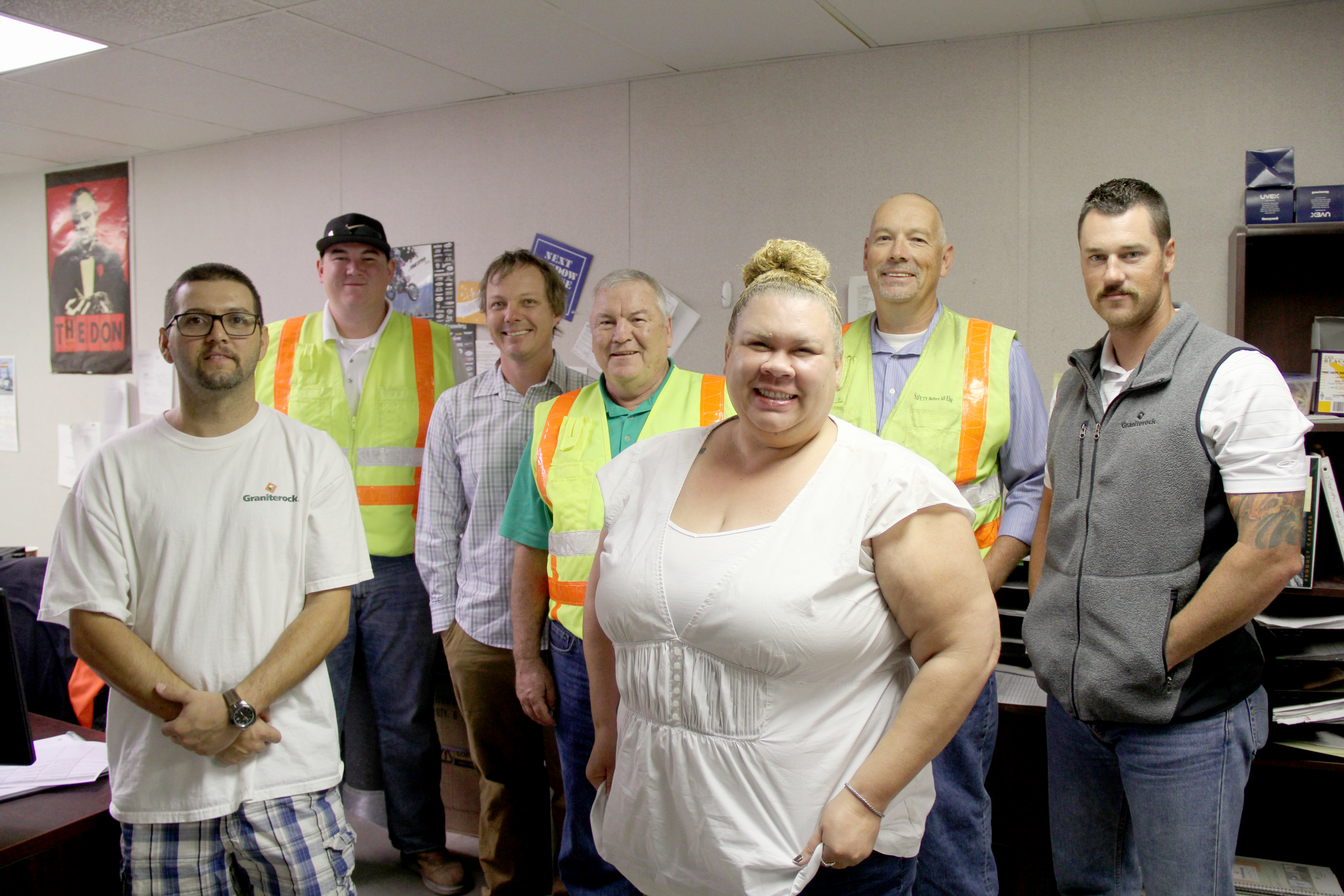 Working Together: Concrete team rises to top of the market
Posted by Shanna McCord Crigger on Nov 24, 2015
Working Together:
REDWOOD CITY – If you're in the San Francisco Bay Area concrete business, "slow days" don't exist.
In fact, no one on this team has seen one since the economy picked up in 2012.
The Silicon Valley's red-hot private construction market means the Redwood City and San Jose concrete plants are overbooked nearly every day, and finding available mixer trucks can be a real challenge.
Constant high demand is just one of the major changes the concrete team has navigated in the past few years.
Where Graniterock's concrete was used mainly for curbs and gutters years ago, the Company has become widely recognized and respected for high quality mud on large prestigious projects with high dollar values.
Big foundation pours and parking garages are now mainstays. Some jobs have called for all of the Company's mixer trucks.
Becoming a market leader is due to the initiative and great work of the team, which consistently goes above and beyond to prove Graniterock has the best concrete and customer service in the Bay Area.
"I've got a whole bunch of really good people who make the job a lot easier," said Northern Concrete Manager John Seith, who's been with Graniterock for 17 years. "I'm very fortunate to work with such all-stars."
Sales manager Zack Booth has taken the lead in developing new relationships with major concrete contractors, including Largo, Conco and Albanese, and making sure they receive top-notch customer service.
He's been joined recently by new sales representative Nick Pereira.
Together they've been tackling the Bay Area market, proving their expertise in the industry and exceeding customers' expectations to beat the rigorous competition nipping at their heels.
"We're all fully invested in doing a great job," Zack said. "We've got the right people in the right spots and everybody's heart is completely in their work."
The sales guys are successful due to the excellent team of mixer truck drivers, and the strong support they all have on the inside.
It's a true team effort.
Inside the Redwood City dispatch office, a crew of dispatchers seamlessly handles the constant demand and change in daily volumes, and they know where the Company's mixer trucks are at all times.
Veteran dispatcher Don Birt, a Graniterock team member since 1972, has his eyes glued to the computer screen starting around 6 a.m. each day.
He keeps tabs on where the trucks are pouring and what kind of traffic they're sitting in thanks to the GPS and color coded computer system. As soon as a truck empties its concrete, it returns to the yard to get loaded with the next customer's mix and then back on the road to another job site.
Because customers are always mixing up the game plan, ordering more concrete one day or less another, keeping the trucks organized and delivering efficiently is a regular game of chess for the dispatchers.
"Nothing's set in stone here. I'm maneuvering trucks constantly," Don said. "If one job slows down, I'll pull the truck and put it on another job. We don't want guys sitting around."
Don works closely with sales associate Mathew Sacher and the other dispatchers Ruben Isais (now an operator), Jennie Stewart and Katie Handmaker to juggle the schedule and move trucks around.
"When a customer has booked Thursday but wants to pour Friday, we have to see what we can switch around," Ruben said. "It's a little tricky. Sometimes I don't know how we do it, but we do it every day."
The trick to making every day as productive as possible comes down to the team members getting along well.
They all count on each other.
"We all know we need each other to succeed," Don said. "Everybody jumps in to get the job done. We're always looking forward to where the next driver needs to go."
Back to all Blogs