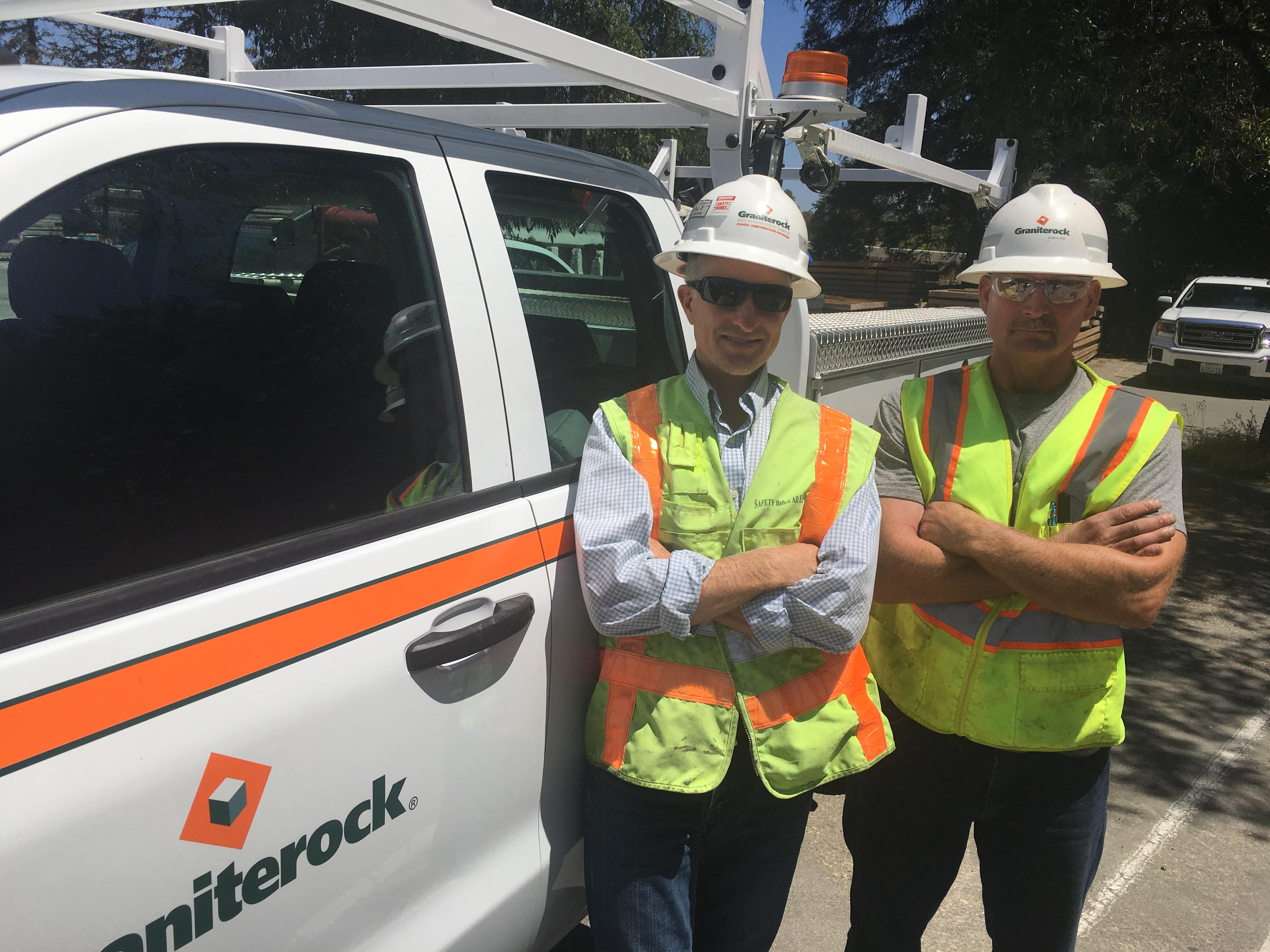 Work between field and office seamless with this team
Posted by Shanna McCord Crigger on Oct 12, 2017
CUPERTINO – For two years straight, Bart Wilkins has arrived to the job in Cupertino every day before dawn because it's the only way to claim the territory his team needs to get their work done.
Construction at one of the world's largest tech companies can't commence until 7:30 a.m., but if you wait until then to set up your equipment and tools, there won't be an inch of space as the site is heavily stacked with a dozen other trades racing to meet their own tight schedule.
Bart has an action plan for what needs to be done each day in the field to meet the schedule and budget thanks to a comprehensive agenda laid out by Jeff Fischer, a former field guy himself who's turned his career toward project management.
Together, Bart and Jeff have managed 20 individual contracts in the ballpark of $12 million for building the tech giant's new Silicon Valley campus and offsite development.
This is no ordinary client as the level of corporate oversight and demand for perfection are unlike any other job they've worked on.
In addition to the general contractor, tech company representatives must approve just about every aspect of design and construction. That approval does not come easy.
"Jeff deals with the client and that's a lot," Bart said. "They have super high expectations."
Jeff and Bart credit their success together to strong communications between the office and field, articulating clear objectives that help ensure goals and schedules are met.
They each understand what needs to happen to make the client happy - long days and six-day work weeks are often part of the deal.
"We meet our goals by minimizing the confusion," Jeff said. "We're big on preparation and eliminating any ambiguities."
Bart, a veteran foreman with laser-like focus on the bottom line, and Jeff, who taught high school math and science before joining the construction industry 17 years ago, have played key roles in Graniterock's work as a subcontractor to the tech company and private joint venture of Truebeck and Webcor.
The Construction Division, with estimating by Matt Crigger, has repeatedly won jobs for grading, excavating, utilities and paving, including offsite, since the project began in 2014 thanks in large part to the quality work and problem solving done by Jeff, Bart and their crews.
"Both Jeff and Bart are very meticulous about the details and planning," said senior project manager Terry McIntyre, who oversees all of Graniterock's work at the site, including a major overhaul of Wolfe Road and Interstate 280. "They don't accept anything but the best from the people working for them. They've helped build the trust and faith the client has in Graniterock."
Jeff is the planner and lead communicator with the clients while Bart is ruthless in finding new ways to beat the budget and encourage his team to work efficiently.
Bart followed his father into the construction industry at a young age and joined Graniterock as a foreman 11 years ago after working for other companies in the region.
Bart's work ethic and motivation to turn a profit are driven from watching his father over the years.
"'If you don't make money, you aren't good' my Dad used to tell me," Bart said. "You don't roll to the next day if you're not adhering to the strictest safety standards and making a profit."
Jeff, who graduated from UC Santa Barbara and received a teaching credential from UC Santa Cruz, taught high school for 10 years in Salinas, Santa Cruz and Scotts Valley before turning to his family's Watsonville-based engineering business in 2000. He left there and worked at another major construction company as a foreman before coming to Graniterock in 2014.
Jeff has quickly became known as a versatile team member, someone with extensive experience as an operator and foreman who has the skill to move into project management.
The fact that there's no real end in sight for Graniterock's work on this project - with change orders and extra work requested weekly - is testament to the leadership set by Bart and Jeff.
"The careful planning, execution, attention to detail and approach to safely complete all operations has really enabled Graniterock to be the contractor of choice for this tech giant," private works manager Paul Cianciarulo said. "Jeff's attention to detail, customer service skills and Bart's ability to build very complex work safely and profitably in an extremely congested work zone is a testament to these two construction professionals."
Back to all Blogs