Up Close: Kristen Grossen
Posted by Jim West on Mar 31, 2015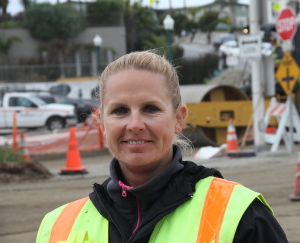 Not only can Kristen Grossen run a backhoe and operate a skip loader like a pro, she's a whiz on the softball field.
Kristen, one of Graniterock's few female construction operators, started her softball career at age 9 in the Bobby Sox Minor League. She played throughout high school and at Hartnell Community College, and continues today in the Salinas Softball League.
She has worked for Graniterock's Construction Division for eight years. She began as a laborer for Granite Construction, but after five years found operating a jackhammer took its toll on the body. She switched to Operating Engineers, graduated from Operating Engineers Local Union 3 school and worked for Granite Construction another eight years before moving to Graniterock.
Kristen does a great job operating skip loaders, scrapers and bulldozers, but her favorite is the backhoe. "I like working outside and I'm OK working in what is still at times a man's world." Graniterock is very receptive to women in construction—but it's still hard to find a babysitter at 5 a.m.
Kristen and her husband Casey have two daughters: Gracie, 8, and Kaylee, 5. The family enjoys water skiing, rodeos and softball games. "The girls love coming to my games and I love having them there as long as we can be home by their bedtime."
A problem popped up when Salinas' A League Wednesday schedule conflicted with Kristen's church attendance. "I figured the only way I could continue to play was to start a new softball team to compete in B League. That league played Monday nights and if I switched, I'd be free for church on Wednesdays."
The difficulty was finding 10-12 players for the new team. "I contacted some of the girls I had played softball with before, lobbied members of other teams and ultimately recruited friends who had never played softball before."
Kristen's team made it to the championship playoffs and finished the season in second place.
"While I love to compete, I'm kind of glad we didn't win. If you win the B League championship you all move up to A league—meaning your schedule moves back to Wednesday night games and for me Wednesday night is for church."
Moving to Graniterock from Granite Construction was like coming home for Kristen. "My grandfather Tom Blackwell worked at Graniterock's Salinas branch for 36 years. I knew a lot of people when I joined Graniterock's Construction Division in 2007. The real difference working at Graniterock is the emphasis on safety—it really defines the company."
Back to all Blogs