Up Close: Kenny Nott
Posted by Jim West on Mar 18, 2015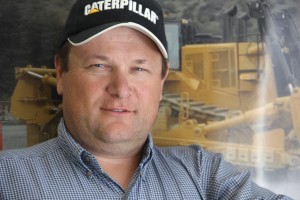 Throwing a 600-horse-power race car into a sideways slide at 75 or 80 miles an hour may not seem like a good way to escape from stress. But for Kenny Nott, who oversees every piece of machinery at the A.R. Wilson Quarry, the single minded activity of keeping three of four wheels on the ground while zooming around an oval dirt track at the Watsonville Speedway is a good way to mellow out.
Flooring the gas pedal can be a welcome relief from Kenny's responsibilities for keeping all of the Quarry's rock crushing and processing equipment, including a fleet of highway and off road haul trucks and even a train engine, all in top working order. Managing two dozen Team Members and keeping everything on budget is all part of the job.
Born and raised in Watsonville, Kenny enrolled in Operating Engineers Local 3's 10-week apprentice training program after graduating from Watsonville High School in 1987. Over the next dozen years, he worked for a variety of earth moving companies on the Central Coast and achieved the coveted rank of Master Mechanic. He and his wife Kari had their son Kenny in 2003 and Colton was born in 2006.
Kenny joined Graniterock in 2006 as a mechanic for the Construction Division in San Jose and was promoted to Equipment Superintendent in 2011. In January, Kenny became Maintenance Supervisor for the A.R. Wilson Quarry, responsible for every machine and device —both mobile and stationary - that makes the operation run.
Moving to the A.R. Wilson Quarry was a homecoming of sorts for Kenny. His grandfathers, Roy Nott and Bob Bishop, were both longtime Graniterock employees who worked at the Quarry. (They also introduced Kenny's dad to his mom). Two uncles also worked there for a time.
Keeping a full schedule is the norm for Kenny. Between family and career, Kenny won two stock car racing championships - the NASCAR Grand American Modified Championship in 1996 at Watsonville Speedway and the NASCAR Grand American Championship in 1999 at San Jose Speedway. He won the International Motor Contest Association (IMCA) Championships in 2004, 2007, 2009 and 2010. This year, after a three-year layoff, Kenny is back on top again in the points standing, on his way to winning a fifth IMCA championship in Watsonville.
Racing runs in the Nott family. His dad, also named Kenny (the three generations of Kenny Notts all have different middle names) was a six time car racing champion, winning more than 100 feature events and was in the first class of inductees into the Watsonville Speedway Hall of Fame.
The Notts continue to thrive on racing. Kenny's pit crew is made up of his father, sister Dawn, brother-in-law Jaime, nephew Kaden and niece Madison. His sons tag along as much as they can and love watching dad race. Kenny loves having the boys hang around and lets them do so as long as they maintain good grades.
The drive, competitive spirit and attention to detail that keeps Kenny a champion on the race track has carried over into his job of building a high quality maintenance/repair team at Graniterock's A.R. Wilson Quarry Shop.
It's a tradition he plans to continue.
Back to all Blogs