Up Close: Jon Erskine
Posted by Jim West on Mar 18, 2015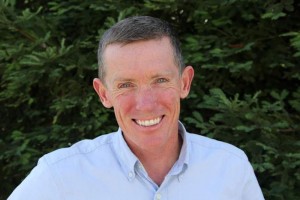 Swimming, riding a bicycle and jogging can be fun exercise, but for most of us it would be daunting to combine all three into a highly competitive 2.4-mile swim, 112-mile bicycle race and 26.2-mile marathon. Yet Jon Erskine, Graniterock's Director of Geological and Environmental Sciences, will do just that at the Ironman World Championships Oct. 11 in Kailua-Kona, Hawaii.
On the job at Graniterock, Jon is a mild-mannered geologist whose role is to help plan and adjust mining, crushing and processing techniques to produce consistent, high-quality aggregates for use in Company products such as asphalt and concrete. Away from work, he is a Superman who has trained thousands of hours to qualify for a spot at the starting line at "Kona", the iconic triathlon more than 150,000 people aspire to join each year.
You can't just sign up for Kona. Rather, you have to qualify by besting the competition at other Ironman races throughout the world. Jon made the cut a year ago by placing second in his age group against 400 other 40-44-year-olds at an Ironman in Madison, Wis. – known as one of the toughest outside Kona.
Jon began competitive running at Torrance High School and racing bikes while attending Occidental College, both in Southern California, but started competitive swimming only five years ago. "The swim is the craziest – the canon fires and bam, 2,400 maniacs are in the water all at once full gas, full contact. I usually lose time in the water but make it up on the bike ride and then seal the deal during the run, which is my strongest event."
Jon earned his master's degree in geology at UC Santa Cruz and has been with Graniterock since 2005. "Geology is at the core of our products, and we have the best geology for making the best products," Jon said. "Additionally, Graniterock's strong emphasis on building a knowledge base across the Company is unique in the industry, and it shows - we have the highest quality and environmental standards out there."
Jon says he's trained hard and feels ready for what awaits in Hawaii, despite the toll the race will take on his body. "I'm going to make it count. You get 17 hours to finish, the record is 8 hours and 3 minutes, and most people do it in 14 hours. I'm going to finish between 9-10 hours. I'll burn about 5,000 calories and down gallons of water on the day. Being able to walk the next day isn't really in the cards."
Jon and his wife Christine, who will soon celebrate their 13th wedding anniversary, live in Santa Cruz where they both compete in triathlons. Although Christine may be Jon's No. 1 fan, there will be plenty of Graniterock Team Members rooting from home as Jon swims Kailua-Kona Bay, bikes across Hawaii's lava desert and runs along the coast of Kailua-Kona, completing an intense two-year odyssey as an Iron Man.
NBC broadcasts a summary of the event several weeks later. To follow Jon live on October 11, see
http://www.ironman.com/triathlon/coverage/live.aspx#axzz3CTuy5ddi
Back to all Blogs