Up Close: Chris Beatie - Finding a Path to Giving
Posted by Rose Ann Woolpert on Mar 18, 2015
Life's journey sometimes leads us to unexpected destinations. For Chris Beatie, who works at G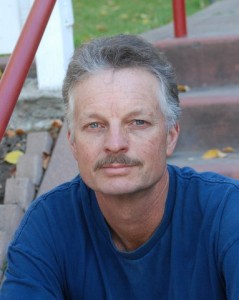 raniterock's A.R. Wilson Road Materials in Aromas, recent challenges have led to new opportunities to improve his personal well-being and at the same time help others in need.
A few years ago, when Chris discovered his cholesterol was high, he decided to make some changes to improve his health. He began with diet, and then decided to take up cycling. "My first goal was to lower my heart rate. I'd ride my bike down the hill, and then walk it back up. Little by little, I got stronger, and I was able to get some distance into my work out. Pretty soon I was able to do a whole six mile loop. Now I have no problem doing a forty mile loop with some pretty good hills in it," says Chris.
When the recent recession left him with less work to do at the asphalt plant, Chris decided to make the most of his extra time. "During the work slowdown, it was kind of tough on our family, but I was able to connect with my kids a lot more." With two children at home - Devin, 18 and Sarah, 16 – so far "it's been about raising kids" for Chris and his wife Erin, who works as a registered nurse.
More free time led Chris to use his interest in cycling to help others. "I was giving to the United Way, and I'd donate here and there, but I wanted to do something where I could actually get involved. I was looking for interesting bike rides to take, and joined some charity rides like the Condor Classic," explains Chris. "I started to volunteer to help with these rides, and learned about the Bike Shack in Watsonville, which gives people tools and instruction on fixing their bikes, and promotes healthy living through cycling. Anyone can donate an old bike that is collecting dust. We'll work on them and give them away to someone who needs one. There are also portable equipment trailers that go into neighborhoods, and kids will drag their broken bikes in to be fixed up for free."
"I started to help take old bikes apart, and although at first I didn't know how I'd fit in, it was kind of neat when I was promoted to building complete bikes. I started helping out kids who were there working off service hours, or who were at-risk youth needing to learn to do something productive. They'd watch this old guy – me – working on bikes, and pretty soon they'd say a few words and make a connection, and I could see myself making a difference."
With the improving economy, Chris is putting in more hours at the asphalt plant, where he backs up batch plant operator Charles Thomas. Chris runs the dump truck to catch reject material, monitors the asphalt oil surge tank and tries to fit in some maintenance in between. "Each asphalt recipe has its own amount of material, and I keep the plant supplied during the day. During winter months, if you keep too much oil in the surge tank, it gets cold and you have problems. There is always something different to do. I also maintain portable trailers that we rent out and fill with different emulsions, and help the customers who come through."
"I like working with this crew,' says Chris. "They are really easy to get along with, there's no controversy, and we all handle things together. We have a kind of bond. I like that, it feels good." Chris's approach to health and well- being combines rewarding work, family ties, healthy recreation and helping others – not a bad roadmap for anyone in search of a good way to live life.
El Bike Shack is open Tuesdays and Thursdays from 4pm to 6pm and is located at 555 Main Street (behind Ramos Furniture) in Watsonville, California.
Back to all Blogs