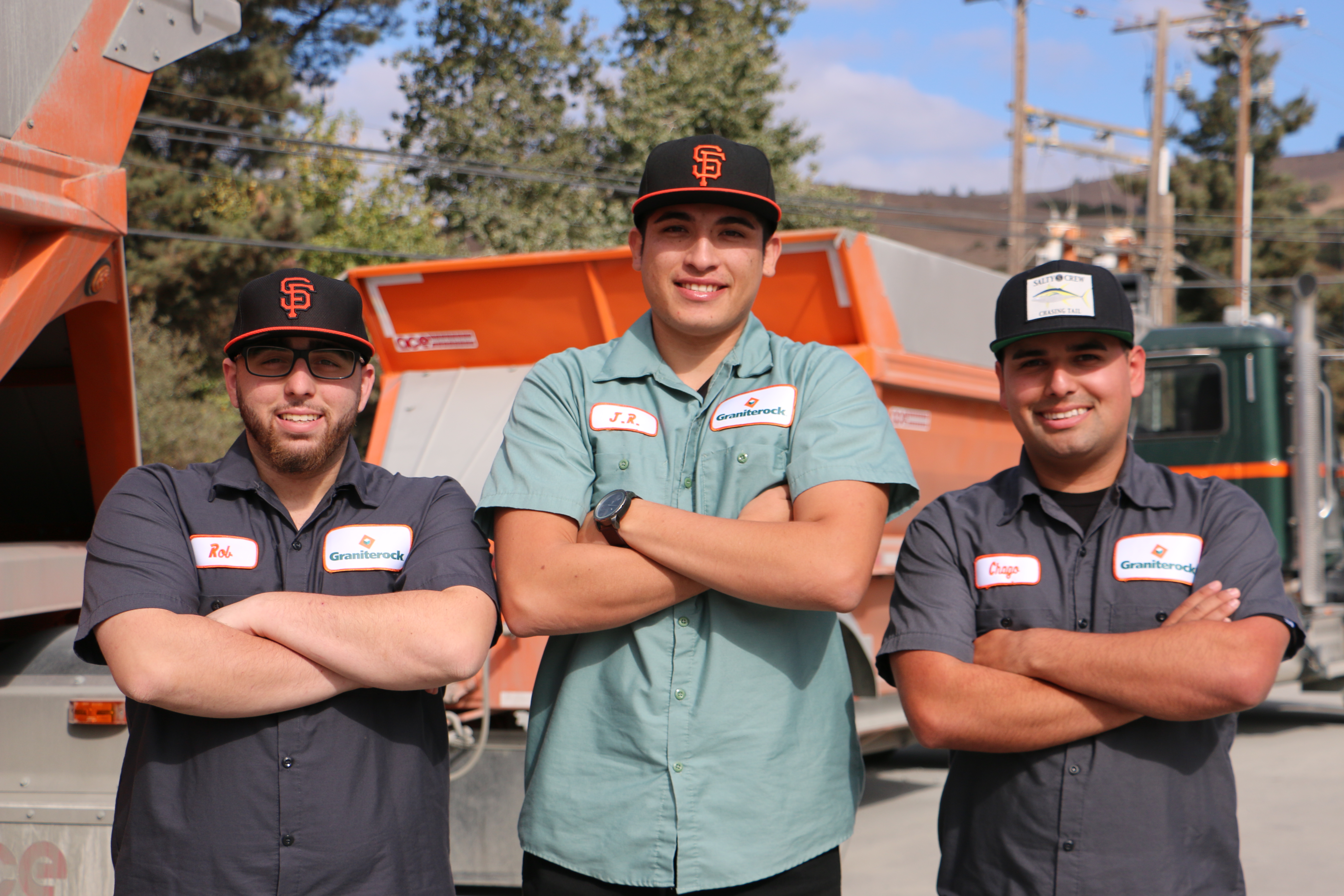 Transportation dispatchers stay cool under pressure
Posted by Shanna McCord Crigger on Nov 1, 2016
AROMAS – Graniterock's three transportation dispatchers almost never say no.

That word doesn't make it into the vocabulary of someone trusted with ensuring the company and its customers get their materials when they need them, where they need them – whether that's a construction job site in Salinas or an asphalt plant in the San Francisco Bay Area.
"We're all here for the same purpose. We all want to go above and beyond," said Rob Maltoni, who joined the dispatch team in 2015 after working as a weighmaster and concrete dispatcher for Graniterock in Redwood City. "Our customers know when we say the truck will be there, it will be there."
Rob, JR Renteria and Santiago 'Chago' Ramirez have mastered the game of "transportation chess" with a calm, cheerful disposition.
The phone at their office at Graniterock's A. R. Wilson Quarry in Aromas and their personal cell phones ring around the clock with requests for trucking and construction materials throughout Northern and Central California.
The earpiece never comes out as Rob, Chago and JR stay glued to the GPS map on their computer screens that shows truck locations in real time.
Taking a customer's call on the weekend doesn't faze this group.
They'll answer the phone at 1 a.m., even if it takes a minute to realize what's going on.
Despite more orders than trucks available, subhauler trucks breaking down, last minute orders and plans changing with little notice, these guys nail down the necessary trucks and say yes as much as possible.
"Time is money," Chago said. "When truck schedules cost a customer money, they're not happy. One truck will make six different deliveries to six different customers, so we have to keep them all on schedule. It's a puzzle in which the pieces keep changing shape."
Together, they manage a fleet of 70 Graniterock trucks, including transfers, pneumatics, end dumps, bottom dumps, super 10s and more.
The team juggles 20 Graniterock drivers and 50 subhaulers every day.
The way they treat the drivers and follow through on their promises with customers helps the dispatchers be successful.
"It's always a friendly voice the customer hears," JR said. "That's often their first impression of Graniterock."
While the trio makes sure all of Graniterock's trucking needs get handled seamlessly despite unanticipated hiccups, they still find space for jokes and ways to make the job fun.
They're known to occasionally fish together on weekends.
"It's so fast paced around here. You can't get off the phone," JR said. "If you don't work well with other people or communicate well, it won't be fun. We still have fun while we work, despite the pace."
Denny Mahler, a former driver who joined Graniterock in the 1970s, manages the dispatch team.
He said the dispatcher job comes with a high level of stress brought on by the severe trucking shortage all over the state, which he said is partly due to strict diesel emission rules handed down from the California Air Resource Board and other trucking companies not surviving the Great Recession.
"As a company we saw this coming and geared up for it.," Denny said. "These guys have the balancing act down. They know how to balance the assets we have with demand. If there's a problem, they figure it out and fix it together."
Back to all Blogs