Tony Ruiz of A. Ruiz Construction
Posted by John Wilshire on Mar 18, 2015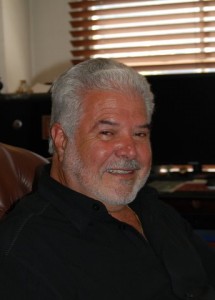 Tony Ruiz was born to be a builder. As a teenager, Tony recalls, "I didn't like school and I always wanted to get into construction. When I was 15 or 16, I would go down to the laborers' hall before school, trying to get onto a job. Finally, when I was 17, I was hired one day to strip stem walls during the building of the 280 freeway. I worked 10 hours straight that day, until the foreman made me stop." That was the beginning of Tony's construction career, and he has never looked back.
The Ruiz family emigrated from Guadalajara, Mexico to California in 1956, and Tony grew up in the same Bernal Heights neighborhood of San Francisco his office is now located. His older brothers went to work in building deamolition, but creating new buildings was Tony's passion. "Watching projects as they develop from the ground up is what I love," Tony said. "All of a sudden you've got a cantilevered bridge with concrete columns where there was nothing there before. Seeing a building that will stay in place over time gives me a true feeling of accomplishment."
Tony was a concrete foreman by 19, forming concrete decks in the days before there were pumps while at work on high rises going up around the city. Moscone Center and BART were two major projects he was involved in years ago. Formed in 1978, A.Ruiz Construction has concentrated on general engineering and construction work in San Francisco. There have also been unique and challenging projects in remote areas of Northern California.
Tony describes work done at Hetch Hetchy Reservoir, building diversion tunnels and repairing leaking aqueducts, and a period of almost two years spent on retrofits of O'Shaunnesy Dam. One project involved containing leaky outhouse sewage tanks and pipes at Yosemite Park's Tuolumne Meadows, as well as about two miles of road repairs. All of this, which was done in the late 1990's, required a lot of handwork and strict attention to protecting the sensitive national parks environment.
Relaxation for Tony takes place at his home in Benecia, where he and his wife, Henrietta, live in the historic Crooks Mansion, an architectural gem built in 1858 and listed on the National Register of Historic Places. They re-constructed the aging building next to the waterfront, returning it to its original beautiful Victorian design. Future improvements, now in the planning stages, include the addition of a wine cellar and work needed to better anchor the house to its foundation. With six children, including son Tony, and five daughters – Brittany, Christina, Sophia, Victoria and Erica – five grandchildren and three great-grandchildren, Tony and Henrietta can easily fill the house with family.
Tony frequently calls on Graniterock to supply the materials he needs on construction jobs. He explains his satisfaction with Graniterock. "It's not one thing, its several things. Graniterock has the best product quality, the price is good, and we have great communications. You need to know who you are dealing with personally – that's important to me."
Thinking back over his years in business, Tony reflects on the transitions he has experienced between good and bad economic times. "You need to keep your ear to the ground and stay in touch with what is going on in the economy. San Francisco is a very tough area to compete in. There is ongoing strength in the San Francisco construction market as people and businesses continue to be attracted to the city and capital improvements continue to be funded."
Overcoming difficulties and stabilizing business during challenging downturns, and planning ahead for the future as things turn up, have resulted in a rewarding career. "I really enjoy it," he said.
Back to all Blogs