Terri Brazil and the "Family Business"
Posted by Rose Ann Woolpert on Mar 18, 2015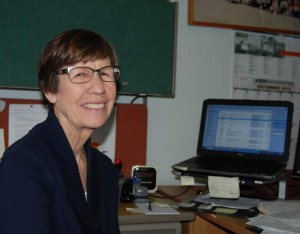 People like Terri Brazil are what makes Graniterock truly a "family business." Terri brings the feeling of family to the Construction Division's Custom Work department, based in Watsonville, where she works as Contract Administrator, and since joining Graniterock in 1999, she has brought three nephews on board with the Company. Greg Brazil and John Taylor both work with the Construction Division, and Jake Brazil ran Graniterock Builders before starting his own business, Brazil Construction, with the goal of becoming the number one customer at Graniterock's Design Center in Cupertino.
Terri's own family is deeply rooted in Graniterock's hometown of Watsonville, where both Terri and her husband, Louie, were born and raised. "My grandpa was a police officer in town during the 40s and 50s," says Terri. "When Louie and I got married, this is where we wanted to work and have our family, and we never left." Terri's husband was payroll manager at Smucker's for many years, and then spent a few years with First Transit, which provides transportation services for the disabled, before retiring in 2009.
Terri recalls coming to Graniterock almost fifteen years ago. "Joan Nestler and I had worked together in accounting at Watsonville Hospital. She moved to Graniterock, and after many years at the hospital I was ready for a change. I told her, if you see any openings, let me know. When there was an opening in Payroll, she called me and I applied. Then Graniterock's Construction Division formed its Custom Work department, and I became their first Contract Administrator. We were out at the (A. R. Wilson) Quarry in a single-wide trailer." Now, this department is located at 411 Walker Street in Watsonville, and Terri works with five managers - Reiner and Juergen Maschmeyer, John Hazdovac, Steve Lindsay, and Ed Jenkins – to handle custom, residential and small commercial jobs over a three county area. "It's been an exciting ride being with the Custom Group since its beginning, watching how it has changed and grown over the years."
The biggest changes since 1999 have been in in technology and automation. Terri expresses amazement at the improved productivity that has come with new technology. "I am able to do so much more with my time. There is a great feeling of fulfillment to be able to be proactive, keep track of accounts, and take ownership of closing accounts at month end." Terri has been called the Custom Work Department's "wrangler," for her ability to efficiently handle whatever needs arise in the department. She takes customer calls, logs new jobs and sets them up with job numbers, handles billing, collections, accounts receivable, and payroll, and acts as a Notary Public. "I keep the engine going," says Terri.
Away from work, Terri keeps busy with her home, gardening and spending time with her two Dobermans, Sadie and Diesel. She also enjoys baking for her husband, "who has a real big sweet tooth", and for their many family members who live nearby and benefit from her baking. Looking to the future, Terri plans to take classes to improve her skills in Excel and Microsoft Word. "I want to be able to do more with spreadsheets. It's hard for young people to imagine this, but I used to balance hospital accounts on graph paper!"
Terri finds satisfaction in the feeling of family she finds at Graniterock. "It is still a small company, and I am so proud to be a part of it. We are given freedom to grow and change and learn here, and the folks I work for are willing to share their knowledge. People see these big guys out on construction jobs and may not realize how caring they are. I am very fortunate, and I feel so blessed to work here, because truly everyone cares about everyone else."
Back to all Blogs