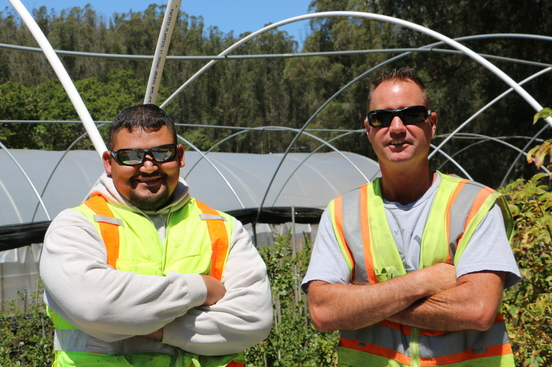 Taking care of wide open spaces at Graniterock
Posted by Graniterock on Jul 14, 2017
AROMAS – If you were to pull the curtain back on Graniterock, there would be a few hundred acres of wide open space that are home to deer, rattlesnakes, turkeys, bobcats and other wildlife.
Surrounding the company's aggregate mining operations in San Benito and Santa Cruz counties are large swaths of natural terrain closely watched by government agencies to ensure Graniterock stays in line with California environmental standards, Mine Safety and Health Administration rules and other land use requirements spelled out in its operating permits.
Its care is vitally important to Graniterock's future.
Overseeing the land are Hans Maschmeyer and Gerardo Tello, a couple of hard-working guys who take care of the properties day in and day out and lead reclamation efforts to restore the mined lands to a usable condition when operations eventually stop many decades from now.
"We are the compliance guys," Hans said.
A typical day might have the two fixing fences, chasing a loose bull out of the road or eradicating an invasive species such as the pesky mustard plant and replacing it with a native tree or plant.
Re-vegetation, namely planting several hundred native oak trees each year, makes up a big portion of their jobs.
And, there's the red-legged frog they go to great lengths to protect and help prosper on Graniterock lands.
"The face many of our neighbors know and associate with Graniterock is Hans and Gerardo as they are out in the community constantly. They act as the friendly neighbor to the hundreds of properties that border our facilities," said quarry manager Peter Lemon. "We could not ask for better representatives of Graniterock to care for our lands and our reputation."
The majority of Hans and Gerardo's reclamation efforts focus on the overburden placement area of the A. R. Wilson Quarry in Aromas, where the dirt and sediment covering the granite is placed and compacted as fill.
The overburden area must be re-vegetated to one day look like park land, which requires experimenting with various seeds on test plots to determine which trees and shrubs will succeed.
The two also work at the company's sand plants in Santa Cruz, Felton and Hollister.
"We do the jobs of a farmer, landscaper, rancher and construction worker," said Hans, a 22-year veteran of Graniterock. "We're always fixing things and making sure the reclamation plan gets carried out."
Hans, who hails from a family with strong ties to the local construction industry, joined Graniterock's Construction Division 22 years ago and worked his way up from laborer to operator to foreman and estimator.
Having covered all of the construction bases, four years ago he sought a new path and became Graniterock's reclamation manager when the previous one retired.
He joined Gerardo, who had already been doing Graniterock's reclamation work for several years with his father Manuel, who retired from the company.
Gerardo, born and raised in Michoacán, Mexico and now a resident of San Juan Bautista with his wife and three daughters, enjoys fixing things and working with his hands.
The variety of tasks and ability to always be outdoors make the job fun for Gerardo.
In a short time, he's become a real expert on different plants and grasses and habitat protection.
"Graniterock has given me a great opportunity to learn all of this stuff," said Gerardo, 35. "I like that I work in different places every day and the work is always changing."
Hans, who lives with his wife Samantha in Campbell, says reclamation work is equally rewarding to the work he's done in the past with construction.
The pride he had in watching a project take shape is the same feeling he has in taking care of the land, and knowing Graniterock's future depends on him.
"This has been the best move I've ever made," Hans said.
Back to all Blogs