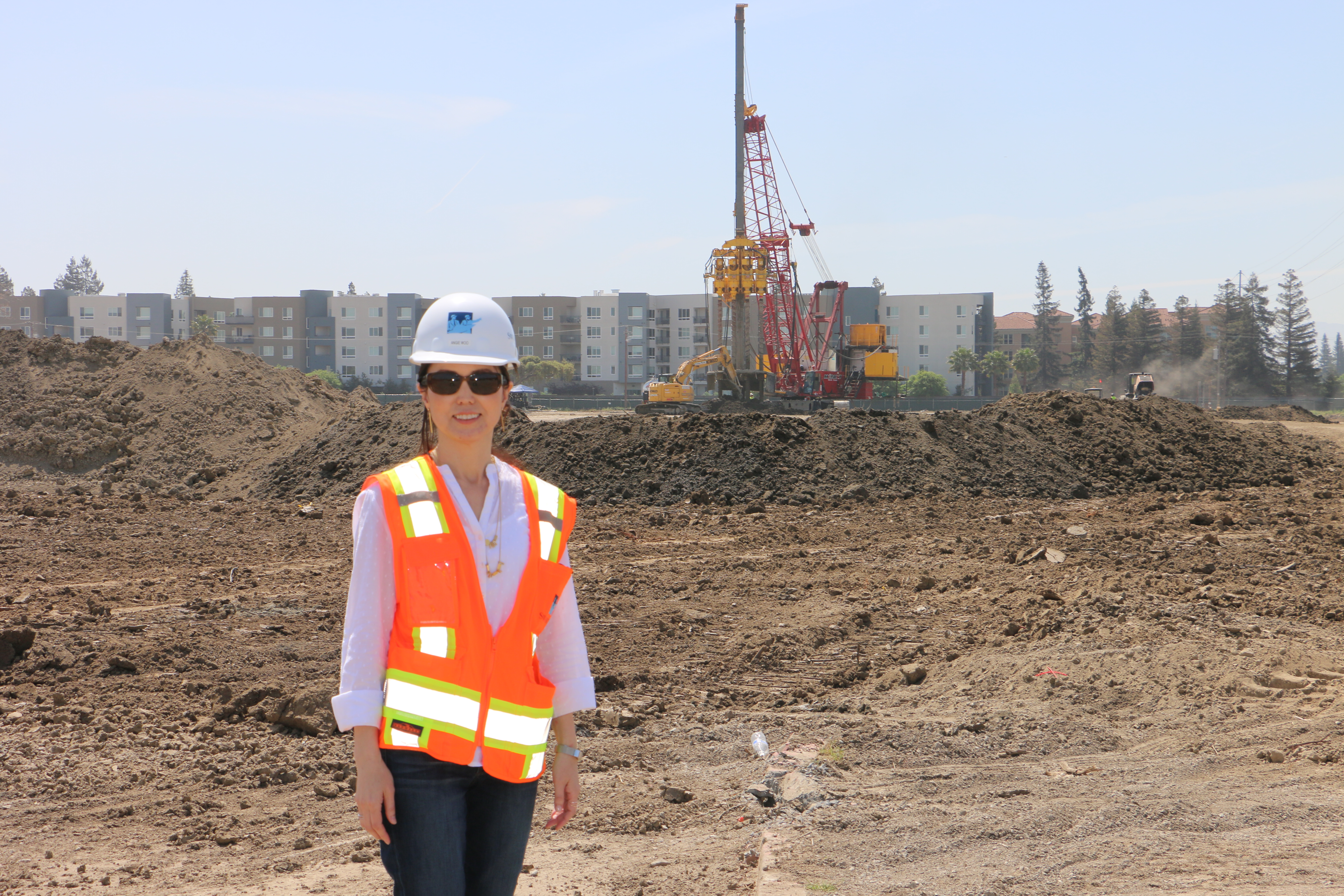 Swinerton project executive perfectly suited to building schools
Posted by Shanna McCord Crigger on May 10, 2019
SANTA CLARA – Take the girl out of Texas, put her in the country's hottest construction market and she'll shoot up the management chain to become one of the area's go-to experts on building schools.
Angie Woo never imagined a construction career, which is surprising considering she just celebrated 20 years with Swinerton Builders, and is one of the 131-year-old company's few female project executives in the San Francisco Bay Area.
"I take ownership of my projects, and I share the same principle with the people I work with," Angie said. "I see the big picture, and I really love working with superintendents to figure out issues in the field."
Angie joined Swinerton's Houston team as a project engineer after graduating from University of Texas in 1999.
Encouraged by her biochemist sister Jennie to move to the Bay Area so they could be close, Angie transferred to the employee-owned company's headquarters.
As she left the team working on Houston's $200 million convention center expansion to head west, Angie assured her father and friends she'd be back in three or four years. Five tops.
That was 2002.
"I'm a proud Texan," she said. "I might go back some day, but California became my second home."
Arriving in the Bay Area, Angie was assigned to the Swinerton team constructing a 76,000-square-foot library and educational technology center for Evergreen Valley College in San Jose.
From that first project, Angie made a name for herself with state school officials due to her meticulous attention to detail on everything from the forecast to subcontractor coordination.
Since Evergreen, she has been involved in almost every school project Swinerton builds in the Bay Area.
Angie knows – and appreciates – the rules and regulations that govern school building by California's Division of State Architect, which align with her own exacting approach to project management.
"There is a very structured process already in place with the DSA and their stringent guidelines enforce the contractors to build per design to deliver structurally sound schools," she said. "Structured process is good."
Graniterock project manager Terry McIntyre is working with Angie's team to develop a multi-school campus for Santa Clara Unified School District on the former Agnews site.
Terry said, in his construction career, he's worked with few project executives of Angie's caliber.
"Angie gets involved, knows how the work gets built and works to make the whole thing happen," Terry said. "She's someone who can be trusted."
Angie and her sister and brother left their native South Korea when she was in fifth-grade to live with their father in Houston, where it took a few years to learn English and fit in with her American classmates.
"It was quite a culture shock," she said.
When it came time for college, she never considered applying anywhere but the Austin-based university. It was Longhorns or nothing.
She had a strong interest in architecture and love for beautifully designed buildings, but realized a career spent at a desk and AutoCAD screen might grow dull.
Angie majored in architectural engineering and found herself a summer internship with general contractor Hensel Phelps.
It was working on Samsung's new Austin campus in summer of 1997, Angie discovered construction and watching a new building go from dirt lot to completion is extremely fulfilling.
She's also a fan of the values that come from working for an employee-owned company that creates opportunities for women at all levels not seen at every construction company.
"Everybody here is working for the same goal. We all take ownership of what we do and our projects," Angie said. "It's like managing a multi-million dollar bank account."
When she has a chance, Angie sneaks away from work to explore other countries, and is fond of pretty much any place in Europe.
She's savvy enough of a world traveler to turn a long weekend into an international vacation such as this January when she flew to Paris after work Friday and returned to work Wednesday.
Next up on her travel itinerary is Montenegro.
Back to all Blogs