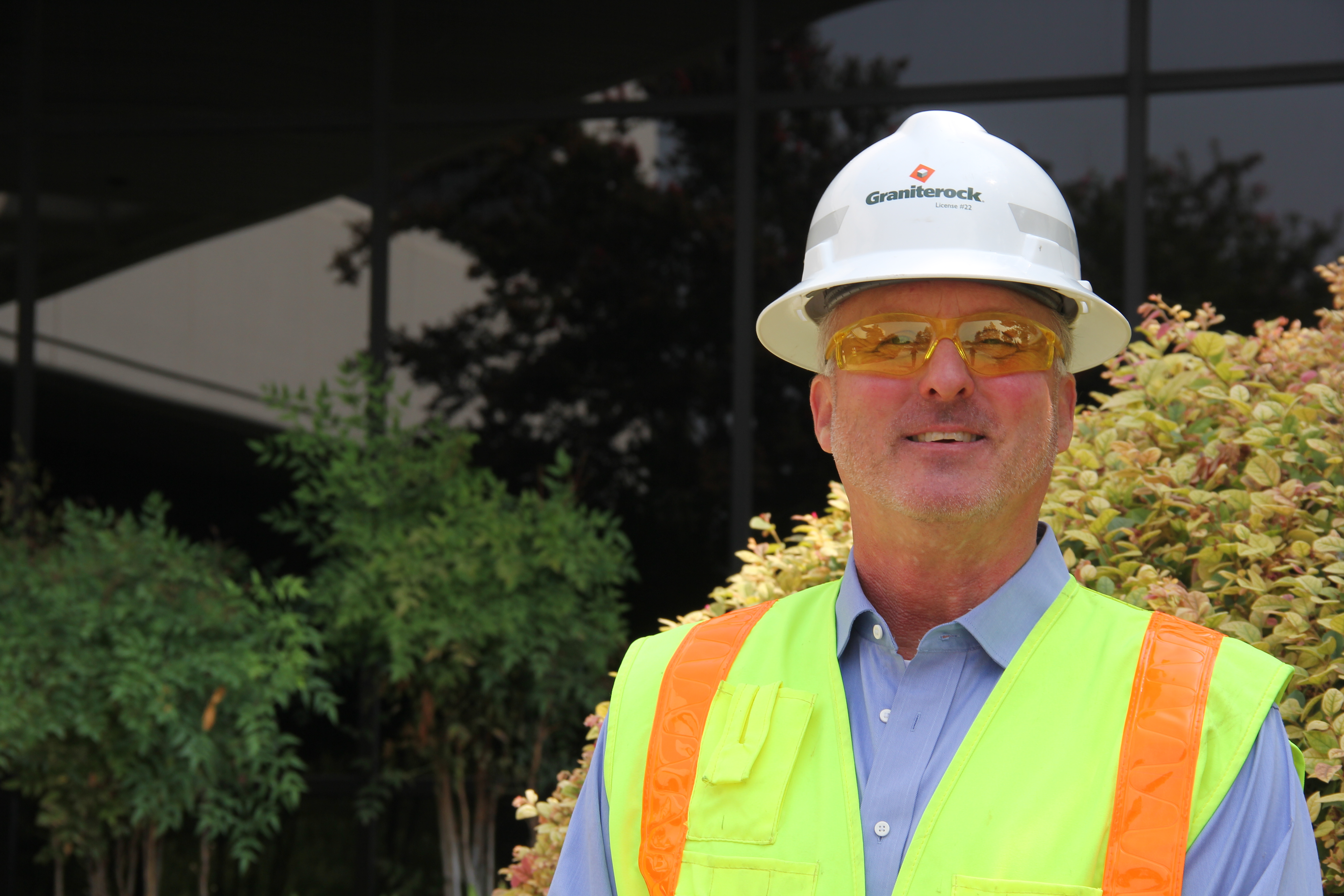 Structures construction estimator sounds alarm on falsework
Posted by Shanna McCord Crigger on Nov 13, 2020
SAN JOSE – David Kennedy has skied some steep mountains, including the Valle Blanche at Mont Blanc in the Alps where alpine adventurers touch France, Italy and Switzerland at the 12,600-foot top.

He was a member of the UC Davis cycling team all through college.

Dave's not the type to shy away from an adrenaline rush.

If you want to make this structures specialist sweat, start talking about falsework.
"Falsework is considered the single most dangerous thing we do in construction," David said. "Removing it is the riskiest part. I'd say it's the thing we have to be the most careful about with design, erecting and dismantling."
As one of Graniterock's senior estimators, with a 32-year history in heavy civil construction, David thinks about falsework and its inherent risks with every structures job.
His career started when he was recruited to work for Caltrans District 4 after graduating from Davis in 1988 with a degree in civil engineering.
He became a licensed professional engineer in 1991.
While working at Dan Caputo Company in the 1990s, David discovered what would become his specialty in estimating and building structures projects.
"That's where I was indoctrinated in bridge work," the San Jose native said. "I like the technical aspects of structures and bridges, and the math. There is so much to figure out."
Estimating the price tag of building bridges, viaducts and massive walls of concrete and rebar that hold back the pressures of earth and water have come to define his career.
He enjoys computing the quantities and costs that go with structures construction – earthwork, concrete, pile driving, falsework and shoring.
David has had integral roles on major projects throughout Northern California such as a $43 million replacement of three mainline bridges on Highway 99 in Merced and the $30 million Highway 4/160 interchange in Contra Costa County that involved constructing three bridges, including a 12-span flyover bridge 800 feet long, 90 feet tall.
"We had 99-foot-tall falsework on that Contra Costa County interchange," he said. "That's the biggest bridge I've ever been part of."
During the ribbon-cutting to celebrate the long-awaited completion of the Pacheco Pass Highway 152/156 interchange near Case de Fruta in 2007, then-Gov. Arnold Schwarzenegger thanked David for the good work on a project that created a safer corridor.
The intersection had been the site of many fatalities before the interchange.
"David is an all-around valuable team player at Graniterock," said Rob Snyder, the company's chief estimator. "He's really good at what he does and he's easy to get along with, which is important, too."
David's work over the years earned him a seat on Caltrans' Bridge Contractors Liaison Committee and the falsework and shoring subcommittee since 2010, including serving as committee co-chair.
The intent of the group is to improve communication and encourage collaboration between contractors and Caltrans in improving falsework best practices.
California lawmakers have considered regulating falsework in an effort to improve safety standards.
The temporary support structure, made of steel beams and wood, is responsible for supporting the construction of a new permanent structure, allowing placement of all the concrete and rebar that go into it.
Any falsework failure could cause the permanent structure to collapse.
Dismantling falsework is even riskier than erecting it.
It's like the game Jenga, if you remove the wrong piece, the whole thing comes crashing down.
"While we engineer safety into every project, this is something that demands our focus so contractors don't pay the price with having something bad happen on the job," David said. "We've been warned if the industry can't police itself with zero accidents, there could be falsework legislation coming."
Outside of work, David readies for the next hiking or biking adventure with his wife Lorin and teenagers Elena and Reid.
Back to all Blogs