Steve Winslow and XL Construction - Building the Heart of Silicon Valley
Posted by John Torres on Mar 18, 2015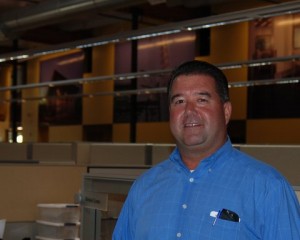 Six years ago, XL Construction found itself at a crucial juncture. The economy was booming and the company was growing with it, yet its core values were unclear and leadership was looking for a sharper focus. What was its reason for being? XL Vice President Steve Winslow recalls, "We tried to figure out how to get to another level. When we asked our people what they loved about their work, they told us that building a new school or hospital, working on a new cancer center or a new laboratory project that was going to change the world or crack the genetic code was personally rewarding. They said this kind of meaningful work is what drove them to excellence, so we decided this would be the guiding light we would use in our business."
Eric Raff and Dave Beck founded XL Construction twenty-one years ago as a technical building firm focused on Silicon Valley. They had "cut their teeth" on the technical side of Silicon Valley while working for a contractor who handled jobs for companies like Lockheed Martin, Intel and Applied Materials. XL Construction took off from there and is now known as the Northern California contractor to call when the highest quality technical construction is required.
XL specializes in biopharmaceutical and medical acute care facilities, hospitals, schools and high tech companies which demand specialized, exotic mechanical and life safety systems behind their walls and above their ceilings. "Our people really understand the elaborate mechanical and electrical systems that nobody sees yet are the heartbeat of the critical facilities we build." Steve says that about 40% of the firm's business comes from Internet related companies like Apple and Google, who are driving technology in the way semi conductor companies were in the past. "As the new guard has come in, we have morphed to serve those companies."
When asked what makes XL different, Steve replies, "Our mission is to be recognized as a great partner by everyone involved in the project. We work hard to hire the best and make sure our people stay sharp with continuous training. This is a results-based company but we also want to our people to have some balance in their lives. We have a bocce court outside, and a summer program that allows the flexibility to take five extra days off during the summer -as long as you can get the job done. We want to hear our employees' ideas and suggestions, and our Continuous Improvement Program rewards people for submitting their improvement ideas. They can earn XL bucks to use in our XL online store."
In 2013, XL placed #1 on the Silicon Valley/San Francisco Business Journal's list of the Best Places to Work in the Bay Area. Steve talks with pride about XL's philosophy of career development. "Our employees own their own careers. Managers are the coaches who help identify places where our employees need work, and their responsibility is to guide them.
After having "bottomed out" in 2009, in the past few years the business has grown doing new developments and retrofits, but the core continues to be interiors. "We take a vacant building that has not had a tenant for some time, demo out the interior and install new improvements, hiring subcontractors for the things we don't do." For example, with XL already on the job, a customer might have more money to spend and decide to reconfigure the parking lot to make it better suited for the project. This is where Graniterock's Pavex Construction Division will get a call, or it may come in to build building pads, fire lanes or other required site development.
Looking ahead to the future, Steve thinks the company will continue to grow, but he says they don't want to be the biggest. "We want nice steady growth so our people can develop and the next generation can move up to help run our company. We plan to stay in California, and as biotech and health care moves throughout the state we will move with them, capitalizing on the technical aspects of our business. We will always try to stay really close to technology because that is where our company is from."
For Steve, the highlight of his career with XL Construction has been the personal satisfaction he has gained with his six business partners, helping grow the company over the years. "We have built a family here. We are friends, and there is very little infighting. Our differences don't linger." When Steve gets an extra long weekend, he and his wife Jill enjoy finding new places to go wine tasting, and when they get a little more time they love "traveling to warm white sandy beaches" to scuba dive or just enjoy the ocean and relax. They also like skiing in the winter, and Steve admits he has a "great life – I'm blessed."
Back to all Blogs