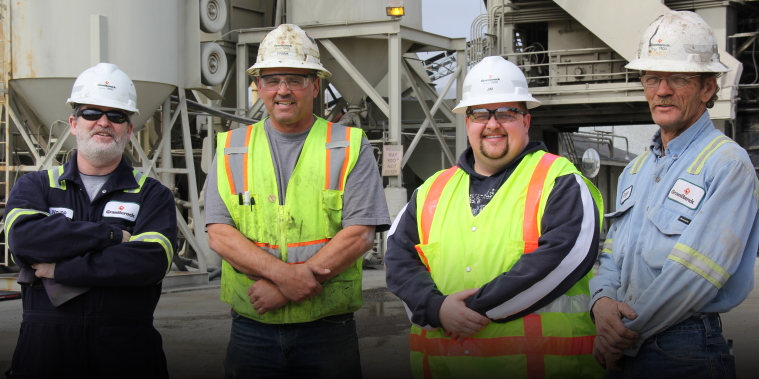 South San Francisco team shows listening is critical to long-term success
Posted by Shanna McCord Crigger on Jun 17, 2015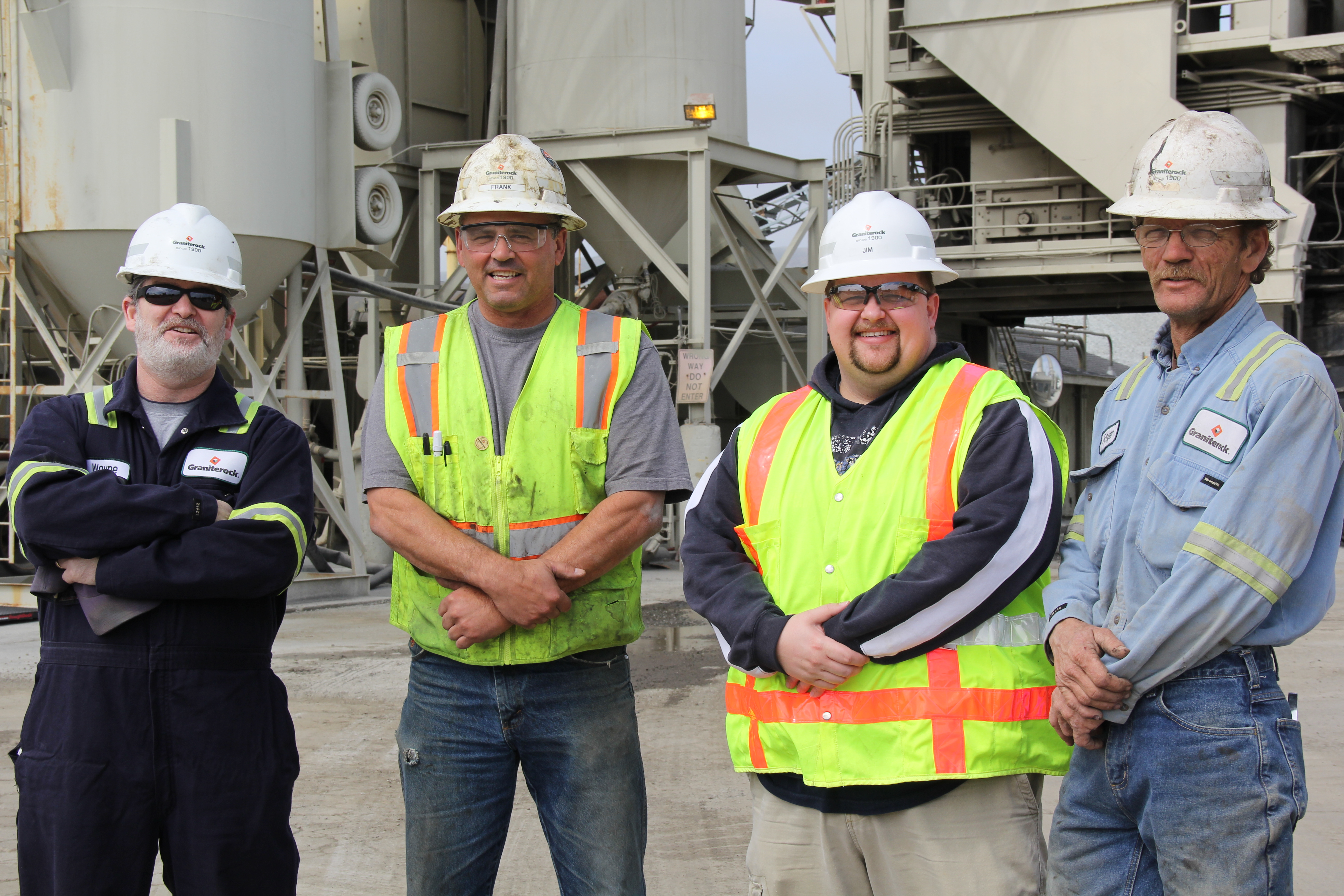 Longtime South San Francisco asphalt plant manager Frank Garcia is always listening.
He listens to ideas and suggestions for improvements from his team – Wayne D'Antonio, Jimmy Vehawn, Roger Langley and Richard Costillo – and he listens closely to the plant.
Any slight change in sound coming from the plant's chutes, dryers and drums could mean trouble, as in a breakdown that delays customers receiving materials and not getting projects done on time.
With a steady stream of customer and Company trucks coming and going throughout the day, and even the night, to deliver the time-sensitive material to San Francisco Bay Area construction sites, the plant needs to run smoothly to stay ahead of competitors.
The South San Francisco plant, built in the 1960s, can be finicky. Parts wear out easily with the constant churn of rock and hot oil and need regular replacing.
It takes the likes of Frank, who has been with Graniterock for 28 years, and his team to keep the plant humming along. It's especially critical when there's little downtime for maintenance and customer demand is high.
"As soon as you hit the start button in the morning, you're wearing things out," Frank said. "A small thing can turn into a big thing and shut us down."
The Lowrie Avenue plant is one of Graniterock's smaller branches, though it faces pressure from customers and stiff competition from other asphalt producers to stay up and running.
Nearby San Francisco International Airport is one of the plant's top customers, taking asphalt loads at least four nights a week to fill small holes in runways and taxiways.
The plant is also the primary asphalt provider for the San Francisco Public Works Department, in addition to longtime loyal customers Evans Brothers and Esquivel Grading and Paving.
Jimmy, the plant's weighmaster, says the secret to the team's success is their ability to communicate clearly with each other and Graniterock's asphalt sales representatives and managers.
"Being small helps us be tight knit and prevent communication breakdowns," Jimmy said. "We know what everyone's doing. We know what we need to do to get the job done."
Wayne joined Graniterock in 1997 as a plant mechanic, and has worked the plant's overnight shift in recent years.
Wayne says he appreciates Frank's straight forward management style.
"He doesn't beat around the bush," Wayne said. "Frank's very fair. He lets everybody do their thing. If it's a good idea, he'll flow with it. If it's not, he'll say no."
Frank, who lives in Half Moon Bay with his wife of 29 years and their three grown children, sees his job as a juggling act.
He oversees the aggregate arriving to the plant by railcar, makes sure the mix is made correctly and flowing, watches customers get loaded properly and keeps his eye on maintenance.
"I really enjoy tinkering with things. There's always something. You're trying to keep everything in motion," Frank said. "I'm pretty fair with people, I believe."
Back to all Blogs