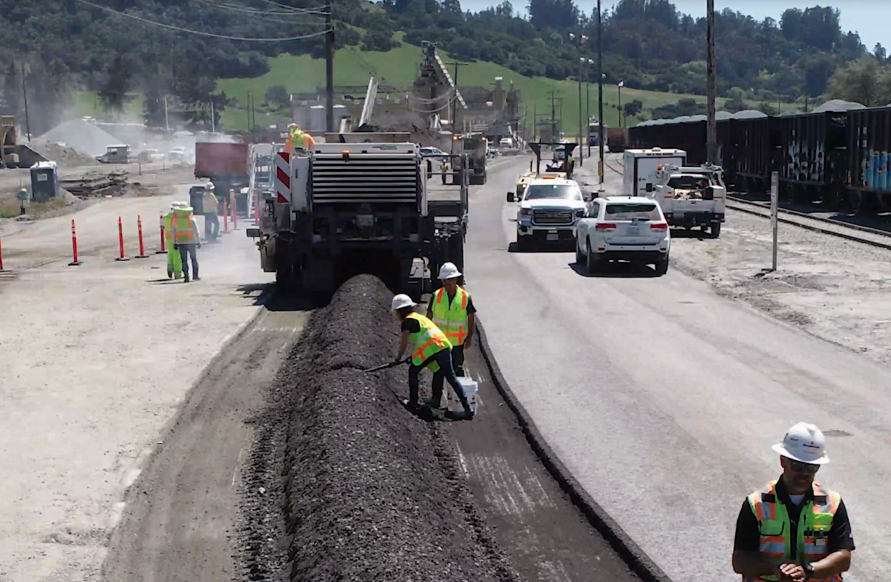 Smoother ride at Wilson Quarry
Posted by Graniterock on May 10, 2019
Exiting the A.R. Wilson Quarry won't be such a bumpy ride anymore.
The road leading out of the Quarry, with more than a few potholes, is undergoing a rehabilitation project coordinated by several Graniterock teams in addition to the Quarry: CIR, RTS, Construction Division and Road Materials.
The One Company project has been years in the making as the road condition has grown worse in recent years due to high truck traffic and heavy rains, creating frustration among aggregate customers and team members.
"This project was long overdue," Quarry Manager Peter Lemon said. "We collaborated with several areas of Graniterock to solve the critical issues and make this a success. It took years to get here, but the final product is something we can all be proud of."
Peter made the road rehabilitation project a priority a few years ago, laying the groundwork by clearing the outbound road of all obstructions and removing the Quarry's old load-out structure.
Research between RTS and the CIR team determined cold-in-place recycling would be a viable method for reconstructing the roadway.
In all, more than 113,000 square feet of old asphalt has been recycled.
The first step involved pulverizing the north end of the road (between the tracks that cross the road and the actual quarry) and increasing the slope percentage slightly to allow water to flow properly, which was stabilized using CIR technology.
Heading up the CIR team included: Dennis McElroy, Gary Hartranft, Ed Schwartz and Sergio Rubio.
The CIR team recycled the south end of the tracks for approximately 1,700 feet.
Then using approximately 2,000 tons of HMA with a record level of RAP, the road was paved.
The research part of the project was spearheaded by Anthony Silva of RTS.
Other RTS team members involved were Kevin McNeil, Joe Amparan, Jason Kearns and Jerrod Naval.
"We used variation and new methodology for the CIR portion, and RTS and Road Materials worked together to develop a signficant increase in recycled asphalt as the wearing course," said Ed Schwartz of the CIR team.
Jumping in from the Construction Division were Jason Smyth and his team with grade checking and UTS support, and 3-D modeling with assistance from JP Holcomb.
Joey Martin and his team were in charge of pulverizing and grading while Craig Jud and the paving crew placed CIR and HMA.
The payoff from this project is that leaving the Quarry will be a much smoother process, hopefully bringing increased satisfaction to customers and team members.
Back to all Blogs