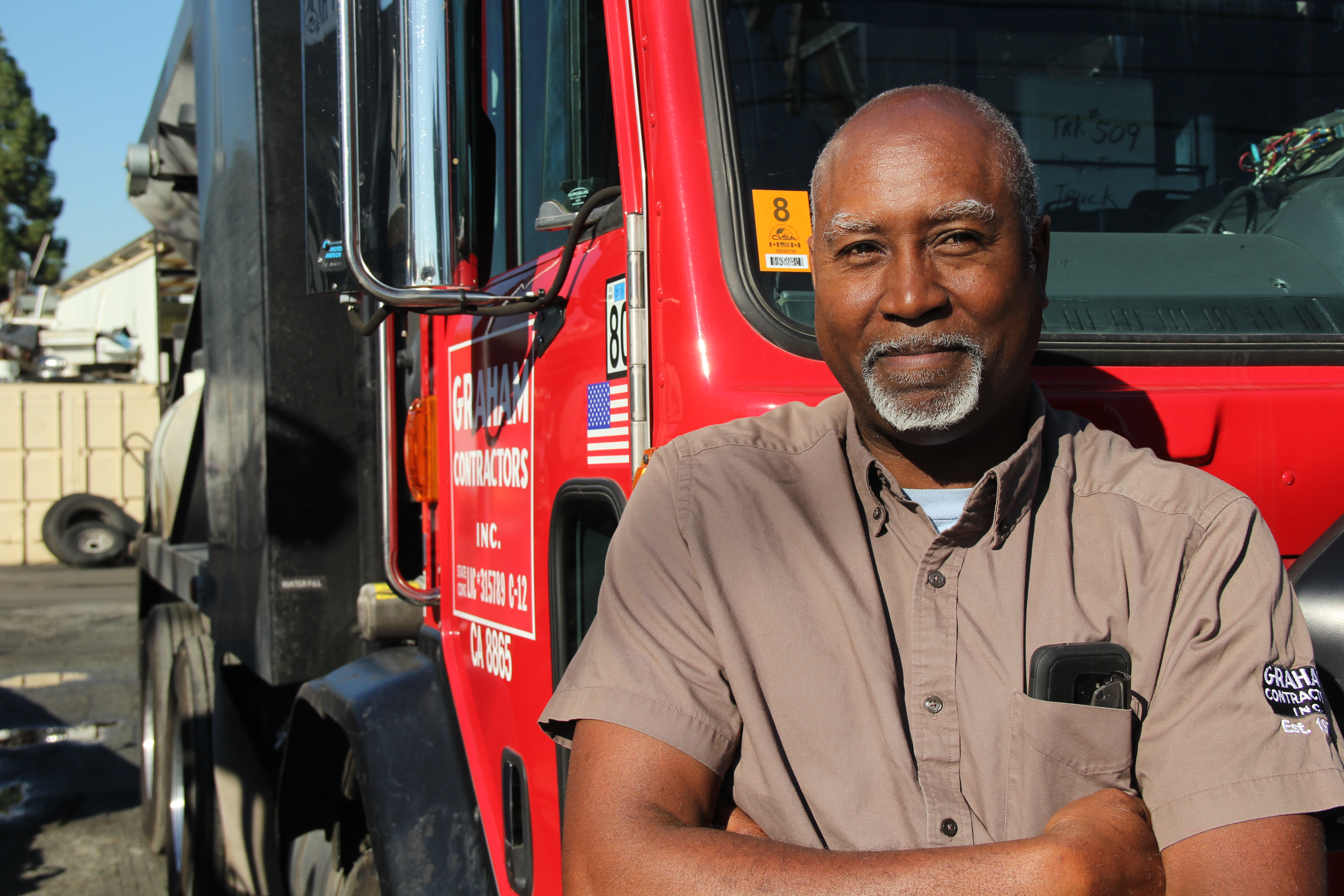 Slurry seal construction career built on strong faith
Posted by Shanna McCord Crigger on Jan 24, 2019
SAN JOSE – John Waiters' early slurry seal career meant missing a lot of his kids growing up.
He missed sports and school activities, family dinners and often had to skip church because work was seven days a week during the season.
Five, sometimes six days in the off season.
Missing out was the sacrifice John – who also serves as an assistant pastor at a Baptist church in East Palo Alto – made for providing a comfortable life for his wife Edith and four children, including buying a home in Stockton.
John's job as a traffic control worker paid $500 a week after taxes when he started at Graham Contractors in 1990. Pay steadily climbed over the years as he went from traffic control to squeegee man to commercial driver.
"It's a physically demanding job, psychologically demanding," John said. "But they gave me a check every week and it afforded my family a lot of things. We always had a nice Christmas."
Today, the 55-year-old is operations manager at Graham, a position that requires managing the crews and equipment as they travel from project to project putting down the pavement treatment on streets throughout California.
There were many days early on when John almost quit.
He wanted to walk away from the hard labor, leave his company truck on the side of the road and just be done.
Work as a squeegee man on a slurry crew is labor intensive, physically grueling and dirty.
He'd frequently find himself following behind the slurry truck as fast as he could in the 100-plus degree heat of the Central Valley, sweat pouring down his face, arms and back aching from the repetitive motion of spreading slurry over the road.
John would come home covered in the black, sticky material – his clothing, face, boots, everything had oil on it.
"There'd be oil on your towel after the shower," John said.
He and the crew were hollered at to work faster as the foreman back then was never satisfied. Their work, he said, was never good enough.
John worried about how to make his foreman happy. Even had nightmares about not finding all of the manholes before the slurry work started.
But quitting was only a fantasy because he needed that paycheck.
"I asked myself many mornings, is today my last day," John said. "That day just never came. I came to work every day on time and never called in sick."
John went to work for Bond Blacktop in 2000, where the schedule and toll on the body were equally punishing.
He lasted five seasons before telling his boss no more. John planned to leave at the end of the slurry season, which is usually sometime in November before rain and cold temperatures make it difficult for the asphalt emulsion to dry.
Leaving was a leap of faith as he didn't have another job lined up.
Shortly after giving notice in 2005, Graham Contractors called to offer John the operations manager position, which brought him out of the field and into the office.
The work can still be tough, but nothing like his early days.
And he's fortunate his second oldest son John John also joined Graham in recent years.
"We demand a lot from our people, but we treat them like men," John said. "I know how not to be as a boss from my own experiences."
John is off most weekends and able to spend time with his family, and attend church at Mount Olive Missionary Baptist Church in East Palo Alto, where he joins his minister father John Sr. in giving talks, leading prayers and ministering to the parishioners.
Not working around the clock has also allowed John to pick up a couple of hobbies.
One of the first things he did with his free weekends was restore a 1971 Oldsmobile Cutlass.
Occasionally he hunts deer and pigs.
The one thing that's stayed consistent in John's life, especially through the trying times, is his faith in God.
"I could not do any of this stuff if God did not empower me to do it," John explained. "The job was harder and took more than I had to give. I couldn't have made it on my own."
Back to all Blogs