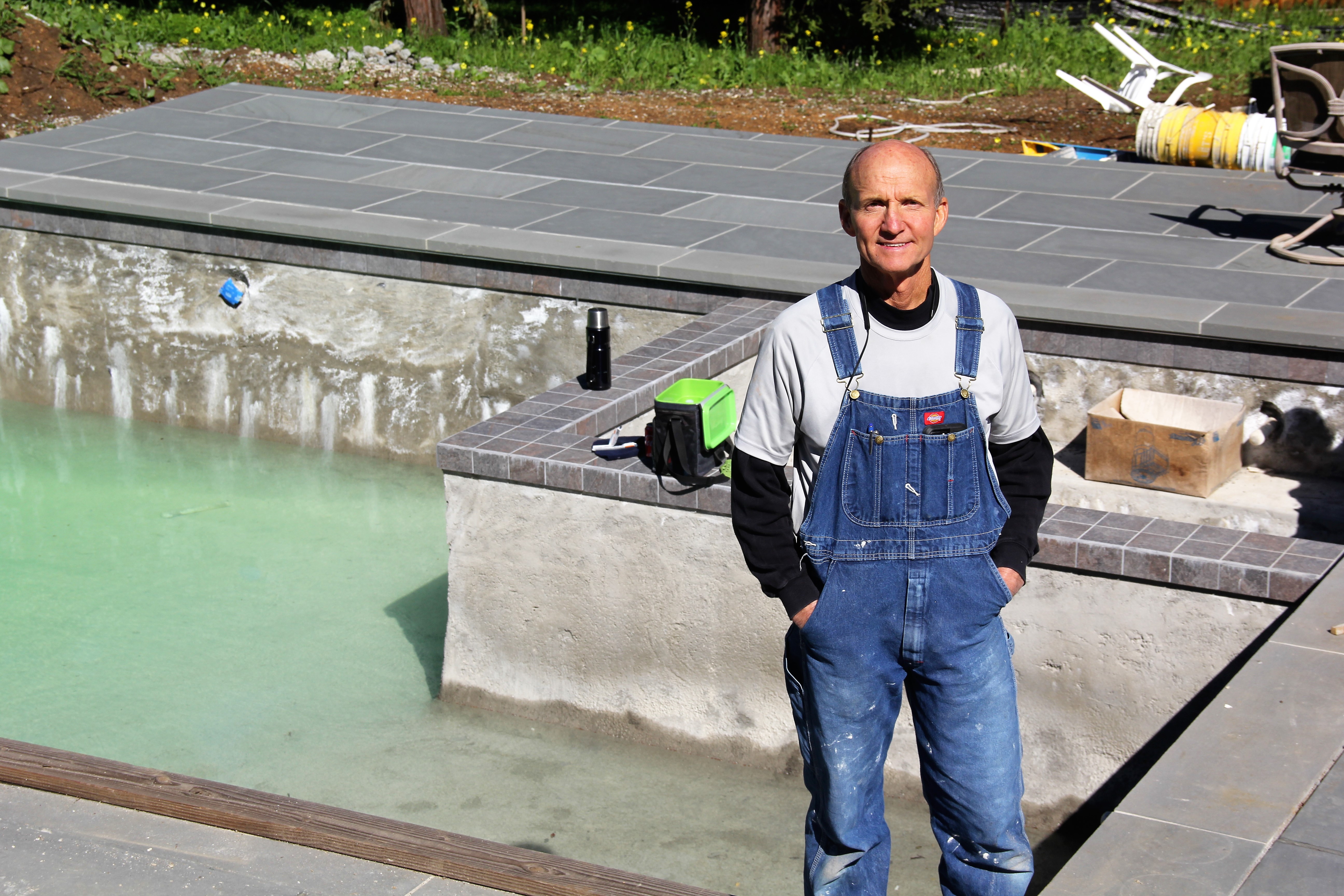 SF Bay Area masonry contractor hits the bull's eye with every project
Posted by Shanna McCord Crigger on Apr 8, 2019
LOS ALTOS – Camped out in the backyard of a large corner lot in Los Altos, saw blades and mixing paddles in action, mason contractor Pat Knowles and his crew are working their magic.
They will spend several months overhauling this otherwise ordinary property with a single-family home into a Silicon Valley masterpiece – a place you'd find on the pages of a glossy lifestyle magazine with drool-worthy custom features, including an outdoor kitchen, columns covered in stone and a 3,000-square-foot patio and pool deck crafted with the very popular and not cheap bluestone.
"Clients appreciate my work because my guys and I take care of all the little things," Pat said. "We're honest about everything going on with the project and take care of details that can get overlooked if you're not careful."
Pat found his way as a masonry contractor after getting laid off from his uncle's general contracting business in the late 1970s when work had slowed way down.
His uncle suggested Pat seek work with his friend Charlie Buck, a mason based in San Martin.
Through several years with Charlie and his crew of Erik Weis and Tim Ginther, Pat got really good at working with bricks and blocks and building out patios and fireplaces.
He started at the bottom of the totem pole, erecting scaffolding and preparing the grout used to hold the stones together, and moved up to managing crews and entire projects from start to finish.
Pat quickly developed an eye for perfection that high-end homeowners appreciate when investing in significant renovation projects or new construction.
When Charlie decided to trade his trowel for retirement, Pat didn't want to work for someone else.
After eight years at Charlie's side, Pat knew enough about the masonry craft and the business to go out on his own.
Since 1989, the year he got his contractor's license, Pat Knowles Masonry Inc. has forged a reputation of quality craftsmanship tending to the custom and semi-custom homes of the San Francisco Bay Area's upper class, working mostly in the Los Gatos to Woodside corridor.
It's a zip code where quality trumps cost.
Some of Pat's clients don't bother asking "how much?," they just want their dream home no matter the price tag.
"We work really hard to make it their style, not someone else's," Pat said.
Every successful contractor tends to say their crews are everything, and Pat is no exception.
Some of his guys have worked for Pat since he started.
"This is not me," he says, glancing at the unfinished Los Altos backyard, filled with various tools, chunks of stone and four members of his team. "This is everybody. I have a very loyal team. They have a vision for what needs to be done."
When the tall, lanky Pat takes a break from work, he visits the archery range near his Gilroy home, where he lives with Kathy, his wife of 29 years.
Pat recently resurrected his child hobby of archery after recovering from a shoulder injury.
He feels at peace with a bow and arrow in his hands, arm cocked, eye on the target.
It's an intense few seconds from pulling back his right arm, pausing to let the pin float over the bull's eye and releasing the arrow into the target's center.
Complete composure is key.
"Archery is an easy hobby to start, but very difficult to master," Pat explained. "To hit the target means being able to put everything else out of your mind and stay focused on the task at hand for 10-15 seconds. It's not easy."
Pat and Kathy are excited to welcome a new addition to the family in April, when their daughter and son-in-law are expecting a baby.
Back to all Blogs