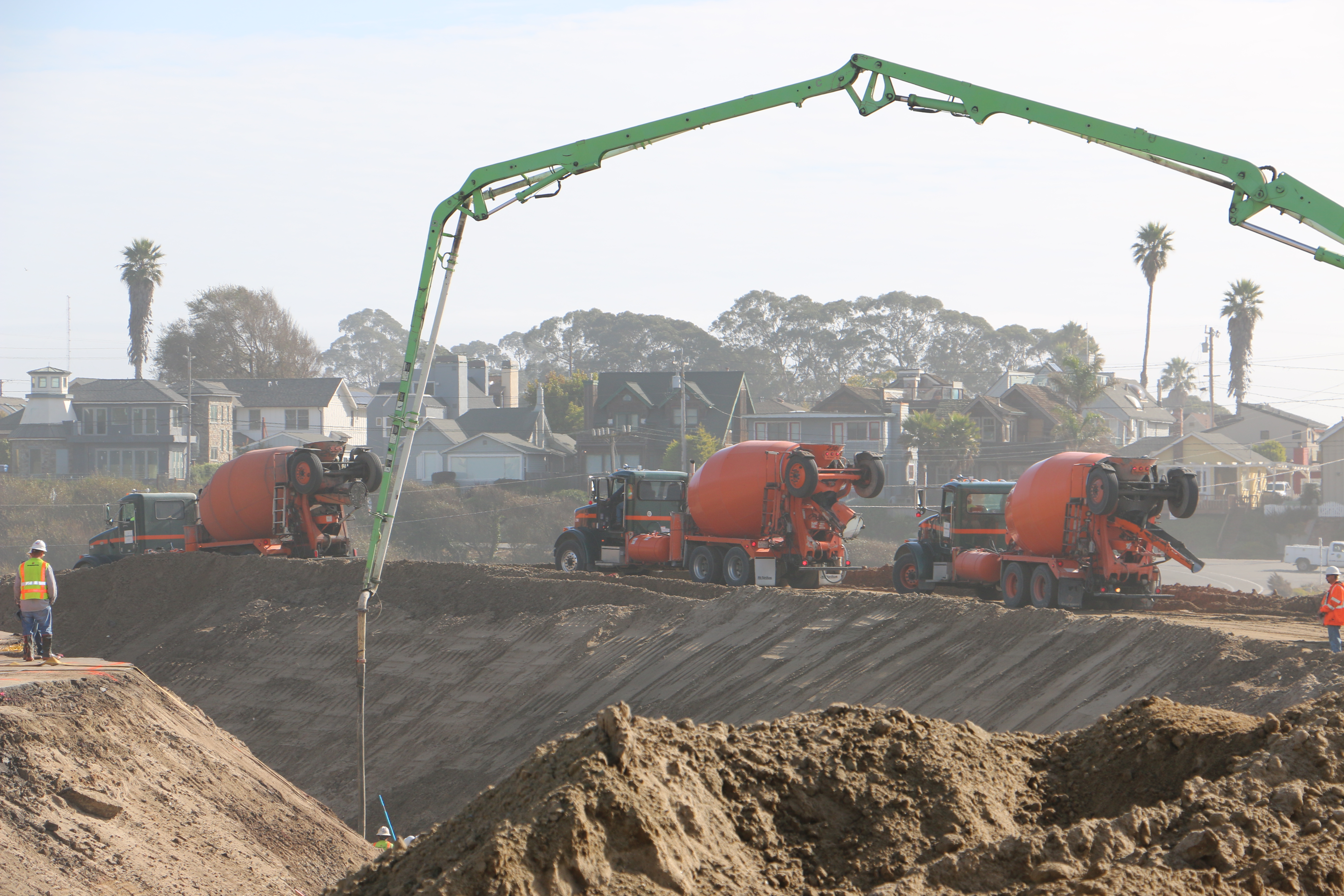 Santa Cruz seawall puts concrete team to the test
Posted by Kyle McLean on Jan 26, 2018
SANTA CRUZ – Graniterock's Santa Cruz County mixer truck drivers recently wrapped up a 3,500-yard pour in which they parked their trucks on the beach as a specially designed mix was pumped to build a new retaining wall at Twin Lakes Beach.
The heart of a $5 million overhaul of the popular beach area, under way with the Construction Division structures team, is the 600-foot-long, 20 feet tall mechanically stabilized earth wall that required a mix that was both extremely low slump yet wet enough to flow easily through the boom pump.
"This project is all about the seawall," Project Manager Kyle McLean said. "It involves super complex geometry with step features that tie into the sand."
Finding the perfect controlled low strength material - poured in 2-foot lifts across the entire structure - started at the RTS lab in Aromas with Katha Redmon.
She, Gary Whitmire and the concrete team experimented with two or three different trial batches and performed test pours with a boom pump at the Santa Cruz branch, with lines painted on the ground for exact placement, before delivering to the site.
"Normally, we can't pump that dry of a mix," Joe Antonetti said. "But Katha developed a new mix just for this application, and it worked like butter."
The wall, designed to prevent coastal erosion, will be textured with shotcrete to blend in to the landscape.
Besides the retaining wall, the Twin Lakes beachfront improvement project next to the Santa Cruz Harbor on East Cliff Drive involves new parking for visitors, sidewalks, bike lanes, road widening and stairs to the beach.
The job has faced several challenges, including a six-month shutdown beyond the Construction team's control, and the team has been forced by Santa Cruz County Public Works to do a significant amount of extra work and change its approach to various elements of the project.
Nevertheless, McLean and the hard-working Construction crews building this project look forward to a completed job that will make visiting the area a pleasurable experience for residents and tourists alike.
Big thanks for the great work by the Santa Cruz concrete team: Manuel Garcia, Steve Capone, Heather Whitlow, Jose Hernandez, Fabio Fuentes, Kenny Guay, Armando Salazar, Fabian Morales, Steve Espinosa and Ryan Fontes.
And thank you to the Construction team: Ricky Smith, Doug Bailey, Darrell Lightfoot, David Duckworth, Gary Hartranft, Alberto Andrade, Jorge Bautista-Nava, Thomas Kachel, Christopher Bautista Gonzalez, Scott Solid, Refugio Munoz, Reyes Morones, Samual Loyola-Lopez, Pablo Ramirez, Angel Zamaniego Vizcarra, Monique Washington, Joel Chavez-Lobato, Hayden Lindsay, Noe Trevino, Travis Perkins, Jose Solis, Michael Jackson, Oscar Mota, Jose Aguado, Luis O Nava, Oscar Zumudio Rocha, Saul Sanchez Garcia, Jeanie O'Donnell, Michael Vaz, Katie Murillo, Cathy Gracia, Kyle Dickson,Joe Bandiera, David Kennedy and Kevin Jones.
Back to all Blogs