Roni Williams - Handling the ABCs at Graniterock
Posted by Rose Ann Woolpert on Mar 18, 2015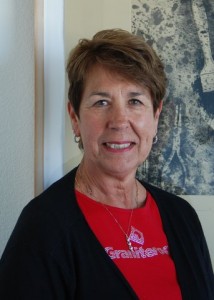 If you are a Graniterock customer whose name begins with A, B or C, chances are you know Roni Williams. She handles these accounts as a part of her job in the Customer Service Department at the Graniterock Corporate Office in Watsonville. Roni spends her day with customers by phone or online, to ensure billing is accurate and preliminary notices, liens and releases are correct and timely. Great communication is key, and Roni's kind manner, friendly voice and professional experience help her build rapport with customers as she takes care of their business needs.
"One of the first things I do when I come to work in the morning is to check for preliminary notices on any jobs over $2,500," Roni explains. That sum triggers the mailing of certified letters. "We find addresses on all our customers' jobsites, and on huge jobs this might be several locations. We need to know where the material is going, who the owner is, who the general contractor is, and if there is a lender and a bond. All this is then keyed in to prepare preliminary notices."
"As the day goes on, people start to call or email to request waivers and releases, copies of invoices, or to ask pricing questions. When customers pay by tag, we need to match payment with each and every tag, and if there is a discrepancy, we need to find it. The most satisfying part of my job is talking with our customers," says Roni.
Roni was born in Alvin, Texas, in the same town and around the same time as baseball legend Nolan Ryan. Later, her dad found work as a carpenter at the Naval Post Graduate School and moved the family to Pacific Grove, where Roni attended kindergarten at Robert H. Down Elementary. Roni met her husband Billy at Monterey High School. "He sat next to me in home economics class when I was a senior and he was a junior," remembers Roni. "We married in 1966, and two months later Billy got his draft notice. The Army sent him to Vietnam to serve as a mortar man in the infantry. I wrote him every day, but the hardest thing was we didn't always get each other's mail. He sometimes had to wait weeks before my letters arrived."
After leaving the Army, Billy went into the electrician apprentice program and became an electrical contractor, while Roni stayed home with their sons, Travis and Nathan. Once the boys were in school, she worked several different jobs. She was a mortgage collections officer, waitress at Kathy's on the Corner in Monterey, and attended beauty college to become a nail technician. Eventually a friend suggested a job at Granite Construction, and she started work in the accounts payable department. Hildebrand and Sons Trucking recruited her to work for them. "I learned a lot in their small office," she said. Finally, almost 10 years ago Roni heard about an opening in Customer Service at Graniterock, applied and got the job.
Roni loves working with department manager Diana Villegas and the great people on the Customer Service Team. "Diana is so complimentary, and she is always there to help. She is always praising, telling us what a good job we are doing." Roni looks for ways to learn more about the Company, and has shadowed with Graniterock's CALR Desk, Safety Department, Transportation, the Construction Division, and Environmental Services. Roni enjoys helping with Construction Career Day each year, and the annual Share Your Holiday event at Graniterock's Monterey County Branch is one of her favorite ways to contribute. "I really, really enjoy it. People who may not have that much themselves come in loaded down with toys and food, people who want to share what they have with others."
Billy retired three years ago and now Roni has a dream life. He does the cooking and cleaning, which allows her to take off for a walk after work around their Seaside neighborhood with Kali, her German shepherd. Even better, granddaughters Catalina and Juliana, ages 6 and 4, live near enough for Roni to enjoy frequent visits. Roni says she has it all – both her career and her family are rock solid.
Back to all Blogs