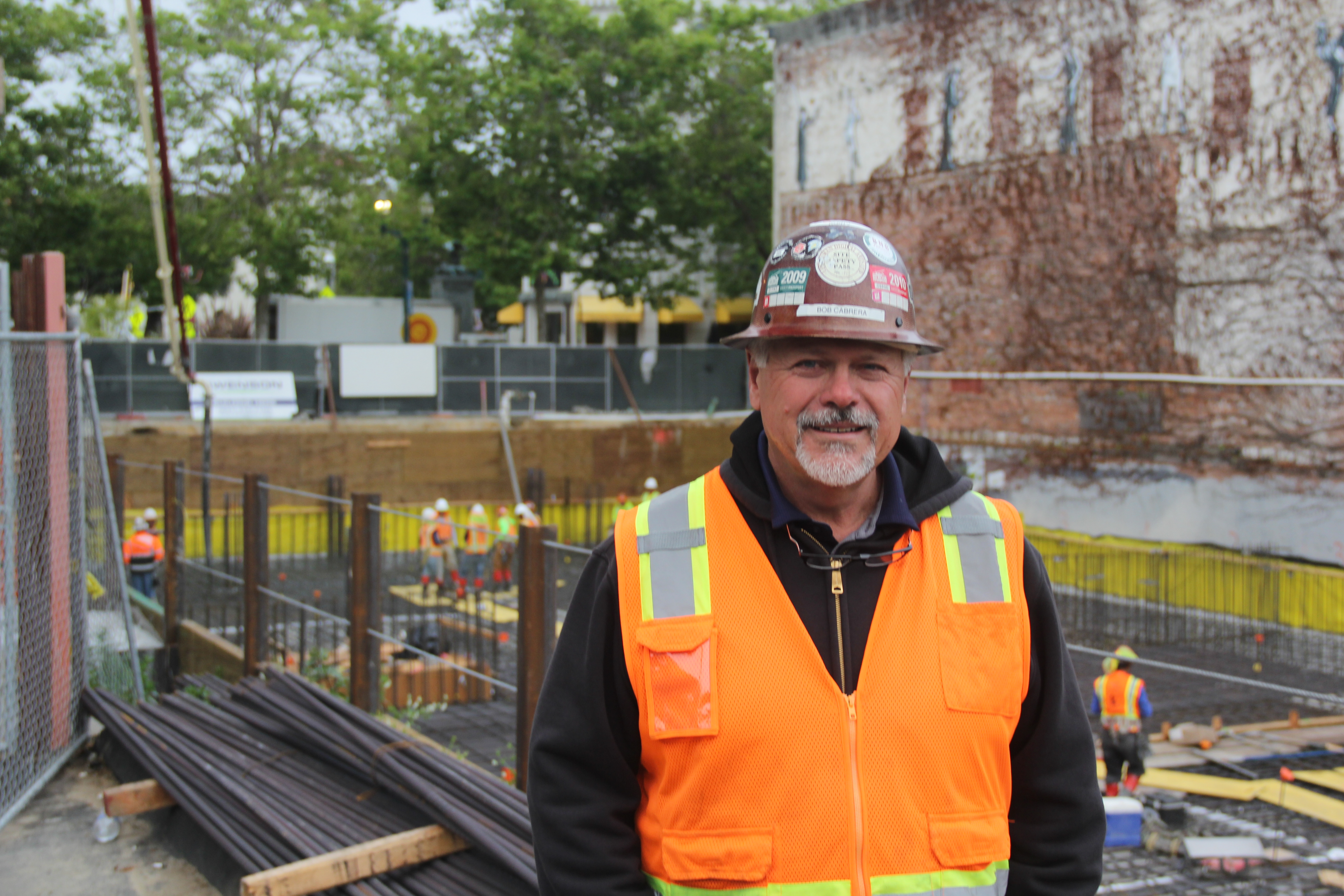 Rock Star uses his gridiron experience to build concrete career
Posted by Zack Booth on Sep 19, 2018
SANTA CLARA – Building the foundation of a 50-story skyscraper wouldn't seem to have a lot in common with slamming into grown men on the football field.
But looking at the lattice of rebar laid across a construction site half the size of a football field, his rubber-booted crew directing the flow of concrete, brings Largo superintendent Bob Cabrera back to his gridiron days at Boise State.
The former defensive tackle for the Broncos, who also spent one season with the minor league Twin City Cougars in Yuba City, will tell you a successful concrete pour of any size is the sum of planning, coordination, communication and strong bodies – just like a winning football team.
"If something's wrong on a big pour, it's probably lack of communication," Bob said. "You can have the biggest, best team out there, but if you're not working together, there's problems."
Bob, 60, was recruited to concrete when Boise State played Cal Poly San Luis Obispo in 1979 and his mother's cousin George Landavazo, owner of Landavazo Concrete, came to watch.
After the game, which Boise lost, George told Bob the door was open to his Hayward-based concrete company after graduation.
With a business degree in hand, Bob, who stands at a broad 6'2", started his concrete career in the field as a laborer at Landavazo. It was enjoyable work for a guy used to spending hours in the weight room.
From the field, Bob moved to operating the boom pumps that stretch out nearly 200 feet like a toy transformer from the edge of a construction site to the center of the pit.
He operated pumps for more than a decade as Landavazo grew in size and scope building foundations of large apartment complexes and parking garages throughout the San Francisco Bay Area.
Around 2010, Bob left the family business and eventually moved to Largo as the place and finish superintendent who also oversees the company's pump operations.
He brought his 29-year-old son Robert, also a former football player, on board at Largo to manage quality control.
In all, Bob has a team of 50-60 guys scattered amongst the building frenzy gripping the Bay Area.
Together, they're pouring thousands of yards of concrete daily for the foundations, decks, columns and slabs that make up the ongoing construction activity.
Bob's especially partial to mat slab pours that involve up to 5,000 yards of concrete, laid 8-10 feet thick, and require a constant stream of mixer trucks arriving on site and several pumps running simultaneously to get the concrete out as fast as possible and keep the project schedule on track.
Monitoring the quality of the mix at every turn is crucial to the final results.
Most of what they pour is designed to securely hold up high rise buildings and multi-level parking garages.
His approach to management is to be constantly looking ahead and planning accordingly by ensuring each project has the right concrete mix ordered, crews are lined up and pumps ready to go.
"I really depend on my foremen," Bob said. "If I see they're not handling their crews the way I think is best for the project, I'll pull them aside and talk about it. I'm not a screamer. I'm pretty calm with how I go about the work."
A lifelong football fan, Bob cheers on the San Francisco 49ers and travels with his girlfriend Brenda when not playing in the mud.
Back to all Blogs