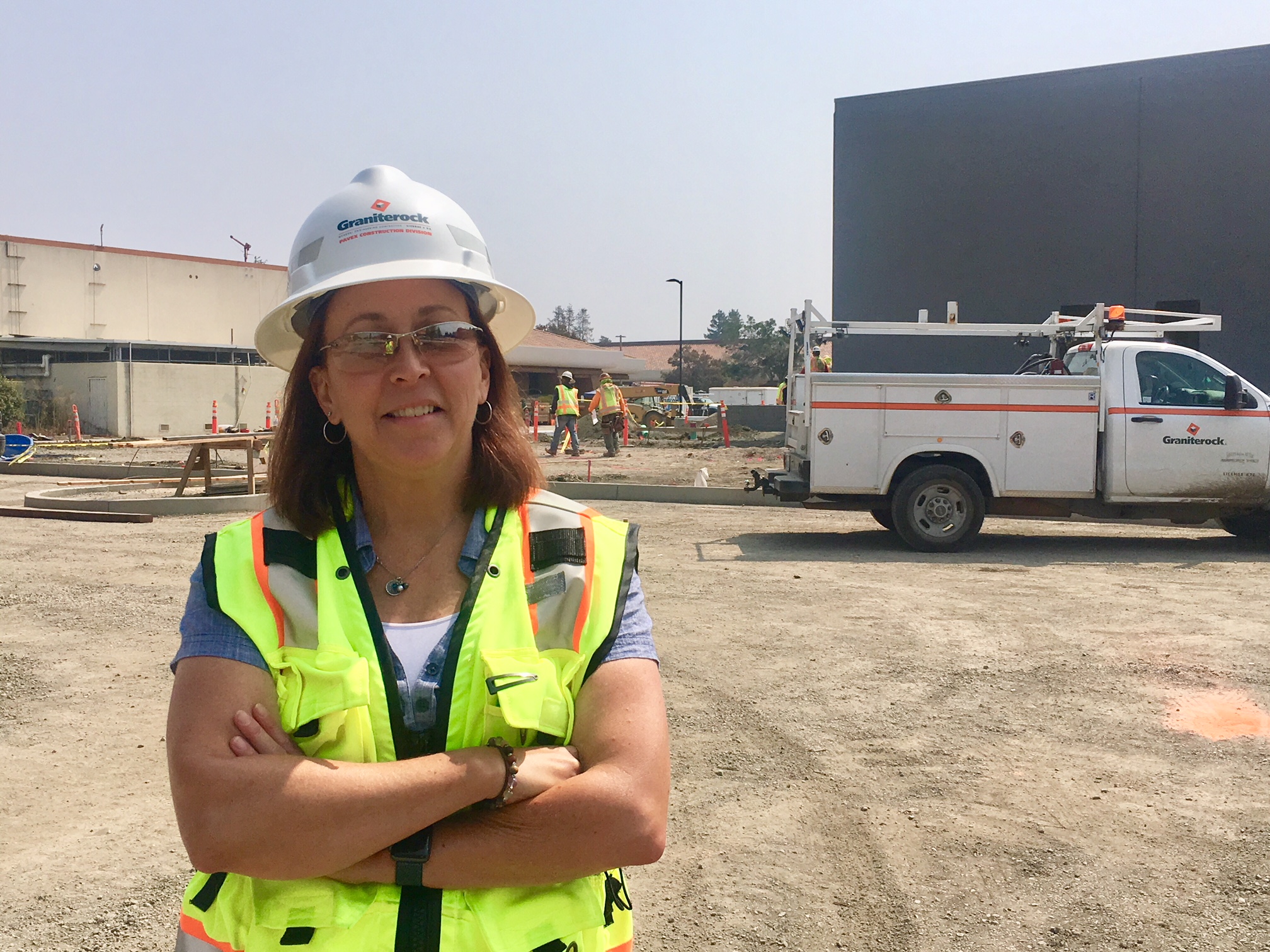 Rock Star puts up the good fight for position in construction
Posted by Shanna McCord Crigger on Oct 18, 2018
SAN JOSE – Sheree Schoenherr doesn't get pushed around.
A no-nonsense Midwesterner who came to operations from construction accounting and finance, Sheree is a tested and proven project manager who knocks out heavy civil infrastructure projects with a calm, level head.
"I was always fascinated by the operations and work going on in the field," the Missouri native said. "I had to learn the field stuff, which was extremely challenging. But I was never intimidated by the forecasts or budget. I'm very comfortable with numbers."
As a project manager in Graniterock's Construction Division, Sheree focuses on keeping her crews safe, clearing obstacles in their path and finishing safely and in the black.
The fact that she's usually the only woman in a sea of men and heavy equipment doesn't come into the picture these days like it did 18 years ago when Sheree was first carving out a construction career in the field.
"I'm just one role amongst many different roles that make up this team," Sheree said during a visit to one of her projects in San Jose. "Being a woman doesn't come up unless someone else points it out. I can't worry about that."
The road to this point for Sheree wasn't always smooth, as many women in construction can attest to the pushback and chauvinism that has improved in recent years but still creeps into the overwhelmingly male industry.
According to the National Association of Women in Construction, women make up 9.1 percent of the construction industry nationwide.
The industry is more unbalanced in the field when you consider female construction laborers are only 1 percent of the skilled craft workforce.
That means on your average jobsite, there is approximately one woman to every 100 men.
Sheree is stoic about those statistics.
She started in accounting for environmental engineering firms in the San Francisco Bay Area that handled removal and replacement of old underground oil tanks.
While working full-time, Sheree attended night classes at University of Phoenix in Pleasanton to earn a degree in business management.
Around 1996, a friend directed Sheree to an East Bay construction company, where she worked as a contract administrator tracking all of the dollars coming in and out of heavy civil infrastructure projects.
When she decided to jump into operations and become a project engineer, her male colleagues didn't exactly roll out the red carpet since her field perspective was limited.
She stayed at that company for nine years, earning her stripes as a trusted project engineer, before joining Graniterock in 2006.
"I went through hell," Sheree said. "I was told you have to work twice as hard because you're a woman. There was a lot of uphill."
The days of proving herself just because she's a woman are behind her, though Sheree hasn't let up on her tenacity and drive to see a project completed on time with profit.
Sheree takes a laser focus to her work – collaborating with the field, estimators and clients, planning ahead, securing the resources and equipment her crews need, organizing subcontractors and trying to safely outsmart the schedule and budget.
Safety is a constant worry no matter what kind of job she's on, though large volume off-hauls with a constant stream of semis in and out of the project push that concern to another level.
"The night before a big off-haul, I struggle to sleep. Safety is what keeps me up at night the most," she said. "In this industry, there should always be a knot in your stomach about safety."
Sheree recently completed the 10-mile obstacle-filled Tough Mudder at 8,600 feet elevation in Lake Tahoe – a test of endurance and strength billed as "crush, or be crushed."
That means she's not only tough, Sheree's competitive, too, and willing to get some dirt under her nails.
In addition, Sheree and her partner Jim, who live in Morgan Hill, are avid bike riders, hikers and enjoy traveling and new adventures.
Back to all Blogs