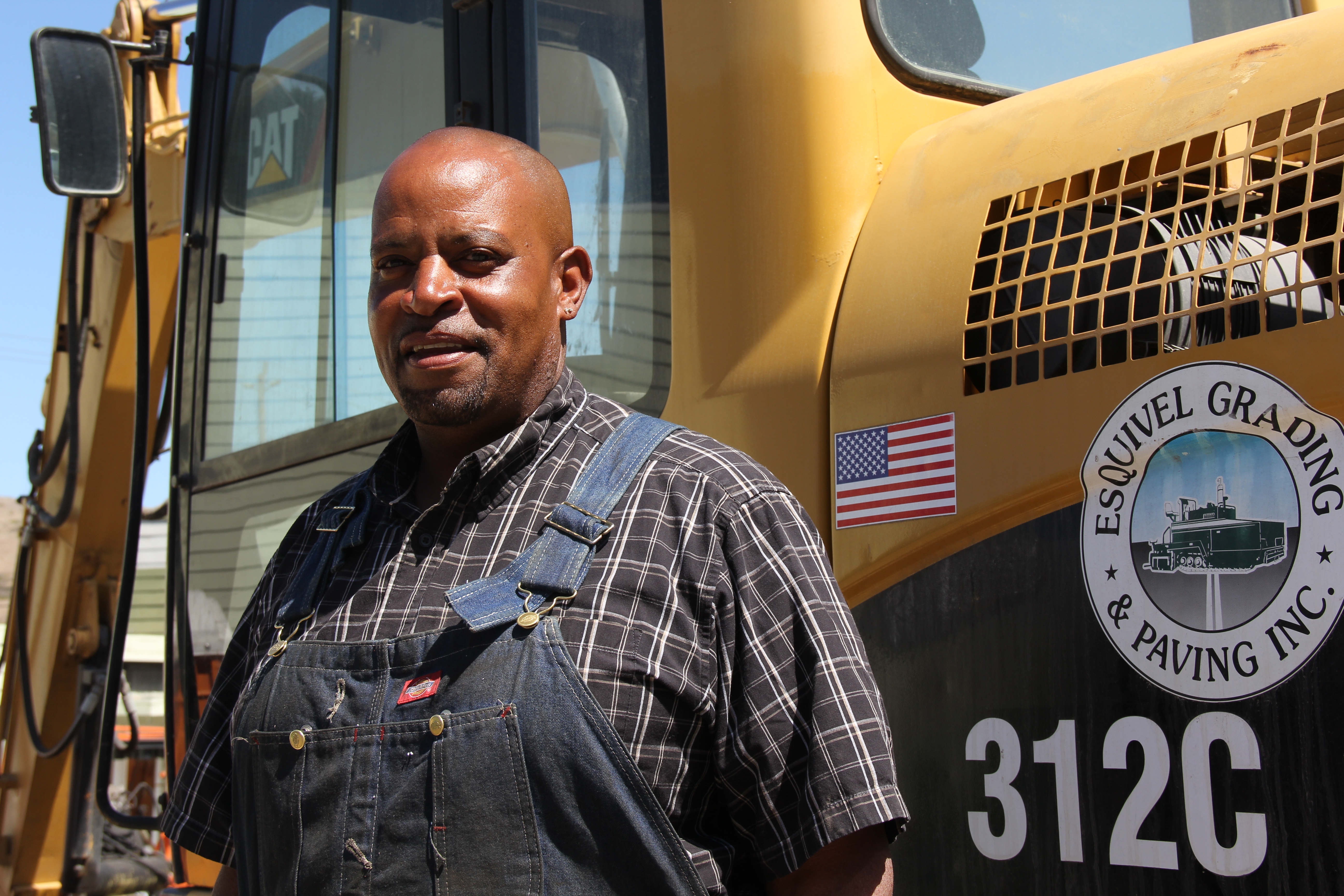 Rock Star: Kelvin Snell of Esquivel Grading & Paving
Posted by Shanna McCord Crigger on Oct 16, 2015
SAN FRANCISCO - Gracefully maneuvering a giant CAT paver with slow-moving rubber tracks through the narrow and congested streets of San Francisco, putting down asphalt in a straight line, isn't easy.
Kelvin Snell knows that well.
As Esquivel Grading and Paving's veteran paver operator, Kelvin has mastered the art and science of paving San Francisco.
In the 32 years he's worked for Esquivel, Kelvin has paved just about every street in the city's 47 square miles at one time or another – Van Ness, Mission, Market, 19th Ave., Embarcadero and the streets within Golden Gate Park, among many others.
These days he finds himself revisiting streets he worked on as the new guy in 1983.
The city's hordes of pedestrians and constant car horns blaring don't bother him.
Kelvin, a calm and quiet man, stays focused on the job.
"San Francisco is a challenge. I'm constantly watching the people around me and the material, and I have to keep the machine straight," Kelvin, 52, said. "You have to keep focused; you can't let your mind wander."
Making a long career atop the paver was a natural course for Kelvin.
When graduating from high school, his father, who worked many years in the trade with Pacific Pavement, asked Kelvin if he would like to go to college or straight to work.
The answer was easy.
Kelvin wanted to follow in his father's path, so he joined the union and stood out as one of the hardest working laborers in the bunch.
"Guys like Kelvin really make this company," Esquivel owner Ralph G. Esquivel said. "He's a real true journeyman. He can run any machine and fix it. He's a major part of our operation."
While working for another paving company in the early 1980s, Kelvin often ran into Ralph Esquivel on job sites.
Over time, Ralph convinced Kelvin to work for him and encouraged Kelvin to move from laborer to operator.
"Ralph was working out of his house at the time. He only had a compressor and a fergy. I wasn't sure what I was getting myself into, but he kept growing," Kelvin said. "He always called me 'son.' We got along pretty well."
Kelvin is more than a paving pro. He's also an expert at fixing any piece of machinery or equipment, known to hop off the paver in the middle of a job to repair a hose or put a broken track back on.
"Heat breaks everything, and if you break down on the job, you have to fix it as quick as possible or else you lose money," he said.
Kelvin's view of San Francisco:
Van Ness is the most challenging street to pave because the San Francisco Public Works Department only allows one block to be closed at a time.
Mission and Market streets are tedious due to dense traffic.
China Town is "just crazy" with paving hurdles.
The best streets are the city's wide avenues, which let the crew "just go" and get the job done as fast as they can.
One of Kelvin's all-time favorite jobs was paving Golden Gate Park's streets, about two years ago, with Graniterock HMA.
"We put down 2,000 tons a day, all from Graniterock," Kelvin said. "I was just there recently biking with my daughter and it still looks good.
"Hands down Graniterock has the better material. If you guys give us quality product, we'll put down a great product. That's what it's all about."
Outside of work, Kelvin enjoys time with his wife Linda and their three children - two girls and a boy, ages 21, 19 and 14. The family's favorite vacation spots are Disneyland and Hawaii.
He can also be found tinkering on his 1964 Chevy Chevelle, sometimes taking it for a run at Sonoma Raceway (formerly called Sears Point).
"I love the old cars," Kelvin said. "I do all the restoration work myself."
Back to all Blogs