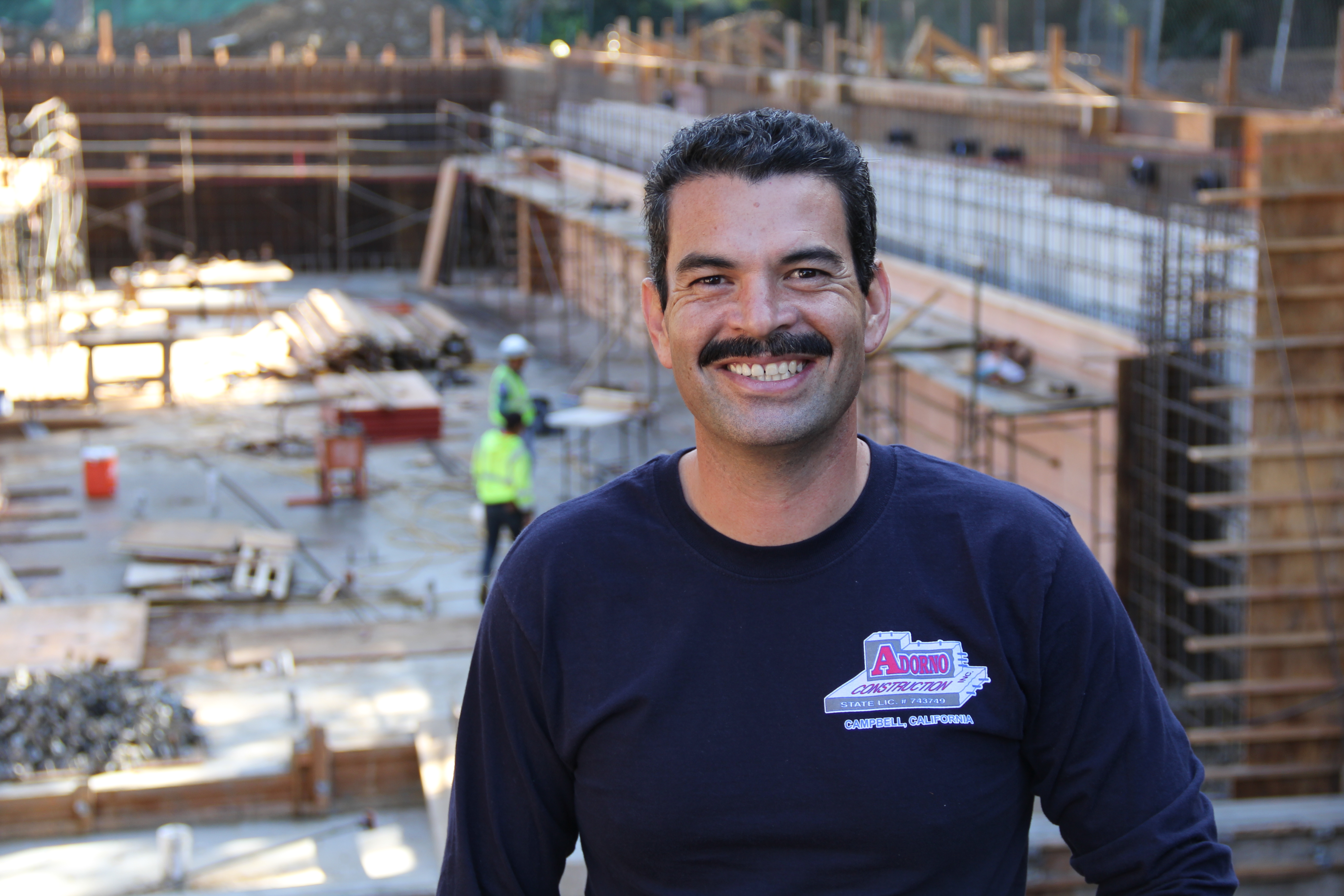 Rock Star: Juan Galindo of Adorno Construction
Posted by Zack Booth on Dec 21, 2015
ATHERTON – Not many guys are a gourmet in the kitchen and can lead a 1,000-yard concrete pour.
Juan Galindo of Adorno Construction is a master at both, though he hung up his apron 16 years ago when the Campbell-based contractor came calling.
Juan was working in his grandmother's Mexican restaurant, cooking up carne asada and other Mexican fare, when a friend told him Adorno needed laborers.
Stay with his grandmother or try a new line of work that would get him outside building cool projects?
Juan left the family business and launched a construction career, something his grandmother never begrudged.
"She was ok. It was a big jump," Juan, 39, said. "It was hard but fun at the same time."
Juan climbed the Adorno ranks to project coordinator after starting as a laborer who dug trenches and installed rebar.
His past roles have been materials driver and concrete pumper.
As a project coordinator for the 25-year-old company that specializes in high-end residential projects around the San Francisco Bay Area, Juan is responsible for all of the crews and materials needed at each job site.
He orders the concrete, rebar and plywood and makes sure they're delivered to the right location and on time.
When one project needs more help, Juan pulls guys off smaller jobs to keep everything running on schedule and budget.
The company is especially busy with large residential foundations and basements.
"You need to have good form work and finish work, and you need to have good quality concrete mixes for each different application when pouring concrete," Juan said. "A good project is one that is complicated and challenging, but in the end it is a quality job completed with the team at Adorno. That's a great feeling to be a part of."
Juan, a San Jose resident who converses easily in English and Spanish, credits his construction success to the support and education he's received from Adorno owner Frank Adorno.
"Frank's a really good boss. He's given me opportunities to learn," he said. "He's helped me learn and go farther in the company."
Colleagues say Juan is dependable and has an eye for perfection, a critical skill when working on multi-million dollar homes with demanding customers.
"If I need a special forming material, he'll research and find the right material for that application and get it delivered to the job. If I need a special tool, he'll find whatever we need," said Raul Macias, who has worked at Adorno for 14 years. "Juan makes my life easier."
Frank says he tries to create a family atmosphere at his company, giving employees a place to grow and find happiness in their work.
Juan, he says, is a key member of the Adorno family.
"Our finished work is only as good as our employees, and Juan is an important part of our success," Frank said. "He's awesome at what he does."
When not working, Juan and his wife Alma of 20 years and their three children, load up their trailer with ATVs and head to Pismo Beach, where they camp and ride the hilly sand dunes.
"It's something the five of us enjoy together," Juan said.
Though he doesn't cook for a living anymore, Juan keeps his culinary skills sharp on weekends cooking for family and friends.
His favorite dish to make from scratch is spicy shrimp soup.
"When you love doing something, that's the only way it turns out nice," Juan said.
Back to all Blogs