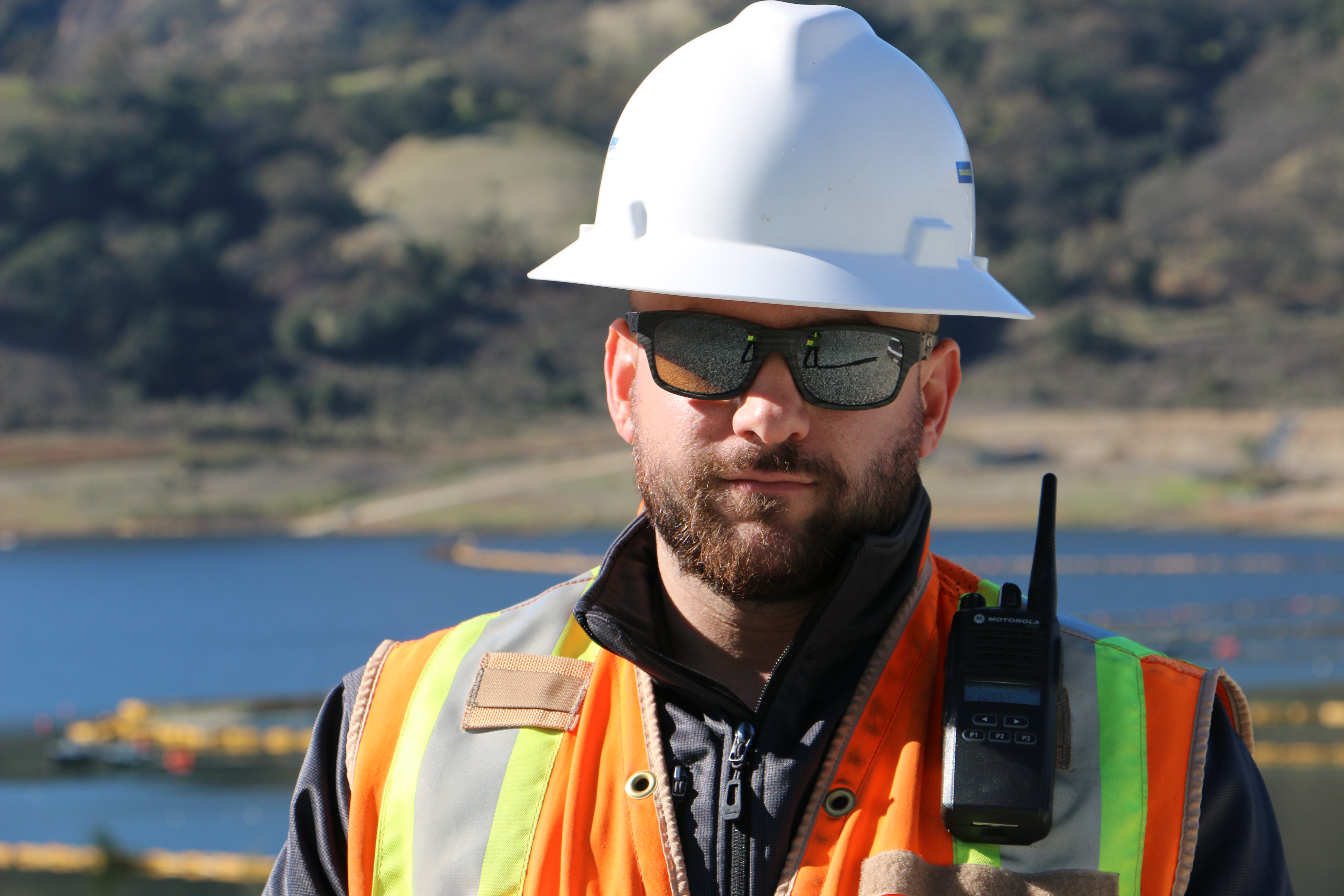 Rock Star: Joe Burgoon makes his mark at Calaveras Dam joint venture
Posted by Shanna McCord Crigger on Dec 6, 2016
CALAVERAS DAM - When a nationwide survey indicates 86 percent of contractors struggle to fill key craft and salaried positions as demand for construction increases, it's refreshing to meet Joe Burgoon.
The 28-year-old Chico State graduate is carving out a construction career he hopes takes him from the trenches to upper management.
With the long haul in mind, Joe is diligently working his way up the construction ladder.
Last year, he joined Sukut Construction's joint venture with Flatiron and Dragados in building a new $500 million dam for the Calaveras Reservoir in Alameda County for the San Francisco Public Utilities Commission.
The new 220-foot tall earth and rock fill dam is under construction next to the 90-year-old original dam, which will be left in place and submerged underwater when the project is complete. The Calaveras Dam is part of the Hetch Hetchy Regional Water System that provides drinking water to 2.5 million people in Alameda, Santa Clara, San Mateo and San Francisco counties.
As one of Sukut's seven earthwork engineers on the dam job, Joe oversees the purchase of the project's mountain of materials and manages the tonnage and logistics of trucking to the East Bay site.
There are hundreds of truckloads to manage each day.
He also oversees a portion of the project's grading and paving.
Seven million cubic yards of soil and rock have been excavated to make way for the replacement dam.
The cost of materials and where to store them on site are always on his mind.
Despite the pressure of the high profile project, Joe's focused and articulate in a way you don't always see with guys starting out in the industry.
"In spite of his age, Joe's calm and has a strong grasp on this huge project," said Don Barrett, Graniterock's aggregate sales manager. "He and I talk almost daily. Joe realizes what he has to do for the project to be successful and he gets the job done."
As one of the younger guys on the massive dam job, Joe works alongside industry veterans and enjoys the exposure to their knowledge and expertise.
"The experience here has been incredible. Everything is so unique compared to other jobs I've been on in the past," Joe said. "It's a dam, not a sidewalk. There's so much going on all the time. You really have to be aware and good at planning. It's great because you get to develop and execute your own plans out here."
Joe worked for RGW of Livermore as a project engineer after graduating from Chico State in 2013.
At RGW for two years, he took on tasks brand new engineers usually get assigned – tracking quantities, daily costs, scheduling and job planning.
"I'm sort of a utility player," Joe said. "I can do a little of this and that."
His taste for construction came during high school when, in need of cash, he found jobs framing and putting in foundations for new homes with contractors in the Chico area, where he grew up.
Joe also spent a summer as a laborer, operating rollers and compactors, for a small firm operating at Mt. Diablo.
When he heard about the positive experience his cousin was having as a construction management major at Chico State, Joe became interested in the same.
He worked 40 hours a week through college at a cafe and clothing retailer, taking classes at night, to pay the bills.
In addition to a sharp mind for construction, he makes a strong cappuccino.
He and his wife Megan, who live in Brentwood, enjoy water sports and trap shooting in their down time.
"I always say construction is the best job ever because you get to see and experience so many cool things you don't see in other places," Joe said.
Back to all Blogs