Robert Cruz: 1 Earth Irrigation and Landscaping
Posted by Jim Christensen on Mar 18, 2015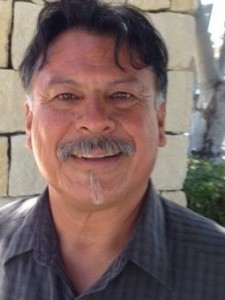 Challenges in life sometimes lead us to follow new and unexpected paths. This was the case for Robert Cruz, who started his landscape contracting business, 1 Earth Irrigation and Landscape Company, after a 25-year career in education. Robert spent 10 years as a high school academic counselor, then went on to teach in local elementary and middle school classrooms for another 15 years. But when he was diagnosed with a chronic illness a few years ago, he decided it was time to make a change in his life.
"I told my wife Patricia I wanted to leave my job and to find a career where I could work outdoors," recalls Robert. "She thought I was crazy, but said, OK. So I ended my career in education and started building my business." That was four years ago, and today Robert is enjoying the new challenges of learning all that is necessary to find success in private business.
Robert had the advantage of growing up in a family landscape business. His dad was born in Oaxaca, Mexico, and after coming to the US as a teenager, settled in San Jose. Here Robert's dad found work as a gardener, started installing irrigation systems and went on to become a landscaping and irrigation contractor. As a teenager, Robert worked for him watering plants, cleaning tools and eventually doing blueprint plan take offs. He also spent a short time working for another irrigation company did a stint as a mechanic in the Air Force before starting college.
"When I set up my business I was most familiar with irrigation, so that is where I started out," said Robert. "My dad and my mom, who was the bookkeeper, were able to advise me on how to get started, but I was soon thinking about where I needed to go next. I joined the California Landscape Contractors Association, and they referred me to a group called RBG. This group is for landscaping contractors who want to learn how to develop and grow their businesses. This is a fantastic group of mentors from throughout the state. We explore, share, support each other and try to understand what we have and what we still need to do. The objective is to try to stand back and see what you are doing, where you need to go, and what components you need to have in place to support your business at it expands."
Today, 1 Earth does primarily residential work in a region extending from Redwood City and San Mateo to Hollister. "I started out finding referrals through Business Network International (BNI)," recalled Robert, "but now I am getting more referrals from my past customers. I track my referrals, and outsource things such as payroll and maintenance."
Robert finds great satisfaction in this work. "My real interest is in keeping my commitment to the people who work for me, to make sure they can support their families, and whatever I do needs to benefit them," he said. "That's my first responsibility. Beyond that, we want to be sure that we provide value to our customers and at the same time benefit the environment by creating drought tolerant solutions. The drought is keeping us working, without any down time. People are aware they need to make changes in their water consumption, adding more hardscapes, xeriscape landscaping and taking advantage of rebates such as those offered by San Jose Water Company.
Robert got his start in music at an early age, and minored in music at San Jose State. Now he plays saxophone professionally with dance bands, orchestras, and community band performances throughout the area. Robert likes "any music with a horn in it." Kayaking, riding his Harley-Davidson, going to movies with Patricia, and spending time with their six grown children and the grandchildren also fill his free time.
Graniterock is a resource for Robert to learn hardscape materials and installation. "Learning rock products through Graniterock has made my business better – what to install and how to install it. The Cupertino Design Center is like my library."
Back to all Blogs