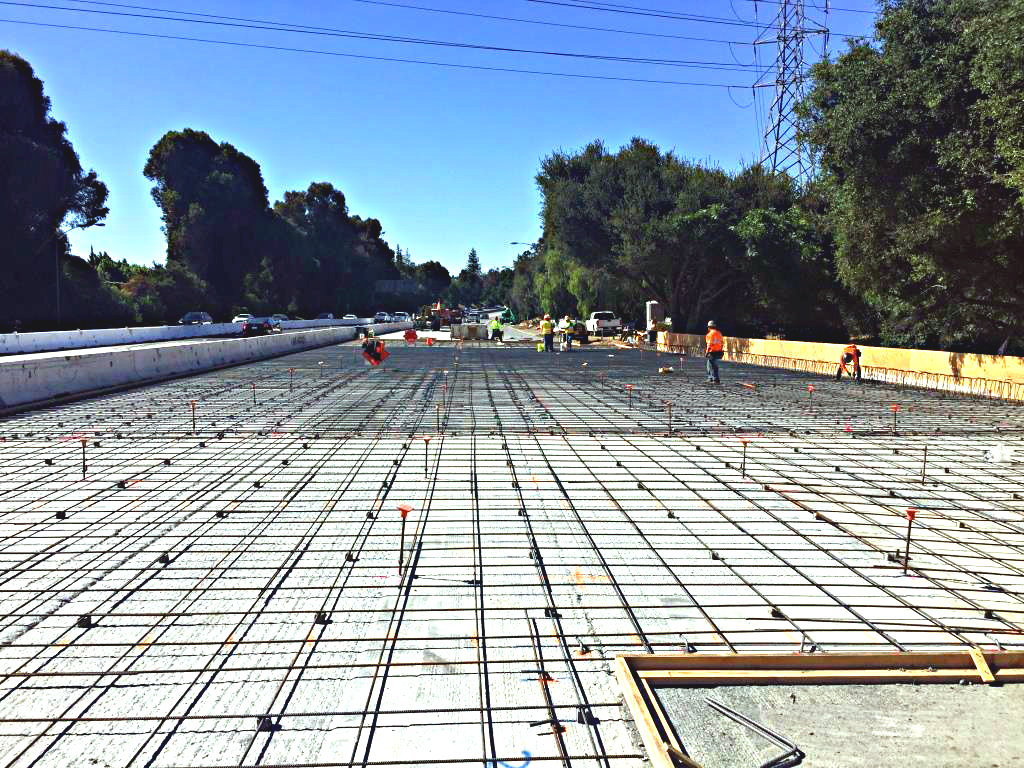 Rapid-set concrete for construction's Highway 85 bridge project
Posted by Katha Redmon on Dec 10, 2018
SUNNYVALE – Rapid-set concrete pumped into place for a bridge deck project was no problem for the Graniterock team.
Rapid-set concrete – mostly used on emergency projects that need to be completed quickly – has a very short shelf-life and can begin to set up in the pump hose.
This type of concrete is normally placed directly from the mixer truck chute.
Graniterock didn't hesitate when Caltrans applied the stringent rapid-set spec on the concrete overlay of the aging Stevens Creek Bridge deck, located on Highway 85 near Fremont Avenue.
The $4.5 million project called for ready-mix with low shrinkage limits and a high dosage of polyester fibers that would achieve strength in a few hours and allow the bridge, which closed at 11 a.m. Friday, to re-open by 7 a.m. Monday.
These requirements were in conjunction with utilizing a high-early type of cement along with high dosages of admixtures to attain significant strength within four to five hours.
The construction team brainstormed alternative methods, schedules and timeframes for completing the rapid set concrete pours.
The team came up with an alternate placement plan, performed in two stages, which allowed 48 hours for the new concrete pavement to cure before opening to traffic.
This change meant that the RTS team had the latitude to design a less high-powered mix that would be easier for the crew to place via pump and would still attain the required strength within the new 48-hour window.
The 200-yard pour took place at 3 a.m. Saturday, achieved the right amount of strength and was back in service Monday morning, as promised to Caltrans.
This is an excellent example of how great communication, strategic pre-planning and excellent teamwork can result in a One Company success story.
"This was a monumental effort for that size of an area and to get to strength in that amount of time," Project Manager Jim Mitchell said. "Big Kudos to Katha Redmon and her team. They were exceptional."
In addition, the construction team tore out 100 feet of concrete roadway in both directions and poured back new concrete.
A tremendous amount of work went into the success of this work. Thank you to the entire Berryessa concrete team and Chris Anderson, Mark Hurley, Jorge Olivares, Esaul Olivares, Orsohon R Corral Nevarez, Rodney Cortez, Fernando Puga Ramirez, Fabian Puga Ramirez, Eduardo Juarez, Jose L. Aguado, Jose L. Garcia Jr., Manuel Mendoza, Jorge Guerrero, Rafael G. Ortiz, Jose F. Raya Barajas, Julio C. Vasquez, Oscar D. Carrillo Mota, Mitchell Ruiz, Jose Mascorro, Jesus Hernandez, Jose Orozco Ibanez, Hugo Gutierrez, Gerrod Dewey, Librado Esparza, Rafael Solis Jr., Ricky Smith, Bryan Jones and Kevin Jones.
Back to all Blogs