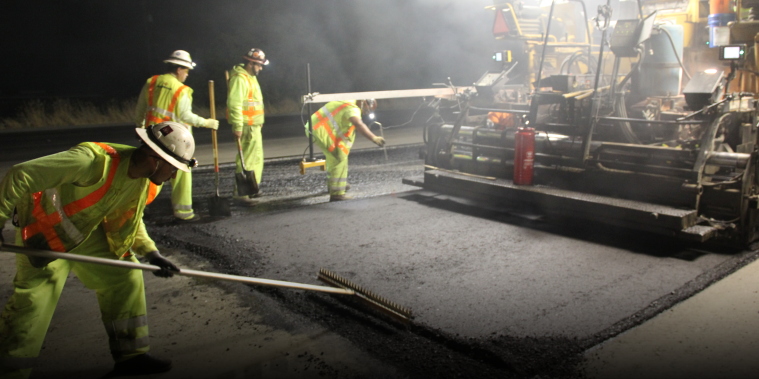 Paving Highway 152: New leadership on the night crew
Posted by Shanna McCord Crigger on Jul 2, 2015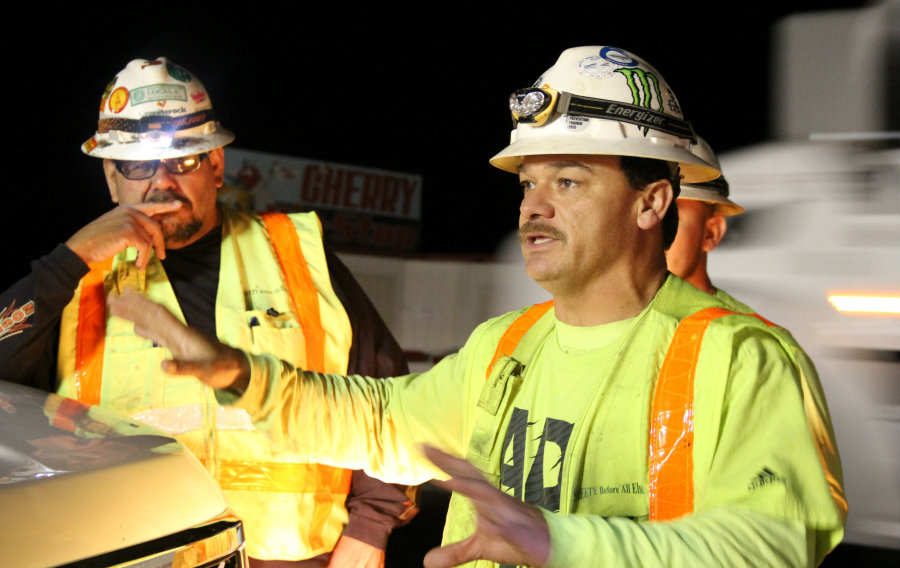 On the outskirts of Gilroy, Graniterock's Construction team is grinding and paving a 12-mile stretch of Highway 152.
The work takes place after the sun sets, with the crew calling it a day only when the sun is about to rise again.
The $5 million Caltrans project, won by Estimator Vicki Narciso, is more than just another paving job for Graniterock.
At the heart of this night job is the opportunity to develop a new paving leader for the Company. Longtime laborer and operator Andy Godina has been offered the chance to lead an established crew.
Over the past 20 years, he's worked his way up from raker and dump man to joining Operating Engineers, where he became a roller operator and screed man.
He's spent many years working alongside veteran Field Supervisor Robert Lauderdale, who's known as the best in the industry.
Andy hopes to use that experience to lead another top performing paving team for Graniterock.
"I'm excited to take what I've learned from Robert and lead my own crew," Andy said. "This is a great opportunity."
Project Manager Dave Olivas said he was happy to welcome Andy to the Highway 152 project, saying this is the best way to build up another solid paving team within Graniterock.
"We're giving a longstanding Graniterock team member the opportunity to step up and manage a crew," Dave said. "I think it's wonderful. It gives us more depth in the field."
Under Field Supervisor Todd Wilson's leadership supervising the entire operation, Andy's transition to foreman is going smoothly.
Much of this effort to train a new paving leader comes from AC Paving Manager Mike McElroy, who saw an opportunity to improve the work of the Construction Division.
The One Company project started June 1 and should finish in early July.
It involves 32,000 tons of asphalt from the Aromas plant, 16,000 cubic yards of grindings and uses Graniterock Transportation, emulsion and the grinders that were acquired from FMG last year.
"What's cool is we're doing all of the work and it's really a One Company deal," Dave said. "Night jobs are tough, but this crew is doing a great job."
Graniterock People key to the success on this paving job include Todd and lead laborer Jose Mascurro.
Others include Jerry Hensley, Jose Hernanez Masco, Anthony Hammock, Miguel Perez, Daniel Barker, Humberto Herrera-Lopez, Steven Lanning, Ramiro Mercado, Ivan Penaloza, Michael Rich, Randy Sanchez, Arthur Siquerios and Noe Trevino.
Back to all Blogs