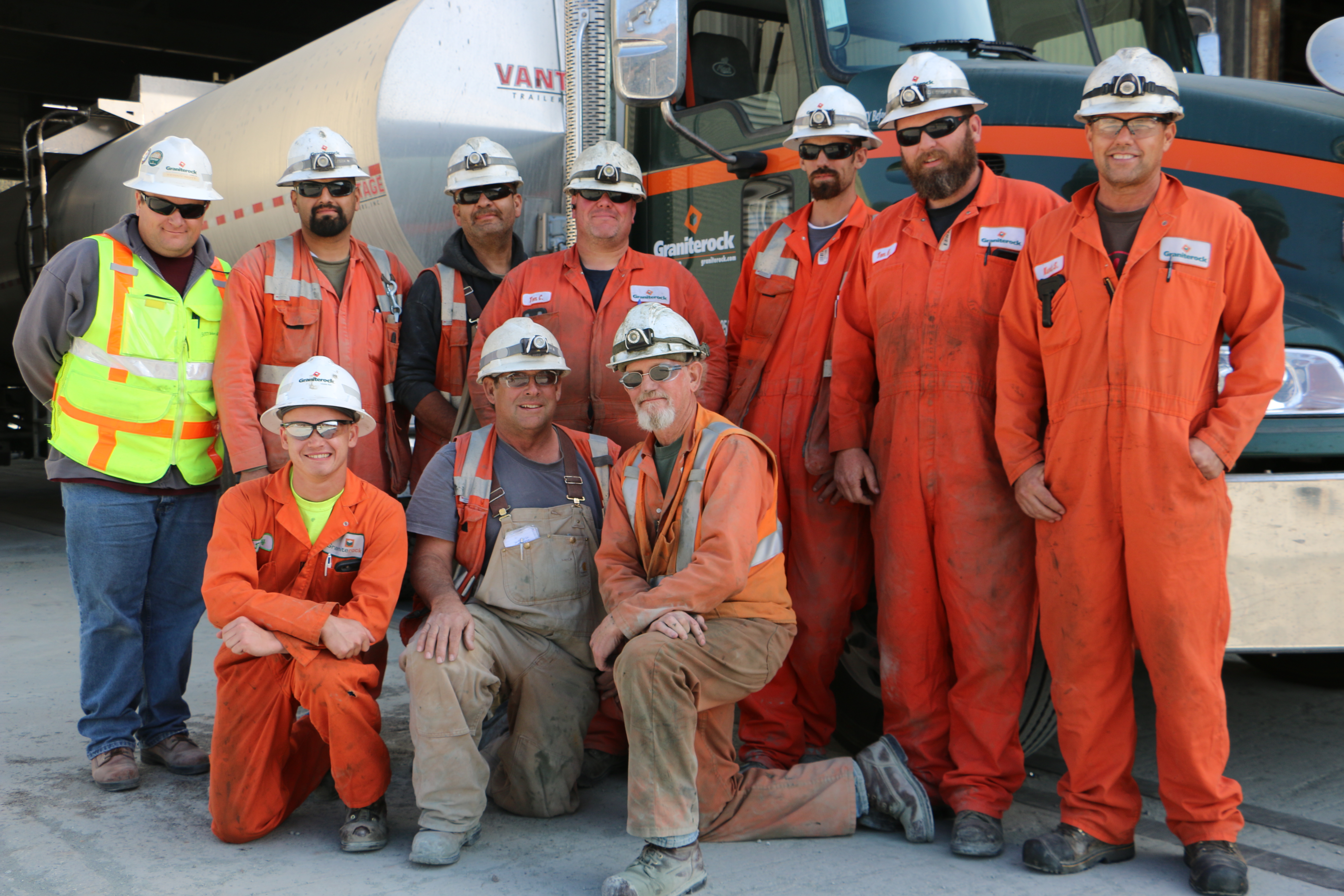 Mechanics take care of A.R. Wilson Quarry and each other
Posted by Shanna McCord Crigger on Dec 23, 2016
AROMAS - There's always something to fix or replace at the A. R. Wilson Quarry.
With all of the equipment, heavy machinery, giant trucks and moving parts worn down by the massive amount of rock crushed and transported every day, expert mechanics are in demand.
Handling the sheer amount of mechanical work necessary for the plant to produce high rock volumes, a job which can run into weekends and holidays, takes a strong, steady hand.
In addition to the plant and all of its belts, screens and liners, the mobile fleet needs regular oil changes, tire replacements and other heavy duty maintenance.
While many of the Quarry mechanics do an exceptional job at ensuring nothing breaks down for any extended period of time, the guys who work the swing shift have formed a brotherhood of sorts - Tommy Clark, Tom Easton, John Arthur, Joey Wollbrink, Kurt Sondgrath, Ernesto Ramos, Ronnie Scarpa, Adrian Vasquez and Kevin Flickinger.
For this nine-member team, a blend of new guys and veterans, taking care of the Quarry also means taking care of each other.
"We look after each other," John Arthur, with Graniterock 19 years, said. "We all get along and help each other if something comes up. It's all about supporting each other to make sure the plant stays running."
Work begins around 3:30 p.m. and they don't clock out until midnight or later.
Regular barbecues outside the shop, with Kurt grilling the meat, are just one way this team builds camaraderie.
Around Thanksgiving you'll see them share a deep-fried turkey.
"We don't see our families as much, so this team is my surrogate family," said longtime Graniterock mechanic Tom Clark, whose callused hands show his 25 years of Quarry work. "We laugh and joke with each other, but we also have the same goal. We're very aware this plant has to make that rock."
The swing shift is a combination of seasoned mechanics and guys who've been with the Company a few years or less, including Joey, who joined Graniterock earlier this year.
Don't let Joey's youth fool you.
The 22-year-old brought with him six years of experience from Stevens Creek Quarry. Not to mention, he's a true gearhead who grew up racing motorcross bikes, which he learned to fix when something went wrong.
Rebuild an engine, no problem.
"My dad would show me how to do things once, the next time I'd have to do it myself," Joey said about how his love of fixing things started. "I like coming into a problem where something's broken and you've got to fix it. It's like a puzzle to me."
At the Quarry, Joey works closely with Kurt in keeping the haul trucks and highway trucks in top condition.
They handle anything from changing oil to replacing brakes and old tires. Occasionally, they have to rebuild a rear end or do some welding on a trailer.
"This is a very good group," Kurt said. "If I need help, I can ask any one of these guys."
Ronnie Scarpa and Ernesto Ramos left Chemical Lime Co. in Salinas 10 years ago to work at Graniterock.
Ronnie and Kevin Flickinger, who's new to the Company, take care of the stationary equipment needs – conveyors, gear boxes, screens, pumps and load out.
Ernesto has teamed up with Adrian Vasquez, who joined the Company in May.
Kenny Nott, an experienced mechanic himself who worked with the Construction Division before the Quarry, oversees this team.
The group is an asset for Graniterock for not only their skills, but the flow and ease in which they work together.
"They fill an overall bunch of needs to keep everything going," Kenny said. "There's a lot of knowledge and wisdom shared among these guys. I can't say enough about the good job they do."
Back to all Blogs