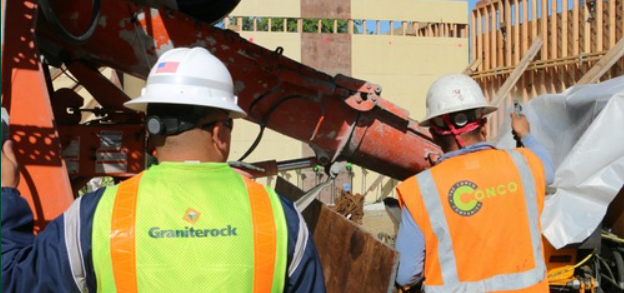 Masters of Green: Concrete team delivers sustainability for Sunnyvale housing project
Posted by Zack Booth on Jul 19, 2019
SUNNYVALE – The developer of a new multi-unit housing complex in Sunnyvale wants to reduce the project's lifetime carbon footprint by using eco-friendly construction materials, including sustainable concrete from Graniterock.
The transformation of Nick's Trailer Court at 1008 El Camino Real to a 5-story, 108-unit complex is under way by St. Anton Communities Capital with an emphasis on reducing emissions through the use of low-cement concrete supplemented by slag and recycled aggregates.
Graniterock, working with our customer Conco Companies, has poured more than 2,200 yards of green concrete for the project's foundation in which half of the Portland cement has been replaced with slag, a byproduct of the steel industry ideally suited for concrete production.
"We have found over and over again through extensive research and testing that concrete mixes with reclaimed industrial products are as strong or stronger as traditional concrete," said Zack Booth of Graniterock's concrete team. "We are educating our customers on the durability benefits as well as the environmental benefits of these mixes. And as a result, we continue to see demand rise."
The city of Sunnyvale welcomes the new rental units as leaders throughout the San Francisco Bay Area seek options for increasing the region's housing stock.
Back to all Blogs