J.P. Holcomb - Graniterock is a Family Tradition
Posted by Rose Ann Woolpert on Mar 18, 2015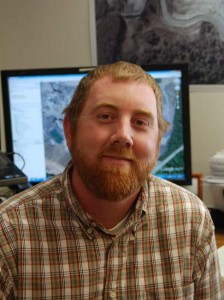 J.P. Holcomb has a job many would envy. "When people ask me what I do," he says with a smile, "I tell them I break rocks for a living." J.P. is the engineer in charge of controlled blasting at Graniterock's A.R. Wilson Quarry and oversees weekly charges which loosen rock from the quarry face.
These carefully designed and controlled blasts are the first step in preparing granite aggregate for construction use. The quarry is located where the San Andreas Fault runs between Watsonville and San Juan Bautista, and the hard granite is "pre-fractured" by naturally shifting earth along the fault. Still, blasts are required about once a week, depending on aggregate demand.
Safety comes before all else at Graniterock, and preparation for a procedure like this requires great care and attention to detail. "We have a general idea of the makeup of the rock in various locations and know where to blast based on a prescribed sequencing pattern," says J.P. "We build a blast pad, then a robotic total station, placed by a very accurate GPS, is used to scan the area automatically and create a 3D model. The total station uses a laser to measure distances and angles, taking hundreds of individual survey points for use in our Computer Aided Design (CAD) software.
"Following our safety culture, I'm responsible for the design and safety of the blast," J.P continues. "We model every single blast on the computer. This measure allows us to place the blast holes at a perfect location so there is no blow out and the rock moves forward in a controlled way, like a domino effect. The rock bench is broken down while the back wall of rock is left intact.
"Laying explosives is done by our outside contractor, Alpha Explosives. I place people around the pit, block off all entrances, and check buildings and equipment to be sure everyone is out. We have a three minute station check to be sure everyone is in place and locked down, then start the blast siren, do another station check one minute before the blast, have radio silence for one minute, and then finally give the contractor the go ahead. Our contractor tells us that no one else puts so much care into the blast."
J.P. grew up in a little farm house in San Juan Bautista, not far from the A.R. Wilson Quarry. He went to San Juan Elementary and Anzar High School before heading off to Chico State to study mechanical engineering. While at Chico, J.P. spent two summers in Graniterock's internship program, which included time at the Quarry doing grade checks and surveys and assisting with blasting. The summer before college graduation he worked in the Company's Engineering Department at the Corporate Office in Watsonville. "I really enjoyed working with people from different areas of the Company - the quarries, asphalt and concrete plants."
J.P.'s duties at Graniterock go beyond blasting rock. His other jobs include watching control points for movement in the quarry that could predict earth slides, storm water and other environmental compliance monitoring, surveys to ensure the company follows the proscribed mine plan and participation on the A.R. Wilson Quarry Emergency Response Team. He is also in charge of calculating aggregate inventories. "Managers may want to know how much material we have in a certain stockpile," says J.P. "Then if there is a big order we know whether we need to produce more."
J.P. recently completed a rigorous test to become a Professional Engineer (PE). PE certification by the National Society of Professional Engineers is a multi-year process and requires a 13-hour, two-day exam, and is a major personal and professional accomplishment. He has Project Management responsibilities for the Quarry's new fines plant installation, and says "With the hiring of an additional Mining Engineer and new construction projects coming along, I am able to try new things on the job."
J.P., his wife Kiely and their 18-month-old daughter Bryleigh recently moved into a new home in Salinas, where Kiely works as a CPA. J.P. also finds time to enjoy fishing and "hunting whatever is in season," and has traveled to a hunting lodge in South Africa's Limpopo Province. His hunting companion is Roscoe, a yellow Labrador retriever. A cocker spaniel named Badger and cats, Riley and Pumbaa, complete the Holcomb household.
J.P.'s family has been part of Graniterock for several decades. His grandfather Dale Holcomb retired from Graniterock in 1991 after 25 years as a mixer truck driver in San Jose and Gilroy. J.P.'s dad Pete Holcomb is a longtime rancher interested in erosion control and re-vegetation. He helped Jimmy Knoll develop the A.R. Wilson Reclamation Program, which uses cattle to naturally reclaim displaced overburden at the Quarry. J.P. recalls helping his dad with this reclamation project as a boy. Vanilla, J.P.'s first 4-H project heifer for the San Benito County Fair, was part of the program. Now, with a family of his own, work at the A.R. Wilson Quarry and Graniterock seems a perfect fit for J.P.
Back to all Blogs